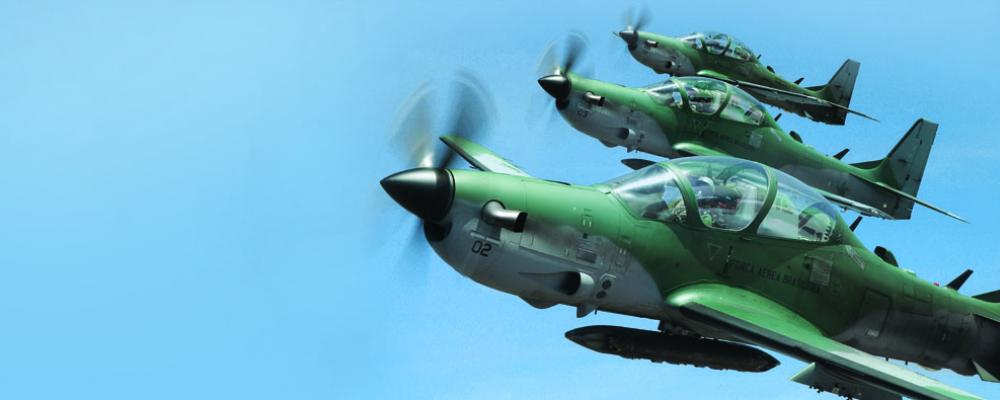 Air Force leaders believe fourth- and fifth-generation fighters are too much airplane for many missions around the world. 
Secretary Heather  Wilson  recently  cited  an  F-22  Raptor  mission  in    Afghanistan conducted last year. The stealth fighter capable of flying nearly 1,500 mph made quick work of a Taliban narcotics factory. Quick, easy and very expensive at a flying cost of up to $68,000 an hour, according to published reports.  
The F-22 was simply the wrong tool for the job, she said. 
"We should not be using an F-22 to destroy a narcotics factory," she said during a speech to the Atlantic Council in Washington, D.C. "You don't need a high-end stealth fighter to destroy a narcotics factory. It's not a particularly cost-effective way to combat violent extremism. We need different aircraft to fight in a global environment that's very competitive than what we need to fight violent extremism."
After years of exploring the idea, Air Force leaders are close to purchasing a low-cost fighter for missions where there are no air forces or air defenses, so-called "permissive environments." Such an aircraft, they believe, could more than pay for itself in significantly lower flying-hour costs and reduced wear and tear on advanced fighters. 
The concept is "light attack." The Air Force is considering two aircraft: the A-29 Super Tucano from Sierra Nevada Corporation (SNC) and Embraer and Textron's AT-6 Wolverine. Both look like something out of World War II and fly at about the same speed, but neither is your grandfather's fighter. They sport modern avionics and sensors, helmet-mounted cueing systems, and deliver precision-guided munitions.
Manufacturers say their aircraft can also perform reconnaissance, combat search and rescue, and forward air control. At home, they could serve as initial trainers and assist with border security, port security, counter-narcotics operations and domestic response, such as disaster-area reconnaissance, and search and rescue.
"We can bring this forward as a very cost-effective way to present some combat capability," says Lt. Gen. L. Scott Rice, the Air National Guard director. 
The cost figures certainly are dramatic. A light attack aircraft will cost around $10 million, roughly 10 percent of what it costs to buy a fifth-generation fighter jet. The operational expense will likely be around $4,000 per flight hour versus $16,000 an hour for an F-16 Fighting Falcon and more than $40,000 per flight hour for an F-35 Lightning II, says Mark F. Cancian, a senior adviser with the Center for Strategic and International Studies in Washington, D.C.
SNC and Textron representatives say operational costs for their aircraft are even less, perhaps as low as $1,000 an hour. Flight-hour costs often vary dramatically from source to source, perhaps owning to different accounting procedures. 
Economics, however, isn't the only driver here. The Air Force wants to develop more international partnership capacity. Rice says some of the 81 nations in the Guard's State Partnership Program would like to purchase a fighter the Air Force flies, but they can't afford or don't need a fifth-generation fighter. 
Light attack in the Air Force could then mean more foreign military sales for U.S. companies, more partnership capacity, true interoperability within the partnerships, and more American jobs, given that both the A-29 and AT-6 are manufactured in the United States. 
A couple hundred light attack aircraft around the country could help reduce the current pilot shortage. "Our country sorely needs that added training capacity," Rice says, "and the Guard is the perfect place to put a platform where you can have a lot of flying time and build up a big experience base." 
He would like to put light attack aircraft at several locations, perhaps even at bases that have in recent years given up manned flying missions for remotely piloted aircraft. The planes could also help provide Army Guard units with more joint-training opportunities, he says. 
THE AIR FORCE has been looking at light attack for at least a decade, and the Air Guard has been part of the effort. In fact, pilots at the Air National Guard Air Force Reserve Test Center in Tucson, Arizona, in 2011 were the first to drop laser-guided bombs from the AT-6. 
Service leaders picked up the pace last year. They began an "experiment" last summer at Holloman Air Force Base, New Mexico, with the defense industry on the feasibility of using low-cost, commercial-off-the-shelf fighters for low-intensity conflicts. 
The Air Force says it's spending $6 million on the experiment. The companies pay their own way to participate, an atypical move for military acquisition programs. Service leaders say the effort is at the forefront of their plan to make the procurement process faster and more dynamic. 
"We can't just stand back, set out requirements, do analyses of alternatives, spend five years figuring out what exactly we want, put out an RFP, throw it over the fence and take 10 years to develop a new technology," Wilson said at a media day last August at Holloman. 
Last year's first phase concentrated on the aerodynamic performance and combat capability of the aircraft. Four aircraft were involved. The Air Force invited the two finalists back this spring and summer year for the experiment's second and final phase. It focused on sustainment and logistics. Service leaders also wanted to determine data-sharing, networking capabilities and partner nation interoperability. 
Air Force and Air Guard pilots were familiar with both aircraft even before the experiment. The AT-6 is based on the T-6 that the Air Force and Navy have used for basic pilot training for years. That's a big benefit, as Textron will be able to rely on the existing supply chain to ensure aircraft are repaired quickly, company officials say.
But the A-29 has actually seen combat. The Air Force purchased 20 for the Afghan air force. They have been in service for 19 months with no losses in operations against the Taliban. The planes came off the assembly line in Jacksonville, Florida. Previously, the A-29, which is flown by more than a dozen other nations, was built in Brazil. 
While the Air Force considered a combat demonstration only to scratch the idea, U.S. pilots have already proved its worth in combat. Special Operations Command has employed Vietnam-era OV-10 Bronco turboprops against ISIS. They provided to be effective—pilots could fly low and slow and easily identify targets—and very inexpensive to operate. 
PHASE II of the Air Force's experiment didn't go as planned. The service had to end the proceedings after a Navy pilot died in a crash of an A-29 in late June at Holloman Air Force Base. 
At the time, the experiment had completed 90 percent of its scheduled sorties, according to officials. Apparently, that was enough for the Air Force to take the next step. The service announced Aug. 6 that it has shared a draft request for proposal with the Sierra Nevada/Embraer and Textron.
The official announcement said it was the "first step in working with industry towards the final RFP that is expected in December 2018." A contract award could come next summer. 
Swift movement on light attack aircraft should please Congress. Many lawmakers strongly support the concept, including Sen. John McCain, R-Ariz., the chairman of the Senate Armed Services Committee. He pushed for light attack in his January 2017 white paper, "Restoring American Power," which made recommendations for the defense budget for fiscal years 2018 to 2022. 
"The Air Force should embrace a 'high/low mix' of fighter aircraft," it said, noting that expensive fifth-generation platforms—such as F-22 or F-35 fighters—aren't required in every combat scenario. 
McCain also called for the Air Force to procure 300 light attack aircraft "that would require minimal work to develop." The Air Force could procure the first 200 of these aircraft by fiscal 2022, the report added.
The fiscal 2019 National Defense Authorization Act, which lawmakers completed last month, includes $300 million to buy light attack aircraft.
But the concept does have its detractors. 
"In a war of choice, where it is almost a hobby rather than a national security necessity, it might be useful," says Richard Aboulafia, the vice president of analysis at Teal Group, a Fairfax, Virginia-based aerospace and defense consulting firm. "In a conflict with a near-peer adversary, it would be a great way of getting rid of undesired pilots." 
But other independent observers say such sentiment misses the mark. 
"It might be subject to ground fire, but that threat may be overstated. That's what our intelligence is for—to make sure we are flying in areas where the threat is low," says Michael Blades, an aerospace and defense research director at Frost & Sullivan, a consulting firm based in San Antonio. 
Moreover, light attack may simply be the best tool in low-intensity combat. He says, "If you take an F-35 or an F-22 into certain situations, it's like using a sledgehammer to kill a fly."  
ADAM STONE is an Annapolis, Maryland-based freelance writer who specializes in defense issues. He can be contacted via [email protected].