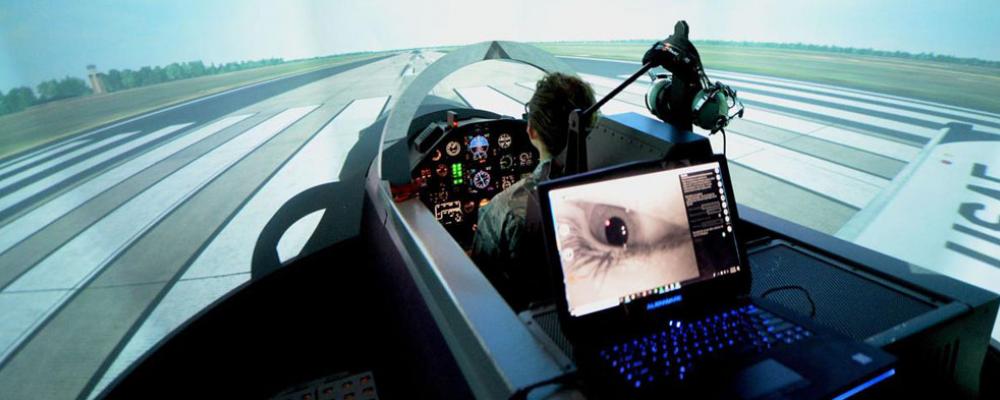 Rapidly advancing technology is making simulation training easier and more realistic, but artificial intelligence offers an even bigger leap ahead.
Things are much more realistic [today], and that's purely a result of being able to push more quality content through the graphics card.

Ryan McAlinden
Director of Modeling, Simulation & Training, University of Southern California, Institute for Creative Technologies
 
AT SOME POINT IN THE FUTURE, advanced training simulators will be able to "think" like the enemy, countering a warfighter's every move with learned reactions rather than just executing a series of programmed maneuvers.That's the power of artificial intelligence. And it's coming soon.

"It makes the training less predictable, which means it is more realistic," says Ryan McAlinden, the director of Modeling, Simulation & Training at the University of Southern California Institute for Creative Technologies. "The experience will be highly varied and it may produce unexpected outcomes. None of that was possible in the past."

He's part of a team working on the Army's emerging Synthetic Training Environment (STE).

Both the Army and Air National Guard stand to benefit from the technological advances now under way in military simulators. It's a booming business, both in terms of innovation and sales. MarketsandMarkets, a global business research firm with a U.S. headquarters  just  outside  Chicago, expects the military simulation and training market to reach sales of $12.6 billion by 2021.

Taking their cues from gaming, the makers of military simulators are already creating immersive experiences that are stunningly realistic, even without AI. They're not just putting every leaf on every virtual tree; they're making  opposing  soldiers that  fight more like actual soldiers.

 "The major difference is the fidelity, the accuracy in modeling the platform," says Ray Duquette, the president of CAE USA, one of the biggest simulator manufacturers with a U.S. headquarters in Tampa, Florida. "It's the way you see the terrain: the buildings, the targets and the enemies you are fighting against. All of that is evolving as computer systems become more powerful, as we find new ways to allow ones and zeros to go through the pipes."

McAlinden points to advances in graphic technologies as opening the door to a more realistic training environment.

"Five years ago, things still looked artificial. Today, things are much more realistic, and that's purely a result of being able to push more quality content through the graphics card," he says. "We are able to add a much more compelling set of photorealistic assets based on real-world data and real-world information."

Cutting-edge  simulators  don't  just  offer  prettier pictures. They provide an increasingly authentic experience, says Robert Hoppenfeld, the program manager for PRISim simulators at Cubic Global Defense in San Diego.

One of the largest simulator companies, Cubic is in the midst of delivering 94 portable judgement-evaluation-and-force-options training systems to the Air Guard under a $6 million contract.

"We can track a bullet with ballistic accuracy so that at 2,000 meters they are dead on," he says. "Is what they are seeing realistic and relevant? That's what matters. We have been working with the Air National Guard to develop custom scenarios based on what they actually do every day, and we are going to create new content for them based on that."

Cubic will be delivering this in a considerably smaller box. The PRISim portable training system can project onto any white wall, and unlike larger-scale, more elaborate simulators, a first-time user can set it up and have it running in 15 minutes.

"We have taken out the huge logistics and development piece and miniaturized it to make it more readily deployable. It's about maximizing the training space and the training time that the user has on the system," Hoppenfeld says.

The solution is tailored to the needs of the Guard, where training time is limited and a deep working knowledge of complex simulators may not always be available.

While graphics cards will make for a more realistic  display  and  a  smaller  form  factor  should  make  simulators  more widely available, some see AI as the real game-changer in training simulators. 

With AI, the same system can automatically benefit both a raw recruit and the most battle-hardened commando, Duquette says.

"It will monitor how well this individual is picking up this knowledge and skills, and then it will adapt for this individual, either speeding up or slowing down the training as necessary," he says. "It uses big data on performance to adapt to the specific training needs of the individual."

Lt. Gen. Steven Kwast, the commander of Air Education and Training Command, explained to reporters at the Air Force Association's Air, Space & Cyber Conference in September how AI could literally coach a new pilot in a flight simulator.

"Let's take a loop: A pilot has to do a loop, and the artificial intelligence is watching you do that loop. And, as you pull back on the stick, it can tell what you are doing and says, 'Hey, you are pulling back too much. ... Hey, your nose is starting to drift to the right a little bit. Keep your eye on the horizon,'" Kwast explained. 

"So the artificial intelligence is watching you," he added. "It's learning from you, and it's learning how you are learning, and it's giving you advice that's helping you real-time adjust your learning, so you aren't making mistakes and not even knowing you are making a mistake."
We have a Styker brigade in downtown Philadelphia, where you can't drive a Stryker. So we needed a simulator.

Lt. Col. Benny W. Smith
Chief of the Training Support Branch, Army National Guard
THE ARMY AND AIR GUARD have both shown a readiness toembrace emerging capabilities.

The Army Guard has made a few simulator buys in recent years, using the congressionally directed National Guard and Reserve Equipment Account to acquire simulators for the UH-72 Lakota helicopter and Remote Weapons Systems desktop trainers for the Stryker vehicle.

The UH-72 simulators helped the Guard fill a gap when its aviators couldn't get sufficient access to the Army's inventory of cockpit procedural trainers. And the Guard needed a Stryker solution when the embedded trainer in the vehicle proved unworkable for Pennsylvania's 56th Stryker Brigade Combat Team.
"We have a Stryker brigade in downtown Philadelphia, where you can't drive a Stryker, so we needed a simulator," says Lt. Col. Benny W. Smith, the chief of the Training Support Branch for the Army Guard at the National Guard Bureau.

But these incremental efforts are overshadowed  by  the  Army Guard's participation in the Army's big simulator initiative, STE. "That is the major push in the simulations world right now," Smith says.

Army has fast-tracked development of so-called synthetic training by using an "Other Transaction Authority" procurement, a government purchasing mechanism intended to accelerate development of cutting-edge technologies.

As a training "environment," STE is expected to encompass a wide range of Army needs, and will likely replace several older systems, including the Engagement Skills Trainer for basic rifle marksmanship and the Call for Fire Trainer.

"Any future fielding that they come out with, we will be part of those plans," Smith says. "We will be part of the process in helping the Army to determine what meets our training needs. We are engaged in this process with the Army as they do user assessments, for instance in Orlando, Florida, for PEO-STRI [the Program Executive Office-Simulation, Training and Instrumentation]. We are intimately involved."

The Army sees STE as an interconnected training environment. Air and ground units from crew level up through command will be able to interact in real time and train together in complex simulations.

"It brings all the elements of training together in one environment," Smith says. "Most of the simulated training now involves simulated people operating simulated systems. In STE, you will also have real people operating simulated systems."

He means this literally. Designers plan to link STE to live-training scenarios so that soldiers training in the field will broadcast combat data to others who will react in their simulated environment. It's a dramatically new vision of how simulation training could work.

"Today when you are training in the virtual world, you are not tied into any larger exercise," Smith says. "The Army's Aviation Combined Arms Tactical Trainer, for instance, trains the pilot and crews on flying proficiency: You can see terrain, but you are not actively playing with other members in an exercise. In the Synthetic Training Environment, you can bring all those components together, including integration with forces in a live environment."

For example, when soldiers go to the National Training Center at Fort Irwin, California, they will be able to wear tagged devices that feed data into STE. "Trainees [elsewhere] can see each soldier by nameplate and can exercise their staff and give orders through that simulated environment," Smith says. "Those orders would then be pumped back out to the field."

That vision is not quite reality yet. Engineers are still wrangling with issues such as bandwidth availability and satellite connectivity, which they will need in order to pump massive amounts of data through the system. But planners are optimistic that these hurdles can be overcome, and that the Guard will come out ahead, especially battalion and brigade staffs.

"With our unique geographic challenges and the dispersion of our units, we might have a combat team scattered over four different states, and with limited training days, they cannot all travel to a single location to train as an organic brigade," Smith says. "With the STE concept, you could have a unit in Pennsylvania doing live maneuvers and the brigade staff in Virginia participating in the same training event."

This vision speaks to the increasing promise of simulation training for the Guard. It's about saving  time  and  money  while  keeping troops, fliers and their commanders in peak fighting form, perhaps in even better form than they could be if they had unlimited access to ranges.

"You can't fire live missiles in the air. You can only shoot a gun in certain locations, on a range where you have to follow strict range rules. In a simulator, those handcuffs come off and you learn how to actually execute on the mission," says Lt. Col. Tony "Cage" Bradley, the chief of the Air Guard's Operational Training Infrastructure Branch and director of its Distributed Training Operations Center.
How do we best train our people and provide greater lethality and readiness? We do it by using simulators.

Christoper Swadener
Associate Director of Operations, Air National Guard

THE AIR GUARD also has embarked on a number of major simulator initiatives.

"When we talk about simulation, the biggest bang for the buck is in airplane substitutes, when we don't have to fly an airplane at $20,000 or $30,000 an hour," said Christopher Swadener, the associate director of operations for the Air Guard at the National Guard Bureau. "How do we best train our people and provide greater lethality and readiness? We do it by using simulators that give us a realistic scenario to augment, but not replace, actual flying."

To that end, the Air Guard expects to take delivery next year of the first of three C-130 reconfigurable weapon-system simulators for use on multiple versions of the C-130. They will go to three units that fly the J-model: the 143rd Airlift Wing in Rhode Island, the 146th Airlift Wing in California and the 193rd Special Operations Wing in Pennsylvania.

"We have 14 total C-130 wings. That J fleet is growing for us as we retire the C-130Hs, and we need the flexibility to put someone into a simulator on relatively short notice," says Ron Kornreich, the manager of the trainer development program within the Air Guard's Strategy and Plans Division at NGB.

The Air Guard also is also spending $100 million in partnership with the Air Force Reserve Command to acquire 33 new F-16 Block 30 cockpit simulators. The F-16C Block 30 Multi-Task Trainer-Guard systems have begun to arrive at F-16 wings nationwide, and the Guard expects to get two more every few months going forward.

MTT-G  is  a  new  program  managed by NGB. It combines rebuilt/upgraded cockpit components from four existing simulator programs and new-built cockpits into a single program. The  final  product  provides technology improvements over older F-16 simulators by incorporating  state-of-the-art  laser  projectors, display systems and image generators.

NGB officials say it also saves money and avoids the duplication of efforts between the Air Guard and the Air Force Reserve. By cutting travel time and flying hours, the simulators "will save the Guard and Air Force Reserve millions of dollars every year," Kornreich says.

It's also another example of NGREA dollars at work. The account offers a separate stream of funding dedicated specifically to equipment upgrades and modernization.

The Air Guard is so committed to simulators that it has stepped in to fund research and development in cases where the regular Air Force hasn't been able to deliver a needed trainer.

The Joint Terminal Attack Controller Simulator is an example. The Guard designed and built this when an Air Force program fell through. Likewise, the Guard commissioned its own simulator for boom operators on the KC-135 tanker aircraft when the Air Force couldn't meet the requirement.

"Sometimes our needs are just not on their roadmap," Kornreich says. "There are a finite amount of dollars and they prioritize those for active duty. They also look at utilization. Our wings are smaller and the requirement is perceived to be greater on the active-duty side."

The Air Guard is determined to fill that gap, given the cost-effectiveness and general utility of simulator training.

"As a pilot you need to fly a certain number of hours every year. If it costs $10,000 an hour to fly that C-130 and I can put half those hours in the simulator, I have now dramatically cut the cost of the annual-training  program," Swadener  says.  "We also look at things like downtime. Maybe the planes aren't all there when I need to train. Maybe they are in heavy maintenance or they are flying in Afghanistan. As a pilot, I can log into the simulator and still get very valuable, full-fidelity training."

That fidelity is increasingly full, as noted above, and that fact makes simulators increasingly attractive.

"If you look at old systems, the visuals were clunky. Now they are very precise. They simulate the maneuvers and weapons very well," Swadener says. "But the most substantial increases have come in our ability to link simulators to each other so that we can develop scenarios where we include terrain and potential weather, where we can have people in Des Moines [Iowa] and South Dakota and Georgia all working that scenario together."

That ability to train together, regardless of geographic distance, will soon likely be commonplace across both the Air Guard and the Army Guard.

ADAM STONE is an Annapolis, Maryland-based freelance writer who specializes in defense issues. He can be contacted via [email protected]
---
Artificial Intelligence

ARTIFICIAL INTELLIGENCE is the theory and development of computers that can learn on their own to perform tasks that normally require human intelligence, such as visual perception, speech recognition, memorization and decision-making.

AI is transforming ordinary life with cars that drive themselves and computers that can recognize humans, converse with them and even outwit them in complex 
strategy games. 

Such advances have potentially game-changing military applications. Simulation training is the first and most obvious. But the Pentagon is now also developing autonomous weapons. AI could also soon mean self-driving supply convoys and computers capable of transforming ordinary commanders into master tacticians. 

The possibilities excite some people and alarm others.

Can machines be trusted with lethal force? How easily could they be hacked? Could they be tricked into friendly fire?

And while autonomous weapons could reduce U.S. casualties, would they dehumanize war and make it more likely? Or would they help deter war?

For now, the Pentagon strategy calls for artificial intelligence to augment and multiply the creativity and problem-solving skills of the troops, not replace them.

The United States is not alone in trying to harness AI, both for commercial and military use. Technology experts consider the United States the current frontrunner, but China and Russia are hustling to catch up.  

Vladimir Putin said last fall that artificial intelligence is "humanity's future" and that the country that masters it will "become the ruler of the world." 

But it's China that may be the biggest competitor. AI experts believe the world's most populous country has the talent and resources to challenge the United States. And the will is there: Chinese officials have a stated goal of being the world leader in AI by 2030.

—NGAUS staff report