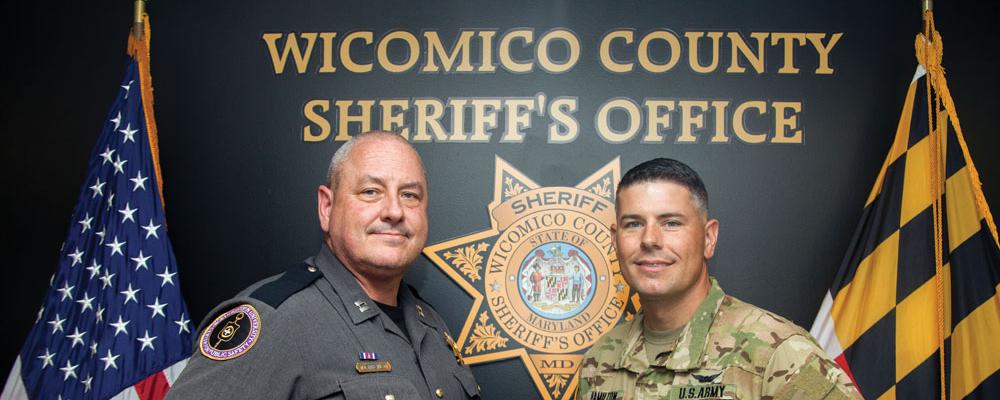 Cpl. Robert Raber was in the U.S. Virgin Islands responding to Hurricane Maria last year when his house in Tennessee caught fire.
"I have a wife at home," says the soldier with the Tennessee Army  National  Guard's  269th  Military  Police  Company.  "She  would've had to handle the whole ordeal by herself if it weren't for everyone at the department."
He's referring to his colleagues from his civilian job at the Dunlap Police Department, where he is a detective. Not only did the 12-man police force help Raber's wife, Leanna, in the fire's aftermath, an officer from the department drove 150 miles from Dunlap to pick up Raber at the airport in Atlanta, the closest city he could fly into from the Virgin Islands. 
"That drive was just one less thing for me and my wife to worry about," Raber says.
And it's a major reason the Dunlap Police Department is one of 15 recipients of the 2018 Secretary of Defense Employer Support Freedom Award. 
The award is the highest form of recognition presented annually by Employer Support of the Guard and Reserve, a Pentagon agency that promotes understanding between reserve-component members and their civilian employers. It recognizes employers, regardless of size or industry affiliation, that take extra steps to respect and support the service obligations of their employees. 
All of this year's recipients will be honored Aug. 24 at a Pentagon ceremony. ESGR has bestowed the Freedom Award on 220 companies or agencies since 1996. 
"We distributed the award to 15 employers this year," says Joe Campbell, a public affairs specialist at ESGR. "But the thousands of nominations we received is a sign that there are many employers out there treating their Guardsmen and Reservists right."
Raber was happy to nominate his employer, just like more than 2,350 other Guardsmen and Reservists. Clint Huth, the chief of the department in Dunlap, says Raber is an important member of the team. 
"Everyone lends a hand, and it's more than worth the extra work to employ a Guardsman," he says. "Everyone knows each other in Dunlap, and Bob is no exception. This award really doesn't stay with the police station. It should be for the whole city." 
Huth says that while Raber was deployed, the local school made daily care packages for him. Letters and goodwill continued for the Rabers as they started to piece together their lives after the fire. 
Chief Warrant Officer 2 Scott Hamilton, a member of the Maryland Army Guard's 2nd Battalion, 224th Aviation, nominated the Wicomico County Sheriff 's Office because of its constant support for Hamilton's service as a UH-60 Black Hawk flight instructor. 
"I've served for 18 years now, and at one point I was on the fence about staying [with the Guard]," he says. "On top of my regular duties at the sheriff 's office, there were increasingly long obligations to train and maintain my flight hours. But the men and women at the office insisted I renew my service, and I'm thankful they continue to support me today."
Hamilton, a corporal at the sheriff office's field operations bureau, is one of two experts in the department's automobile collision re-creation program. He is also a drone operator and shift supervisor. 
"Scott Hamilton is the image of what today's youth can bring to this job," says Babe Wilson, the field-operations bureau captain. "His training from the National Guard brings discipline, order and maturity to our department. Whenever he needs to leave for training, it's a team effort to cover his shifts until he returns." 
Wilson says the sheriff 's office regularly meets with representatives from ESGR to discuss how to better work with employees. 
"I think we share a personal relationship with our ESGR reps, which is critical to forming better policies," says Wilson. "I am humbled to share that kind of partnership with ESGR, and this award is a great affirmation that we're taking the right steps to caring for our service members."
Deployments can wreak havoc with a Guardsman's income when the military pay falls below a civilian salary. That hasn't been a problem for Maj. Troy Beane of the Pennsylvania Guard when military obligations take him away from his civilian job.
His employer, Greencastle Consulting, a 100 percent  veteran-owned-and-operated  project-management firm in Malvern, Pennsylvania, offers gap pay to its mobilized Guardsmen and Reservists, ensuring a consistent income. 
Beane, who belongs to the 56th Stryker Brigade Combat Team, has spent approximately two years away from his director position at Greencastle since he joined the firm in 2010.
"Not once when I was away did I worry if I'd have a job to return to," says Beane, who is now deployed to Afghanistan. "I nominated Greencastle because we've developed into a true band of brothers in the civilian sector. There's a sixth sense in our group, and an atmosphere where we can communicate with each other using familiar military language and civilian language.
"We work like a unit, and that's a unique quality Greencastle provides. We wouldn't be able to do that without leaders like Celwyn [Evans] and Joe Crandall at the helm."
Evans, a senior partner and retired Army major, says, "It is incredibly rewarding to learn your company has been acknowledged as friendly to the Guard and Reserves. As an infantry officer, I learned a set of skills in leadership and communication. Working with an organization of veterans and active-service Guardsmen and Reservists keeps things seamless. We communicate on both a military and civilian level." 
Sharing the load caused by an employee absence can be difficult, even with everyone pitching in. But Capt. T.J. Melcher is a one-man operation in his civilian job as director of public engagement for the Minnesota Department of Transportation. 
"Nobody else in my department shares my exact job description and responsibilities," he says. 
"And that makes it particularly difficult if I have to leave for an extended period of time. But the department always finds a way, and I'm grateful they go to such lengths to accommodate my service."
Melcher is with the Minnesota Army Guard's 334th Brigade Engineer Battalion. In 2014 and 2015, he left his wife and children to deploy to Iraq. Plus, his unit responsibilities to oversee training programs while at home requires extra time.
"The  weekend-plus-one-month-in-summer mentality is long gone," he says. "We have a new UAS [unmanned Aerial System] airframe, and pilots need two to three months of training to get certified. On  top of 21 days for [the Exportable Combat Training Capability] and [National Training Center] the year after, time away really adds up."
During his time in Iraq, Melcher says, Staci Cann, a colleague, spearheaded  fundraising projects on his and other service members' behalf. 
"Staci helped  raise  those  funds  for  active service families," he says, "and it's her dedication, and the can-do attitude of the department as a whole, that led me to nominate them for ESGR's Freedom Award."
Tech. Sgt. Jasmine Snyder of the Indiana Air Guard's 122nd Fighter Wing, returned to work at AME Swiss Machining with a back injury she suffered on a deployment. 
"AME has gone above and beyond to support their veterans," she says. "When I was deployed, they sent me care packages, took care of my pets and made my deployment as less stressful as possible. When I returned home, they allowed me all the time off I needed to go to doctors' appointments and physical therapy. 
"All employees are able to take time off for VA appointments and volunteer at the VFW and American Legion," Snyder adds. "I recognize the sacrifice the company makes for that time, and everyone who  serves  here  appreciates  all  AME  does for us."
Sgt. Marissa N. King, a member of the Tennessee Army Guard's 230th Sustainment Brigade in the Tennessee Guard, nominated Charles Patterson, her supervisor at Amazon's Fulfillment Center in Charleston, Tennessee. Patterson is a safety manager, and helped King accomplish her service obligations while retaining her job.
"Out of all the civilian-sector jobs I have held, I have never received the help and team cohesiveness that I have gotten at Amazon," says King. "Charles and my co-workers were the only co-workers I have ever had call to check on me during a training assignment. I would get awesome little messages that were huge confidence boosters. In a sense, our team was a group of battle buddies, but in a civilian setting. He set up a team culture that included my military duties and strengths."
Patterson says, "I think Marissa nominated me for the award because of the appreciation she has for Amazon, and I just happened to be her manager at the time. Based on what I have observed during my almost seven years here, Amazon is a huge advocate for our military service members.
"Members of the Guard and Reserve play a huge role as working Americans who support our country through military service while following their career goals."  
WILLIAM ROHRS can be contacted at 202-408-5892 or at [email protected].