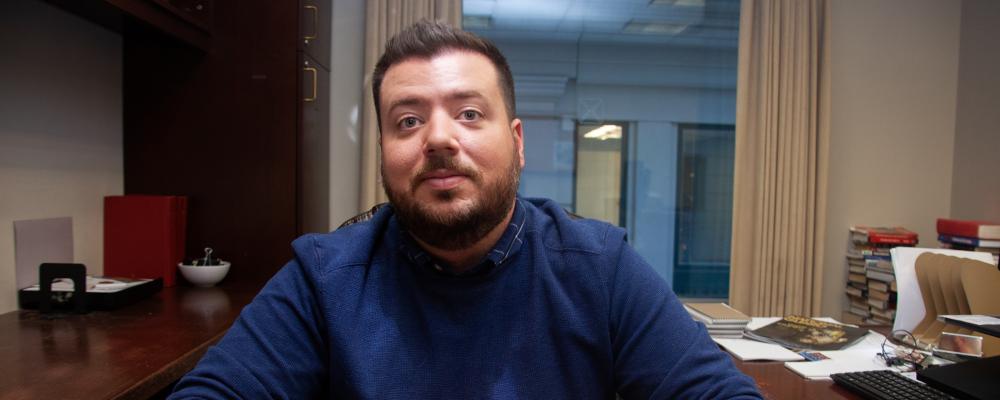 An experienced defense reporter who has embedded with troops in Iraq and Afghanistan joined the NGAUS communications team this week. 
Drew Brooks will write and help direct and edit NATIONAL GUARD magazine and Washington Report, the association's weekly e-newsletter. 
He comes to NGAUS after spending 11 years at the Fayetteville Observer in Fayetteville, North Carolina. 
Brooks led coverage of the nation's largest military installation, Fort Bragg, and the surrounding veterans and military communities.
While with the Observer, Brooks embedded with U.S. troops in Kuwait and Iraq in late 2011 and in Afghanistan in spring 2012, spring 2014 and fall 2014. 
"It was an educating, enlightening experience for me," he said. "It showed me a small part of what life is like deployed while allowing me to tell the story of those working on behalf of their nation."
He has also covered the North Carolina National Guard, including its recent response to Hurricane Florence. 
Brooks has numerous awards from the Military Reporters & Editors Association, the Society of Professional Journalists and other organizations for his work. 
In 2017, Brooks participated in the U.S. Army War College Commandant's National Security Program. The program is the capstone event of the Army War College Distance Education Program and brings civilian guests in alongside students for a series of lectures and open discussions on topics that included national security strategy and policy.
He said working at NGAUS will be an opportunity to delve into the formulation of legislative and policy decisions that greatly impact troops in the field.    
Brooks holds a bachelor's degree in journalism from the University of South Carolina. 
He replaces Ron Jensen, who retired after 11 years at NGAUS. Jensen won three Association Media & Publishing Excel Awards for his work.