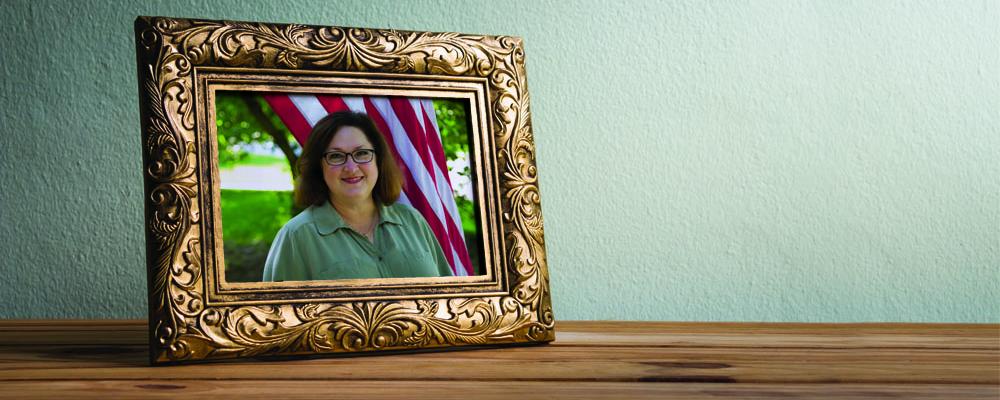 The war in Iraq ambushed Jackie McKenna in the haven of her home in Savannah, Georgia, while she was videoconferencing with her husband, John, a deployed Georgia Army National Guard officer. 
An explosion in the background immediately made her computer screen go blank. John disappeared. "I really understood for the first time in my life what it meant to be paralyzed by fear," Jackie recalls. "You sit there and wait for about an eternity to hear from him, to know that he is OK. It was very difficult."
John McKenna was OK. He returned safely that deployment in 2006 and one to Afghanistan in 2010. He is now a lieutenant colonel on an Active Guard and Reserve assignment with the Joint Chiefs of Staff at the Pentagon.
Her husband's deployments have made indelible impressions on Jackie as a spouse left behind to worry and wait and to comfort John's young son, her stepson, as much as she could.
Jackie McKenna is among a legion of spouses, now including many men, who have kept the home fires burning and the family together while soldiers—and sailors, airmen and Marines—have gone off to wage war or try to prevent one. They endure the emotions linked to the loneliness, isolation and separation of deployments. 
Spouses, one could argue, are among the unsung heroes of the military forces—maybe even more so in the National Guard. 
Guard soldiers and airmen alone have been mobilized more than 900,000 times in support of overseas and domestic missions, many of them multiple times, since 9/11, according to the National Guard Bureau. 
Help is available for those left behind. The NGB Family Programs Office, organized in 1984, routinely fields requests for financial assistance, relationship and communication strengthening, ID card assistance, TRICARE health information, and referral and employment assistance. Outreach and referral personnel at NGB and at the state level received more than 2.2 million requests for assistance in 2017 and established cases for some 22,000 families to follow up on requests for assistance, says Lt. Col. David Meece, the NGB Family Programs branch chief.
Still, hundreds of thousands of spouses and their children have had to adjust to a "new normal" while surrounded by friends, neighbors and even family members, who don't fully grasp what they are going through.
That is a fundamental difference between the experience of active-component and Guard spouses, say those who live the life and those who help military couples. Active-component spouses generally live on or near the posts and bases where their significant others work. They have peers and professionals all around them who know what they are going through and what they need. 
Guard spouses, however, often lack that support. 
"They don't typically live in a community that is aware of and conscientious of the military's culture and lifestyle," explains Rebecca Townsend, an Army Guard colonel's wife and 20-year mental health counselor whose clients include 101st Airborne Division soldiers and families at Fort Campbell, Kentucky. "They don't have a lot of support in regards to people understanding what they go through. They can be isolated in their communities, and isolation, to me, is a big concern."
Add to the isolation the inherent peril in military deployments. They're not like family separations prompted by civilian business trips, for example. 
"There is a degree of danger with these missions, and traveling overseas into the combat areas puts service members at a greater risk than if they are just flying within the states and working in another spot in the U.S.," Townsend says. "That definitely increases the anxiety of those left behind. 
"That goes for spouses," she says. "If a spouse is very dependent upon his or her service member, then even a two-week [annual training] can place a significant amount of stress on them. Overall, I think most people would say that our family members experience more stress when their service member deploys versus somebody going to New York City to work for three weeks."
Those left at home may also experience far more loneliness and isolation than the  ones who are  deployed. Those service members are focused on their mission. Their time flies. And there is a special camaraderie  among  people  who  serve  together  in  trying  circumstances.
A financial boost may offer some consolation. Contrary to conventional wisdom, some deployed Guardsmen actually earn more than at home, in part due to hazardous-duty pay and tax exemptions. One senior NCO reported that the additional income enabled his family to pay off all of its bills by the end of the deployment. Some people take additional tours for that reason. Finances, however, are rarely cited as an incentive or concern.
Core concerns include disconnection: "Experiencing life while [spouses are] in different parts of the world and then not having adequate time to catch up on those things," Townsend says.
Also, what's actually going on during the deployment: "Not just downrange, but also what's happening at home. The kids are growing up, appliances are breaking, car wrecks happen. It's all of those day-to-day things that we do together and hold each other up during those times when we are in the same geographical location," she adds. 
"But when someone may be experiencing significant combat, all of this seems like life is being turned upside down to the service member. And that's a lot to try to catch up on with a 30-minute Facetime or emails back and forth."
Which brings up the pros and cons of how much "catching up" is good for all concerned.
Today's technology "is much better than even what we had during the first Gulf War," Townsend says. "But the amount of communication we have when someone's deployed and the amount of media coverage that is also available can heighten anxiety" and may take the service member's mind off the mission because of what's happening at home.
"If you look at this like a fire that we're going to go through, the fire will purify us," she says. "And we will be made stronger as a result of it."
Plenty of spouses know that fire.
ASHLEY ZINGARA: Dating and then marrying a soldier was just not part of her life's plan until she met a New Jersey Army Guard officer, Nick Zingara, about three years ago. Love happened, and they planned to be married in a church with all of the trimmings. Ashley thought there was no way Nick would be deployed because he'd done a tour in Kuwait a few years earlier.
"This was all new to me. I was a little naïve to the whole system," she says. The system came calling in July 2017. Nick was going back to Southwest Asia in early 2018. "And then it was like a big shock. Lots of emotions. How to prepare and things like that," Ashley says.
But Ashley, who is 30 and a school counselor in New Jersey, and Nick, who is 35, pulled it together. They were married in a civil ceremony in October, postponing the big church wedding. They squared away the house and the bills and secured Ashely's power of attorney and wills. 
"There was a lot to think about," says Ashley, before Capt. Nicholas Zingara departed in February with other citizen-soldiers from the 117th Combat Sustainment Support Battalion. His new bride anticipates he'll be home by Christmas, perhaps even Thanksgiving.
Meanwhile, she's coping with the separation in her own way while counseling students about issues like anxiety, depression and even suicide, because these aren't easy times for many young people. "One of the hardest things is dealing with all of the everyday stresses and my stress with him being away," she says.
She gets most of her support from the wives of Nick's Guard friends who have experience with deployments. "I have a big family and friends of my own, but they really haven't experienced this, so it's hard to communicate with them." 
Such are the details of life on one's own that one Guard wife advised Ashley to contact Military OneSource to locate someone who could check out moisture in a crawlspace at her home. 
Having a job certainly helps, she says. "I'm a firm believer that you need to go out, you need to do things. I think that if all I did was stay at home, it would be a problem."
Ashley loves her husband, but knowing everything that Nick is experiencing wouldn't help her. 
"I can tell if he's having a rough day, but he's positive most of the time when I speak to him," she says. "I know [his mission is] logistics, but I don't really know what's going on, and I like that part. It's like what I don't know won't hurt me."
JIM KENNY: He was the civilian husband and father left at home on Cape Cod, Massachusetts, for the first half of 2017 while Master Sgt. Tori Kenny, a first sergeant in the Massachusetts Air Guard's 102nd Intelligence Wing, was deployed to one of those Southwest Asia locations that no one can talk about.
Two teenage sons, a daughter in first grade, full-time work as a carpenter and a willingness to always lend neighbors a helping hand kept Jim's plate full on this side of the Atlantic. Meanwhile, Tori's temporary family numbered 153 civil-engineering personnel at, well, somewhere. Operations went on 24/7, so there was plenty to do on her end.
This deployment wasn't a bolt from the blue. Tori has been in the military for most of 20 years Jim has known her. "She told me right up front she was military," he says. 
Jim  and  the  kids  hardly  felt  neglected. Tori's  parents drove from Lowell, Massachusetts, every other  weekend to buy groceries, cook, clean and give Jim some downtime. Neighbors and members of their church provided meals. Weekly phone calls or Facetime gave family something to anticipate.
"She didn't need to know about everything that was happening here," Jim says. "Most of the time I told her everything was just fine so she could do her job without worrying about what was going on at home.
"We knew she was in a dangerous place, that she was not on a base in Germany. I was concerned about her safety to a certain point. Tori can take care of herself, being a former Marine [1993–97]."
The undisclosed location and the secrecy about the mission did ramp up his concern, he admits. 
"I hoped there was a good defensive perimeter, wherever she was. But, overall, we were confident she would come home safe and sound." 
Which she did.
JAMES AND JAIME BLANTON: Be prepared for a "new normal" when the deployment is over, advise these Tennessee Air Guard lieutenant colonels who have taken turns going away and staying home during their 10 years of marriage and nine years as parents.
James deployed to Baghdad International Airport as the commander of a security-forces team in early 2010 when their baby was 3 months old. He returned that August. Jaime served in Qatar in 2016 during their little girl's first year in school. 
"I think we are lucky enough to have the viewpoint of what it's like to be a family member, a spouse, who stays home and has to take care of the household and stay positive and support that other member while they're deployed," Jaime says. "That is, quite honestly, as difficult, if not a little more difficult, than actually going on the deployment.  It's  difficult even for strong marriages. When James was gone for  those six months and he came home and then I was deployed and came home, it was disruptive." 
The spouses who have been gone don't necessarily return to the homes they left, the Blantons note.
"When  that  spouse  leaves  and  you're  left  behind,  you  and  [the children] develop a whole new tempo,  and  by  the  time  that  deployed  spouse gets home, it's a very established rhythm," James  says. "Now you've interjected that spouse back into that, and it's going to disrupt it again. You're starting all over. You've got to embrace it and make it work." 
JACKIE MCKENNA: Her husband's second deployment,in 2009-10, was more difficult than the first one, in 2006, for Jackie who remained in Savannah and tried to reassure her 9-year-old stepson, Ryan, that his dad was OK.
She was a 40-year-old career woman when she married the Army Guard officer in 2003, and neither she nor Ryan had experienced a military deployment before John McKenna went to Iraq.
"There was a bit of naïveté, I would say. We didn't really comprehend the danger. It was more about the separation and the difficulties that created," Jackie says.
The year-long deployment to Afghanistan "was much more raw and difficult for us," she recalls. 
"We were much more cognizant of what was going on in the fight. Ryan was old enough to watch the news and understand more about what was going on. Sometimes he would tell me he had heard about some battle. 'Is daddy OK? Have you heard from him?' he would say. It was hard for Ryan. It was hard for me."
So, how many deployments can marriages and families endure? There is no simple answer.
"I have seen marriages that have suffered under the strain of one deployment, and I've seen marriages suffer under the strain of seven deployments," says Jackie, who is on the Military Officers of America President's Currently Serving Spouse Advisory Council. "And then I've seen the opposite, where marriages have become stronger and relationships have deepened.

"It really has to do with how solid your relationship is, which is why I stress to young families that  they really need to focus on  the  quality  of  their  relationship  when  they  are  together," she says. "That's the foundation for your relationship when your spouse deploys. If the foundation is crumbling before you're separated, it's not going to survive."
Personal independence  and  maturity  are  critical, Jackie says.
"You need to have a sense of identity and purpose of your own, whether that's in a paid position  or  through volunteerism or if, by choice, yo  are a full-time stay-at-home mom or dad. You can't just be wrapped up in supporting your deployed soldier. It's not healthy," she says.
"It would help if more of us who are more mature in either life or years in the military would step up and mentor younger, newer military spouses so they're not just getting the snarky, Facebook posts  about  what's  wrong with TRICARE."
ANNE BROOKS HASTON: She is a spouse with clout who understands  the  dynamics  of  deployments  on  several levels. She is married to Maj. Gen. Terry "Max" Haston, who deployed to Iraq as a general officer in 2005 and has been the Tennessee adjutant general for nine years. 
Anne is a tireless advocate for Guard families. She is currently a mentor to the Tennessee Guard's Youth Action Council and a member of the board of directors for the Military Child Education Coalition.
Some things bother her.
"My husband has described social media and current technology as a 'weapon of mass destruction.' Contact between family members during a deployment should be positive and supportive, not an opportunity to air grievances and concerns that can distract a Guard member in a combat area," she says. "This is not always easy for a spouse who has just disciplined a child, buried the family dog or repaired the dishwasher. Bite marks on the tongue are a sign of valor on the homefront."
Furthermore, "support and resources for families improved significantly after the first post-9/11 deployments, but they have been negatively impacted by budget cutbacks during several years of sequestration. This is concerning, as deployments and family separations continue."
Nonetheless, Anne believes in the concept of TGIF—The Guard is Family. 
"Guard spouses are geographically dispersed from each other and don't always live near their service member's unit," she points out. "They may be reluctant to seek out support and resources, but they should always ask for help when feeling overwhelmed.
"We rely on support from our churches, families and close friends during deployments, but we also should depend on Guard contacts and resources because military spouses learn from each other. We are much stronger together than we are as individuals."  
Bob Haskell is a retired Maine Army National Guard master sergeant and a freelance journalist in Falmouth, Massachusetts. He can be contacted at [email protected].