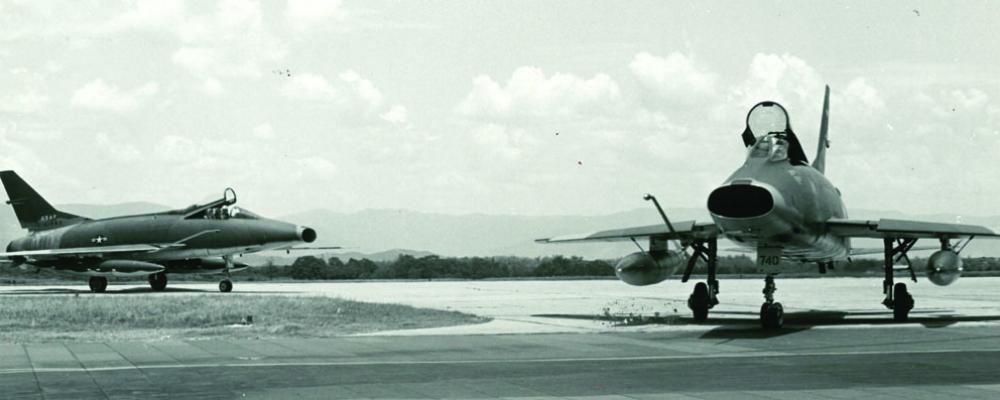 Terry MacDonald chuckles when asked why he enlisted in the Indiana Army National Guard in 1968. "To stay out of Vietnam," he says. I'll be honest with you. Everybody will tell you that."
Why the laugh? Because his plan fell a bit short. MacDonald's unit, Company D, 151st Infantry (Ranger), became, as its veterans are quick to tell you, the most highly decorated company-sized unit to spend a year in Vietnam.
His miscalculation, however, can be forgiven.
White House policy sidelines the Guard from the Vietnam conflict in favor of a draftee-laden active component. Some individual volunteers from the Guard went, but President Lyndon Johnson was convinced that sending Guard units would damage the war's support in the small towns and rural areas most likely to back the effort.
That plan prolonged proved as misguided as MacDonald's, according to Michael D. Doubler, a former Guardsman, historian and author of I Am the Guard. The decision to rely on conscripted recruits, he says, "planted the seeds" of what became an effective resistance that helped turn public opinion against the war.
It didn't have to be that way, according to Doubler. "The anti-war movement," he says, "was really an anti-draft movement."
If Doubler's right and there had been no military draft, would young men with no inclination to don the uniform have taken to the streets chanting, "Hell, no we won't go"? Perhaps not. Going never would have crossed their minds.
As the force became a perceived haven for "draft dodgers," the public's perception of the Guard soured and "weekend warrior" became much more of a pejorative.
Plus, Doubler says, long-serving Guardsmen "were exasperated that all of a sudden their units were being filled with young men who were against the Vietnam war or at least didn't want to go."
True.
"I despised the bastards," says retired Maj. Gen. John R. D'Araugo, a member of the Hawaii Guard's 29th Infantry Brigade at the time. "I had a lot of contempt for people like that."
LBJ did allow the Pentagon in 1965 to create the Selected Reserve Force (SRF), a contingent of Army Guardsmen and Army Reservists who trained to a high level of readiness should they be needed in a pinch.
In 1968, a wrench was tossed into the president's no-Guard policy. North Korea seized the USS Pueblo, a Navy intelligence ship, and held its crew captive. A few days later, the Viet Cong launched the Tet Offensive, a major effort to rout U.S. and South Vietnamese forces. Plus, trouble was brewing in Berlin.
Johnson relented and called nearly 25,000 Guardsmen to duty to ease the strain on the military. About 12,000 of them, barely 2 percent of the force, eventually served "in country."
In the 50th anniversary year of that call-up, NATIONAL GUARD contacted several veterans of Vietnam. We found men eager to talk about their experiences and able to recount tales with a practiced ease. Some stayed in uniform and others returned to their civilian lives.
And some left Vietnam long before Vietnam left them.
"I still dream about it all the time," says Loren Dixon, 74, one of the Indiana Rangers. "It's in you. You can't get it out of you. There ain't no psychiatrist, no pill, nothing that will get that out of your head."
The Indiana unit, which arrived in Vietnam in December 1968, is probably the best-known Guard unit to have served in Vietnam largely because of its many decorations, which included 19 Silver Stars. Plus, its mission was fundamental to the war—conducting long-range reconnaissance patrols.
Dixon describes the missions as "out generally in the enemy's territory all the time, keeping track of what they were doing and where they were at, and sending it back to the people who did all the thinking." It was, he says, "extremely dangerous."
MacDonald says, "It was scary as hell, but when something happened, you'd trained so much and you did what you were trained to do." And, he says, you had confidence that the other guys would do the right thing.
"It worked, I guess. We're here," he says. After a pause, he adds, "Most of us."
The company lost seven men, four in action. For Guardsmen, the losses were more difficult, the men say, because they often had been friends before they enlisted.
"I knew their wives. I knew what kind of car they drove. I knew their kids' names," says Gary Bussell, 74. "That made it more expensive when somebody went down, but it did make you not want to let anybody down."
Losing the first man, he says, meant "the cold reality of what you're into finally caught up to you. Everybody tightened their shit up a couple notches."
The experience set them apart. Dixon says, "For a long time, if you wasn't in Vietnam in my situation, I held you in a little less regard than I did my fellow soldiers. I knew the hell we went through." 
Bussell tells of working at the Westinghouse plant after his return when another worker, a veteran of the Battle of the Bulge in World War II, thanked him for defending the country from communism. 
"I says, 'Shit, Paul, for all the good I did the world, I might as well have spent 2½ years in a storm sewer. I got Vietnam. We didn't change shit.'"
Feeling guilty, Bussell looked up the veteran the next day to apologize. 
"I said, 'Dammit, Paul, you didn't deserve that, but you can't understand. Vietnam was not your war.'" 
It's impossible to leave the Indiana Rangers without recounting the elephant story. That's right—the elephant story. Kenny Bucy, 71, has described so many times how an elephant attacked him, "I wish I had a recording," he says.
The Rangers had set up an ambush along a trail when they heard rustling and assumed it was an enemy patrol.
"We all locked and loaded, ready to ambush a half dozen VC," says Bucy. 
Instead, an elephant emerged from the brush, walking straight toward Bucy, who was on the flank. 
"I thought, you got to be shitting me," he says. 
As it neared, "I tried to run and the next thing I know, I am flying through the air," he says. The elephant had butted him and the Guardsmen opened fire, eventually killing the intruder. Bucy had no broken bones, but "if it could be sprained or strained, it was."
A drought up north in Burma, now Myanmar, had forced the indigenous animals to move south seeking water. Bucy says he was told while in the hospital that tigers had attacked and killed Marines.
Guardsmen were in the air above Vietnam, as well. One of them was retired Col. Jack McCormick, 76, who flew F-100 Super Sabre fighters with the New Mexico Air Guard's 188th Fighter Squadron. 
Forty pilots responded when the unit was called up in the wake of the USS Pueblo crisis, he recalls. The commander said only 25 pilots were needed and asked those who would rather not go to raise their hands.
"Zero hands went in the air," McCormick recalls.
The commander told the pilots to take one hour to think it over and discuss the decision with wives and family members. When they met again, he made the same request regarding those who wished to sit out the deployment.
"Zero hands went in the air," McCormick says again. "That was the day I figured I was not part of an ordinary squadron."
The Tacos, which they chose as their call sign, went to Vietnam in June 1968, and flew 6,000 combat sorties with more than 10,000 combat hours, mostly providing close-air support. They dropped nearly 7,500 tons of bombs and fired more than 1.5 million rounds of 20mm ammunition.
"I think that's the best year of flying I ever had," says McCormick, who retired in 1997 as an F-16 pilot. "Had I not been married, I think I would've tried to stay on over there with a different squadron."
Also in the sky over Southeast Asia was Pat Parks, 83, of the Iowa Air Guard's 174th Tactical Fighter Squadron, who spent nearly 35 years in the Guard, retiring as a lieutenant colonel. The unit deployed in May 1968, for "a year and a day," Parks recalls.
He flew his F-100 on 260 combat missions and quite a few more as a "test pilot guy," giving a shakedown flight to aircraft that had been in for maintenance.
"I never had to abort a mission," he says. "That'll tell you something about the Guard maintenance. ... They were just great. The whole thing with the Air Guard is that you have highly, highly, highly qualified people working on the airplanes—technicians, mechanics and so forth. That's their baby."
The missions were "primarily going out and helping the Army," Parks says. "They'd get backed into a corner and you'd go help them out." Sometimes they'd bomb roads or bridges, but the aircraft didn't have the precision targeting equipment of today's fighters, he says. When necessary, "you'd just point your nose at it and hold it there a little bit. It was just as accurate that way, but you were a sitting duck for a little bit."
The first Guard unit to reach Vietnam was the Colorado Air Guard's 120th Tactical Fighter Squadron that went to Southeast Asia in May 1968. Bob Beabout, 83, was a pilot for Frontier Airlines eating breakfast during a layover in Billings, Montana, in January 1968 when a flight attendant heard a radio report about the call-up.
"I called back and, sure enough, they said, 'You're now a captain in the Air Force, but go ahead and finish your trip,'" Beabout says. 
Once called up, he says, the airmen cooled their heels for a few months before deploying. 
"We all thought we were going to Korea. That was what the call-up was about," he says. "We actually didn't find out we were going to Vietnam until a couple weeks before [deploying]."
Beabout says he battled post-traumatic stress disorder after his return, mostly from a couple missions in which his bombs killed innocent people. It had to be done, he was told, to save American lives.
Still, he says somberly, "I know I killed a lot of people." 
Not everyone in 2nd Battalion, 138th Field Artillery, wanted to go when the Kentucky Guard unit with 155mm howitzers was called up in April 1968.
"We had some people that were very disturbed by [the mobilization] and made an attempt not to be activated," recalls Bob Bailey, 77. "But they were, and every one of them in the unit that was supposed to go wound up going to Vietnam."
So, how'd they do?
"Outstanding," says Bailey, who spent 29 years, 10 months and seven days in the Kentucky  Guard,  retiring  as  command  sergeant  major. "We had units of the active Army that praised our firing batteries, praised our service battery. Our guys didn't want to be there, but they went and did their job. And I'd go back with them any day."
On June 19, 1969, the battalion suffered its worst day in Vietnam. Nearly 100 enemy troops infiltrated Firebase Tomahawk, about 19 miles southeast of Hue, in the dark of night. Before daybreak, nine artillerymen from Battery C, including five Kentucky Guardsmen, would be dead. Another 37 were wounded.
"Every day. Every day, I think about that," says Bailey.
John Sugg, 71, was still an Idaho high school student when he joined the Guard.
"My dad woke me up one Saturday morning and said, 'Get up. You're going to join the National Guard today,'" he says.
Three years later, he went to Vietnam with the 116th Engineer Battalion, where they built roads, bridges, culverts and more in the Central Highlands, "which we were good at," Sugg says. "We got mortared several times. We got ambushed a few times."
When the unit returned to Idaho in 1969, Sugg stayed behind with an active-component unit. He was curious, he says. "Did I make E-5 in the Guard because it was my time or did I earn it?" he says. "I decided to go to the active side to see if I was any good at it."
He did receive a promotion, but he didn't like the racial tension and open use of drugs in the Regular Army. He returned to Idaho and later joined the Guard again. 
Two people interviewed for this story went on to become directors of the Army Guard—D'Araugo, who was mentioned earlier, and retired Lt. Gen. Roger C. Schultz.
Schultz was a member of the Iowa Guard and received his commission through the Iowa Military Academy. When he went to Vietnam in 1968, he went as an individual SRF soldier and took command of a rifle platoon in the 22nd Infantry Regiment, an active-component unit.
"The key for me is, when I arrived, that platoon couldn't care less where I got my commission," he says. "All they wanted was a lieutenant. And I was their lieutenant. . . They adopted me immediately."
Combat, Schultz says, is not for the weak.
"When you go to combat, there's no slack. It's 24-hour operations," he says. "Missions during the day, relax a little bit, patrols at night, relax a little bit. ... When you think about the life of an infantry soldier in Vietnam, there is no slack. Once you have that experience, you are changed forever."
The experience informed Schultz for the rest of his career, including as Army Guard director starting in 1998. 
"I took that mobilization—that experience, the lessons, the routines—and applied that as I moved up the ranks to company, battalion, brigade command, and for a short period as the assistant adjutant general in Iowa," he says. "And so I took that experience to be the director of the Army Guard."
D'Araugo led a team under the Military Assistance Command, Vietnam, a handful of soldiers who trained South Vietnamese troops. The idea came from Gen. Creighton W. Abrams, the MACV commander from 1968 to 1972. 
"The idea was to place these teams in the hamlets and villages, particularly in the areas controlled by the VC because it was his philosophy that the war was going to be won or lost in those hamlets," D'Araugo says. "I think history proves him to be correct. That's where we lost it, for the most part."
D'Araugo says he was adequately trained for Vietnam, but adds, "Was I well trained? Absolutely not."
That fact stayed with him for the remainder of his career, especially as the Army Guard director, a position he took in 1993.
"The short answer is, it drove me in about everything I tried to do," he says. "I firmly believed that the Guard was a force that was going to be used. ... I was driven by the idea that we really had to upgrade our training to the maximum level that we could because if you believe that they are going to be used, you can't put people in harm's way half-trained."
The military took in its last draftee in December 1972 and conscription officially ended one month later. The effect on the Guard was immediate, says D'Araugo, because, for many, the motivation to enlist had vanished. 
Hawaii's 29th Infantry Brigade, which was one of several Army Guard units mobilized in 1968 to train and send individual replacements to Vietnam, fell from 90 percent manning to 30 percent in one week.
"I would say it took 10 years for us to recover from that," he says. "It was a real, real struggle." 
RON JENSEN can be contacted at [email protected].