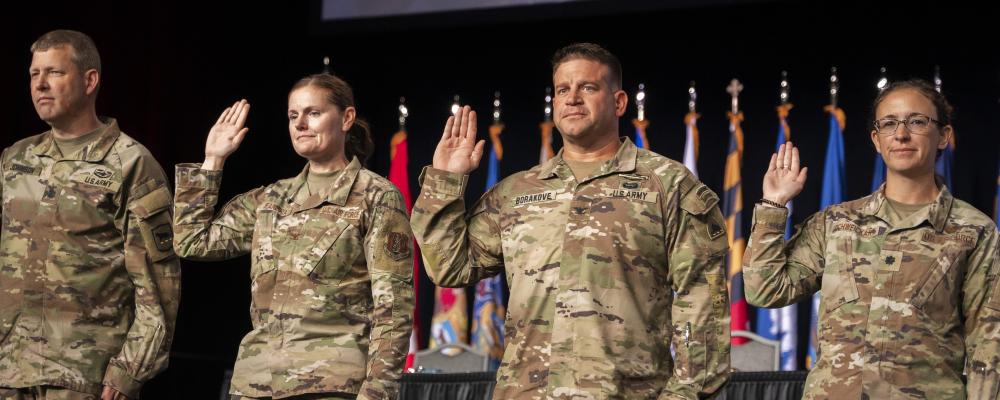 Passing legislative resolutions and electing candidates to several positions on the NGAUS board of directors were among the business items conducted at the 145th General Conference & Exhibition in Reno, Nevada, Aug. 18-21.
On the conference's final day, delegates passed 188 Army, Air and Joint resolutions that will form the basis of the association's legislative agenda on Capitol Hill next year.
Representatives from all 50 states, Guam, Puerto Rico, the U.S. Virgin Islands and the District of Columbia developed the final package of resolutions during meetings earlier in the conference, after hundreds of resolutions were submitted by all 54 Guard organizations nationwide.
The latest information about the association's resolutions is available here.
The association's board elections were another business item in Reno.
This year's elections included the three representatives (adjutant general, Army and Air) for Areas II and V, the Air company-grade representative and the Army retired/separated representative.
In Area II, Maj. Gen. William Crane of West Virginia (TAG representative), Col. Brian Borakove of the District of Columbia (Army) and Lt. Col. Jody Schweickart of Ohio (Air) were all reelected.
In Area V, delegates reelected Maj. Gen. Paul Rogers of Michigan as the TAG representative, while electing two new service representatives, Lt. Col. Quenten Johnson of South Dakota (Army) and Col. Jeannie Jeanetta of Wisconsin (Air).
The Air company-grade representative and the Army retired/separated representative are also new.
First Lt. Thomas Flores of New Mexico was elected by his fellow company-grade officers to serve on the NGAUS board as their Air representative.
Army retirees, meanwhile, selected retired Brig. Gen. Mike Oster of South Dakota to be their board representative. Oster previously represented Area V.
A full list of the association's board of directors and committee members is available here.
A complete summary of the NGAUS committee on warrant officer issues is available here.
The same information about the association's company grade committee, meanwhile, is available here.
During the association's recent conference, the National Guard Educational Foundation also announced that USAA will take over as the sponsor of the Guardian Scholarship Fund next year.
The Guardian Scholarship Fund provides $25,000 scholarships (over four years) to the children of Guardsmen who have made the ultimate sacrifice.
Since the fund's inception in 2010, Leonardo DRS has donated nearly $700,000 to support more than 110 scholarships.
The NGEF administers the fund at no cost.
More information about the Guardian Scholarship Fund is available here.
— By John Goheen