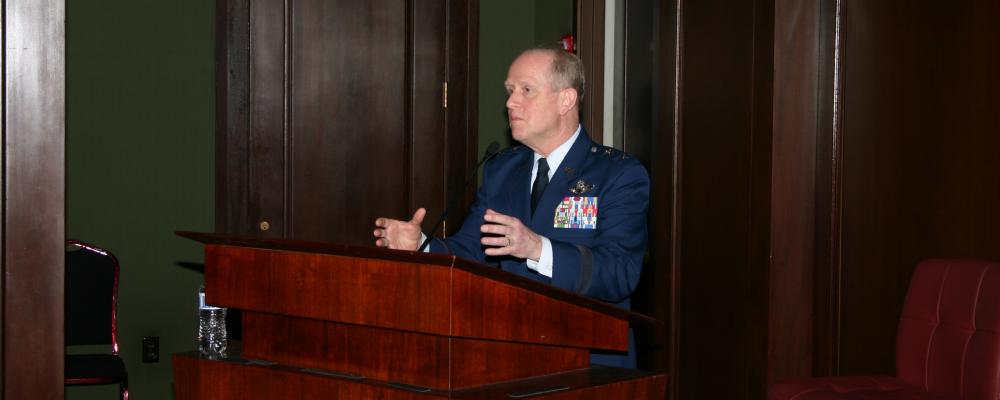 Legislative liaisons and state association leaders nationwide gathered at the National Guard Memorial, the NGAUS headquarters in Washington, D.C., today for the association's annual Legislative Workshop. (Photos)
The event, which featured remarks from Guard leaders and senior congressional staffers, aims to strengthen NGAUS's grassroots lobbying efforts. 
Mike Hadley, the NGAUS legislative director, called the workshop a force multiplier. He provided an overview of the current NGAUS priorities, recent accomplishment and the makeup of the new Congress.
"NGAUS is built on advocacy," Hadley said. "We want to make sure that every time we ask a Guardsman to put himself in harm's way — whether it's abroad or it's at home supporting domestic operations — we want to make sure that they always have an unfair advantage in terms of equipment, training and policies that are going to take care of them and their families."
Retired Brig. Gen. J. Roy Robinson, the NGAUS president, encouraged participants to ask questions and seek feedback from leaders during the workshop.
Robinson said that while Washington may identify issues plaguing the Guard, solutions are more likely to come from the states.
He said the goal of the workshop is ensure officials in each state have a common knowledge of those issues and are working toward the same goals.
Robinson said the Guard has many allies in Congress, with Guard units, soldiers or airmen in nearly every zip code across the nation.
"They absolutely love the Guard," he said of Congress. "They are very receptive to our ideas. They want to hear what our problems are. They want to hear what kind of solution sets we bring to them."