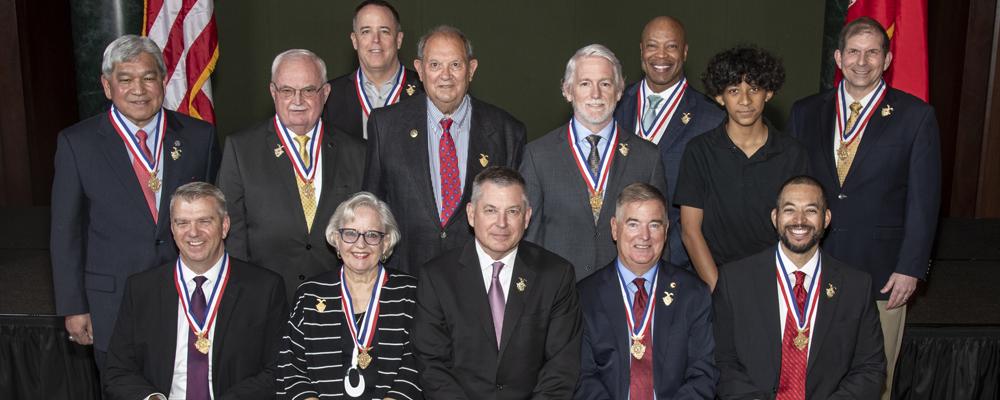 The National Guard Educational Foundation recognized 10 major donors Saturday evening at a special reception at the National Guard Memorial, the NGAUS headquarters in Washington, D.C.
The 10 recently contributed a combined $100,000 to the foundation through its Legion de Lafayette program, which is reserved for gifts of at least $10,000.
The NGEF preserves and shares all 386 years of the Guard's story. Among its programs is the National Guard Memorial Museum, which boasts 5,600 square feet of artifacts, images and interactive exhibits.
Recent benefactors included one individual, two couples, six corporations and NGAUS.
Mississippi Air Guard Col. Randy P. Spears was the individual contributor. He donated in the memory of his father, Pfc. Grady M. Spears, a World War II veteran.
Spears said he was merely giving back.
"The National Guard took me, an aimless young kid, gave me direction and purpose, and in the end, molded me into a mature, loyal and conscientious public servant," he shared. "It has been an absolute privilege to have been able to serve in the National Guard for 19 of my 34 years in the service."
Retired Lt. Gen. Michael and Amy Dubie was one of the couples who contributed. He is a former adjutant general of Vermont and deputy commander of U.S. Northern Command.
"The best thing about serving for 36 years in the National Guard was the amazing patriots I served with," he said.
Retired Brig. Gen. Joel and Nancy Seymour of Georgia made their third gift of $10,000.
The corporate gifts included five adding to earlier contributions. They were the Armed Forces Benefit Association, Airbus, BAE Systems, SPARGO and USAA.
The NGEF also recognized Laerdal Medical, which manufactures special manikins to help train military medics, for an initial major donation to the foundation.
NGAUS contributed $10,000 in the name of a longtime staff member, Laurence Temple, the association comptroller.
Learn more about the NGEF at www.ngef.org.