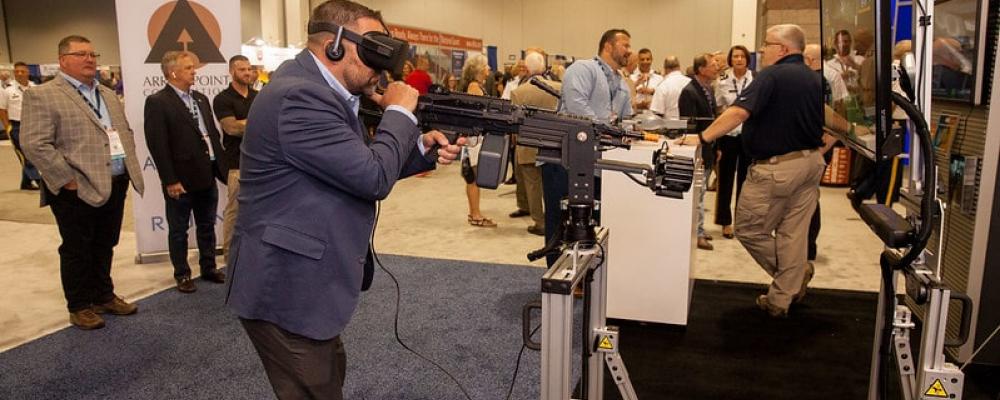 The tradeshow at the annual NGAUS conference has become a staple over the years.
This year's conference in Columbus, Ohio, is hosting one of the event's biggest tradeshows ever, running from Aug. 27-29.
The conference is hosting 343 industry exhibitors and 200 non-industry exhibitors, up from 260 industry exhibitors at the 2021 conference in Las Vegas, Nevada.
"It's good to see the bounce back post-COVID," said Barbara Scott, industry liaison for NGAUS.
"It's good to see our numbers going up and growing," she continued. "We hope to maintain the momentum."
Scott attributes the growth at this year's tradeshow to industry partners being excited about returning to the conference and "seeing the Guard family."
"The industry partners are very happy to see decision-makers and senior leaders in the Guard and Guardsmen in general, because that's how their products get out and how we all work together to make the Guard better," she said.
NGAUS Corporate Advisory Panel Chairman and retired Brig. Gen. Keith Klemmer said an industry partner presence at the tradeshow every year is "incredibly important."
"When you walk the aisles here, you get what's the art of the possible in the industry," he said.
Klemmer said attendees can see new things from the hardware industry and services from other companies and nonprofits.
"You get a look at what's new and what's innovative and you can't get that anywhere else," he said.
USA Up Star is attending the tradeshow for the first time this year.
The company provides emergency relief, including setting up emergency basecamps.
"Everybody has been really helpful," USA Up Star President Klay South said. "There have been a lot of moving pieces and moving parts."
"Having a booth this size, it does tend to have its share of challenges, but it's been pretty easy so far," he added.
South said the tradeshow gives USA Up Star, a veteran-heavy company, a chance to interact with Guard members.
"Being a prior Marine, this is pretty much a military event," he said. "It's fun because I get to interact with a lot of TAGs and a lot of generals."
"It's good," he continued. "We get back to our grassroots."
Jonathan Aide, the director of sales for LiteFighter, said the company has been attending the tradeshow since 2011.
LiteFighter provides lightweight, multi-purpose tactical tents.
Aide praised Guard leadership for interacting with industry partners during the tradeshow.
"They show a lot of support by showing up here and having the time to engage in not just the professional development that happens outside of the conference show exhibition," he said.
"We're really happy about how we've had the experience to talk to them," Aide added.
-    By Donald Lambert