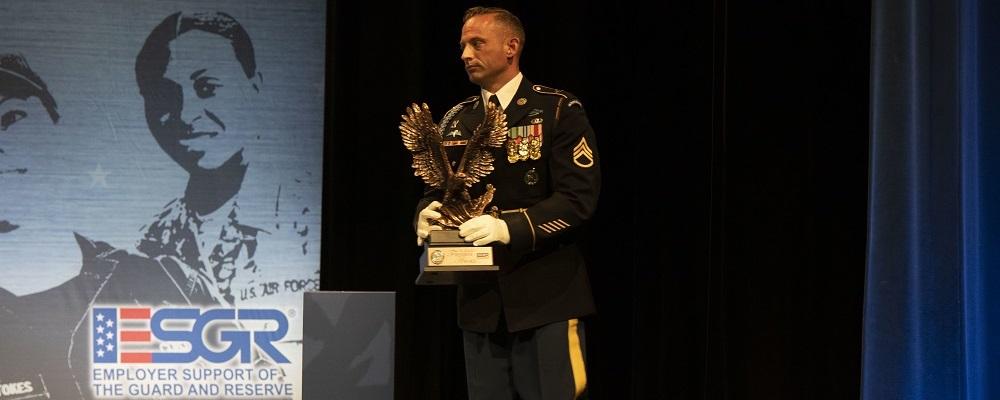 Thirty employers are finalists for an award that honors their support of employees who serve in the National Guard or Reserves.
Winners of the 2021 Secretary of Defense Employer Support Freedom Award will be announced later this year.
The public- and private-sector employers represent 19 states and were named following a review of 3,382 nominations received from all 50 states, Guam, Puerto Rico, the U.S. Virgin Islands and the District of Columbia.
Each were nominated by an employee who serves in the Guard or Reserves. Half the finalists were nominated by a member of the Army or Air Guard. The remaining were nominated by Army Reserve, Marine Corps Reserve, Navy Reserve and Coast Guard Reserve service members.
The finalists were announced by the Employer Support of the Guard and Reserve program. The honor is the highest recognition given by DoD to employers. Now in its 25th year, the awards program has honored 295 companies to date.
"I am honored to congratulate these 30 outstanding employers, who have distinguished themselves in support of their Reserve Component employees," said Ron Bogle, the ESGR's national chair. "Employers play a critical role in the readiness and success of our National Guard and Reserve forces, and by valuing and supporting their employees' military service, they are making a direct contribution to our nation's security."
This year's nominees included private businesses, local law enforcement agencies, school districts and professional sports teams.
Finalists nominated by Guardsmen include:
Allison Transmission Inc. of Indianapolis, Indiana;
Boston Consulting Group of Boston;
Cameron Glass Inc. of Broken Arrow, Oklahoma;
Cleveland Cavaliers of Cleveland;
Drexel Hamilton LLC of New York, New York;
J.B. Hunt Transport Services Inc. of Lowell, Arkansas;
Loftin Equipment Company of Phoenix;
Marcus Construction of Wilmar, Minnesota;
Nogales Police Department of Nogales, Arizona;
Pewaukee Village Police Department of Pewaukee, Wisconsin;
PLEXSYS Interface Products Inc. of Camas, Washington;
Storm Lake Police Department of Storm Lake, Iowa;
Texas A&M Engineering Extension Service of College Station, Texas;
Texas Department of Family and Protective Services of Austin, Texas; and
Yankton School District of Yankton, South Dakota.