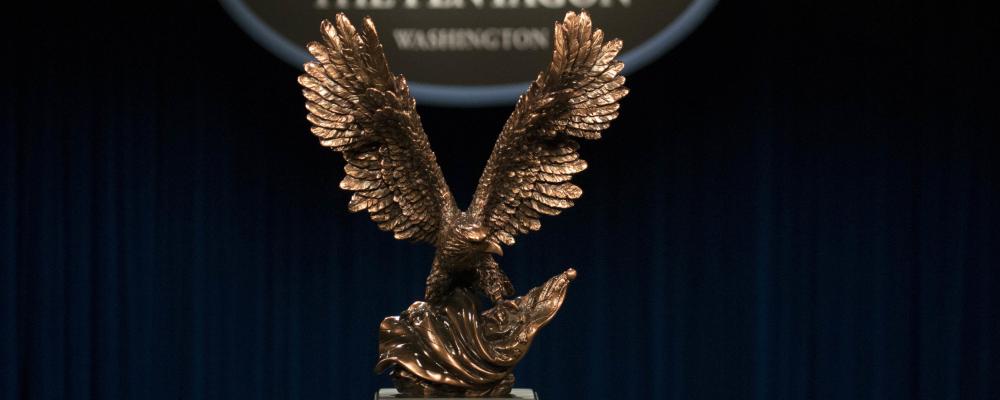 Two public utilities, four local government agencies and nine corporations are the 15 recipients of the 2023 Secretary of Defense Freedom Award, the U.S. government's highest honor for employers utilizing National Guard and Reserve personnel.
Each of this year's award recipients was nominated by a Guard or Reserve employee working for their organization.
Now celebrating its 27th year, the Freedom Award began in 1996 under the auspices of Employer Support of the Guard and Reserve to recognize exceptional employer support. The award has had 340 honorees to date.
"Without the unfaltering support of employers like this year's recipients, the men and women of the National Guard and Reserve would not be able to fulfill their vital mission in our nation's defense and security," said Defense Secretary Lloyd J. Austin III.
"It is a great honor for me to recognize these employers," he added.
This year, ESGR received 1,863 nominations for the Freedom Award for employers from across the nation's 50 states, Guam, Puerto Rico, the U.S. Virgin Islands and the District of Columbia.
The recipients distinguished themselves by going far beyond the requirements of the Uniformed Services Employment and Reemployment Rights Act, or USERRA, to support their Guard and Reserve employees.
Many of this year's recipients offered Guardsmen and Reservists enhanced pay and benefit packages, flexible scheduling and generous leave policies and pre- and post- deployment support.
This year's recipients will be formally recognized at the Pentagon in late August.
These organizations are listed below by employer name, location and the nominator's component and state:
American Bureau of Shipping, Spring, Texas (Army National Guard, Texas)
CAM Superline, Waynesboro, Pennsylvania (Army National Guard, Pennsylvania)
Consumers Energy, Jackson, Michigan (Air National Guard, Michigan)
E.L. Hollingworth and Co., Flint, Michigan (Army National Guard, Michigan)
East Bay Municipal Utilities District, Oakland, California (Navy Reserve, California)
Exigo Corporation, Colorado Springs, Colorado (Air Force Reserve, Colorado)
Fiserv Inc., Brookfield, Wisconsin (Air National Guard, Wisconsin)
Harris County Precinct 1 Constable Office, Houston, Texas (Army Reserve, Texas)
Hickory Police Department, Hickory, North Carolina (Army Reserve, North Carolina)
King County, Seattle, Washington (Coast Guard Reserve, Washington)
Knox County Public Schools, Knoxville, Tennessee (Army National Guard, Tennessee)
Mechanical Resource Group, Nashville, Tennessee (Army National Guard, Tennessee)
Ryzhka International, Fort Lauderdale, Florida (Army National Guard, Florida)
UBS Financial Services Inc., Weehawken, New Jersey (Navy Reserve, New Jersey)
USA Truck, Van Buren, Arkansas (Army National Guard, Arkansas).
For more information about the Freedom Award, visit www.freedomaward.mil.
To learn more about ESGR, which is a Defense Personnel and Family Support Office program, go to www.esgr.mil.
— Based on an ESGR press release