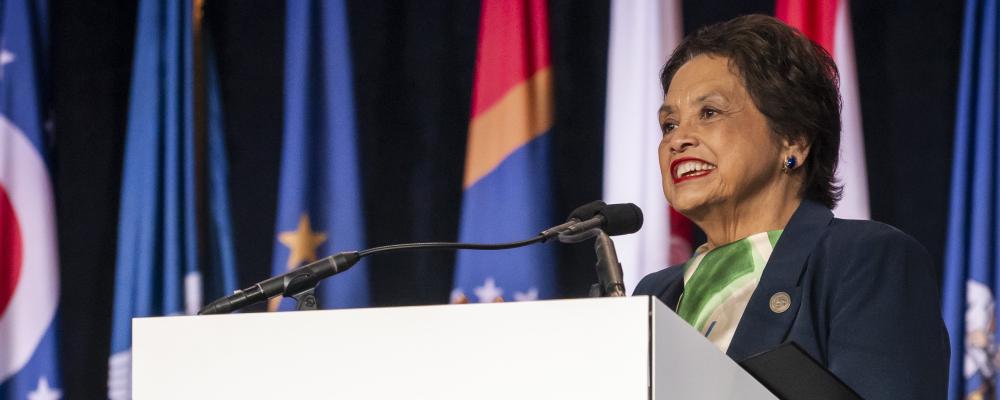 Guam Gov. Lourdes A. Leon Guerrero and Rep. Trent Kelly, R-Miss., received the NGAUS Harry S. Truman Award, the association's highest honor, during the 145th General Conference & Exhibition in Reno, Nevada.
The award recognizes sustained contributions of exceptional, far-reaching magnitude to the defense and security of the U.S.
Previous recipients include presidents, members of Congress, senior officers and governors.
Guerrero has been governor of Guam since 2019 and is the first official from a U.S. territory to receive the award. She said that she accepted the award on behalf of the people of Guam.
"In accepting this award, I am reminded of the responsibilities that come with it — to continue advocating for the needs of our National Guard, to ensure their well-being and preparedness and to champion the values that make our community strong," she said. 
"Together, we can build a legacy of service and excellence that will inspire generations to come," Guerrero added.
Guerrero also recognized Truman for signing the Organic Act of 1950, which empowered residents of the Territory of Guam to establish local legislative, executive and judicial branches of government empowered to control most local issues.
She also recognized the National Guard's hard work.
"This award belongs to the brave men and women of our National Guard, who, time and again, have demonstrated their unwavering commitment to protecting our homeland and supporting our citizens," Guerrero said.
"Their selflessness and dedication inspire us all to rise above challenges and come together for the greater good," she added. "They have consistently stepped up in times of crisis and need and embodied the essence of service before self."
Kelly, meanwhile, has served in the House of Representatives since 2015 while also serving as a major general in the Mississippi Army Guard.
"I'm one of the few to receive this award and I'm extremely humbled and grateful to all of you who put me on the path to get here," he said during his presentation Sunday.
Kelly also serves as co-chair of the House National Guard and Reserve Caucus alongside Rep. Andy Kim, D-N.J.
"[Kim] has been a fighter for the National Guard," Kelly said.
Kelly additionally recognized Gen. Daniel R. Hokanson, the chief of the National Guard Bureau, Lt. Gen. Jon A. Jensen, the director of the Army National Guard, and Lt. Gen. Michael A. Loh, the director of the Air National Guard, as his "battle buddies" on Capitol Hill.
"They are always in my office and other peoples' offices fighting for the Guard," he said.
— By Donald Lambert