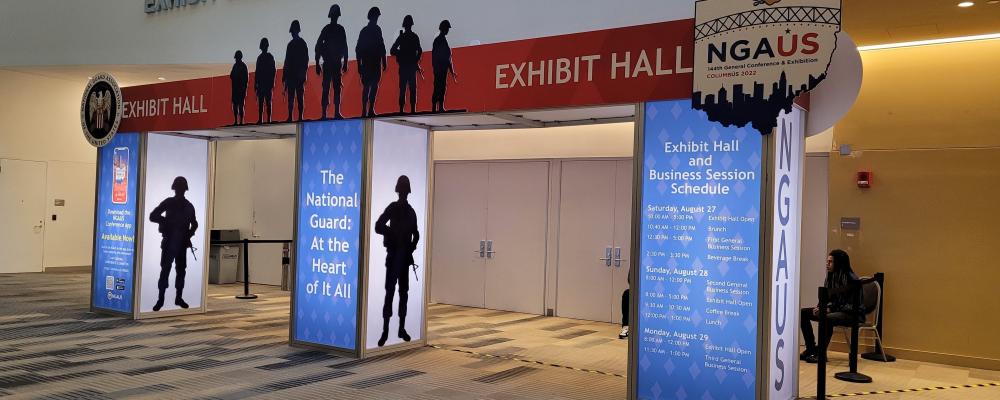 Major events at the 144th General Conference & Exhibition begin tomorrow (Aug. 27) in Columbus, Ohio, with the largest NGAUS trade show in a decade and speeches by the uniformed leaders of the Army and the Air Force.
"This is the most important meeting of the year for the entire National Guard, not just for our association," said retired Brig. Gen. J. Roy Robinson, the NGAUS president.
"We'll hear from multiple members of the Joint Chiefs of Staff and see the latest products and services from the defense industry," he added. "We will leave Columbus with a clearer picture of our future." 
Conference delegates will also begin conducting association business tomorrow.
The delegation includes representatives from every state, territory and the District of Columbia, considering resolutions that will steer next year's legislative agenda at NGAUS.
The event is at the Greater Columbus Convention Center, with about 2,500 current and former National Guard officers registered to attend.
Representatives from at least two Guard State Partnership Program nations — Paraguay (linked with Massachusetts) and Poland (tied to Illinois) — are also scheduled to attend.
The industry exhibition is the first big event. It opens at 10 a.m. tomorrow (Aug. 27) with a ribbon cutting.
A complimentary brunch will begin at 10:40 a.m.
Among the exhibitors are some of the world's largest defense contractors, while some are smaller companies attempting to break into the market.
Conference business sessions begin tomorrow at 12:30 p.m.
First on the agenda is the Ohio Welcome and the always popular Roll Call of States.
Presentations by the uniformed leaders of the Army and Air Force will follow.
Gen. James C. McConville, the chief of staff of the Army, will speak at 2:30 p.m., while Gen. CQ Brown, Jr., the chief of staff of the Air Force, will present at 4 p.m.  
Speakers Sunday (Aug. 28) include Lt. Gen. Laura A. Potter, the deputy Army chief of staff for intelligence, at 9:15 a.m., and Gen. Daniel R. Hokanson, the chief of the National Guard Bureau, at 11:15 a.m.
Brown, Hokanson and McConville are JCS members and advise America's president, defense secretary, Homeland Security Council and National Security Council on military matters.
As the Army's former senior intelligence officer in Europe, Potter is considered an authority on the continent's current conflict.
Most speakers will address the conference theme, The National Guard: At the Heart of It All.
Speakers will also touch upon emerging national security threats, future defense budgets and the Guard's place in U.S. defense strategy.
More conference information, the full business agenda and a complete exhibitor list are available at www.ngaus.org/events/144th-general-conference-exhibition.
-    By John Goheen