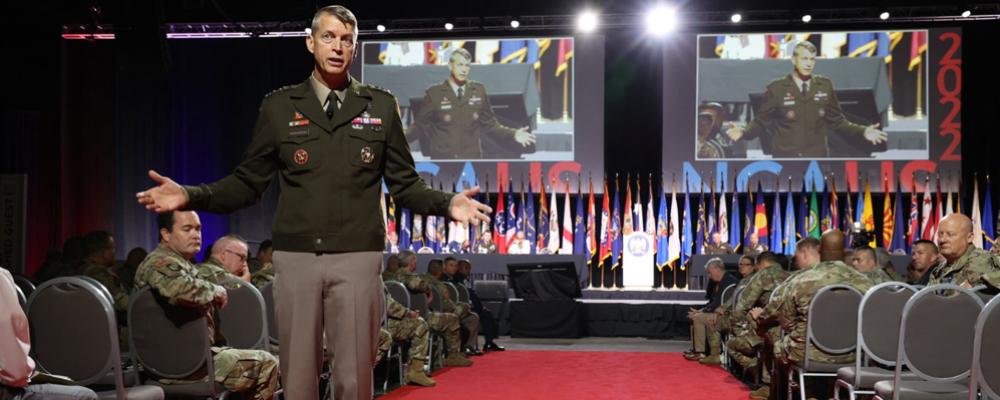 Gen. Daniel R. Hokanson, the National Guard Bureau chief, says America has a "moral imperative" to improve military health care.
Addressing more than 2,500 current and former Guard officers, Hokanson called focusing on health care "the biggest initiative of all" because the issue is critical to readiness.
"It can create gaps in coverage, and this causes stress, and, sometimes, financial and medical hardships for our soldiers and airmen and their families," he said at the 144th General Conference & Exhibition in Columbus, Ohio, Sunday.
NGB reports about 60,000 Guardsmen don't have private health insurance.
Hokanson said even Guardsmen covered through their civilian employers "face challenges when chasing duty status and moving between civilian health care and TRICARE."
Hokanson said troops lacking health care affects Guard readiness.
He noted critics commonly argue insurance "costs too much" or "we can't afford health care for a part-time force."
"It is both a strategic and moral imperative," Hokanson countered. "It's an essential component to our readiness."
"It's vital to our recruiting and retention efforts," he continued. "And, frankly, it's the right thing to do."
NGAUS considers zero-cost TRICARE to ensure reserve-component medical readiness a legislative priority.
Next, Hokanson characterized COVID-19 vaccines as key to medical readiness.
Per the respective services, 89% of Army Guardsmen are fully vaccinated, while 94.5% of Air Guardsmen are fully vaccinated.
"For some, the COVID vaccine has become a symbol," Hokanson stated.
"A symbol of compassion, a symbol of submission, a symbol of political affiliation, but it's not a symbol," he ended. "It's essential to our readiness."
Hokanson said vaccinating all eligible Guard members "will improve readiness and help keep the promise to be 'always ready, always there.'"
"I don't say this to be controversial," he noted. "I say this because it's a requirement and we have a job to do. It takes every Guardsmen to do it."
Hokanson spoke about expanding the State Partnership Program, which links Guard entities to ally and partner nations abroad.
"The 2022 National Defense Strategy is clear: mutually beneficial alliances and partnerships are our enduring strength," he said.
"They are critical to our objectives, and we've been doing it for almost 30 years," Hokanson concluded.
Since 1993, 45% of countries worldwide have joined the SPP, Hokanson stated.
Hokanson said the NGB hopes to grow the program by "by another [30%] in the next 10 to 15 years."
"Our partners know the stakes of defending democracy," he said.
Hokanson also discussed the Guard's modernization efforts, battling wildfires in New Mexico and helping with flood relief in Kentucky.
-    By Donald Lambert