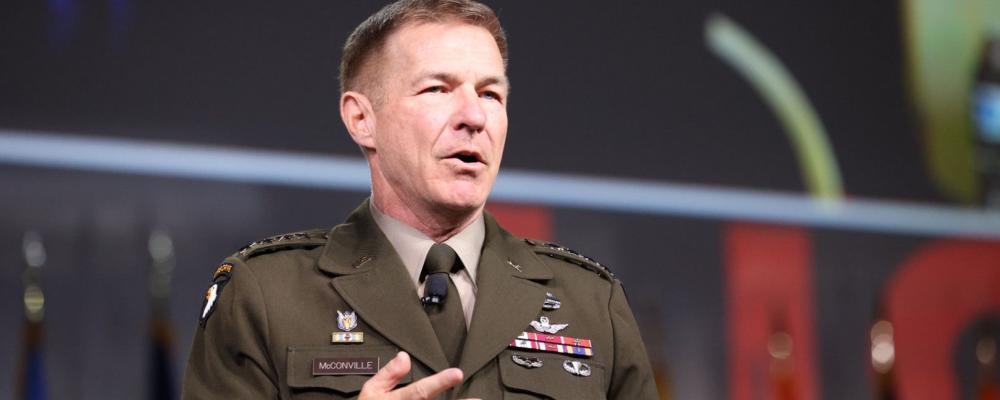 The Army chief of staff says the service's new fitness test improves the previous version.
Gen. James C. McConville adds updating the Army Combat Fitness Test will make soldiers stronger.
"I think the ACFT is the better test," he said during the 144th General Conference & Exhibition in Columbus, Ohio, Saturday. "We want to get everyone taking it."
"This test is going to make our Army much, much more physically fit," McConville added.
McConville noted physical vitality is one part of the Army's wellness vision servicewide.
"We're going to be the world's greatest health club," he vowed. "It's not just physical fitness."
"Dieting is extremely important to physical and mental health," McConville continued. "Getting the right amount of sleep and sleeping right is important."
In April, the Army began changing the ACFT's scoring and events following a congressional review ordered in fiscal year 2021.
The latest ACFT's performance-normed scoring metrics scale for age and gender.
The test also eliminates the leg tuck and adds an alternate aerobic event for soldiers on medical profiles.
Now, the ACFT has maximum dead lift, standing power throw, hand-release push up, sprint/drag/carry, plank and two-mile run trials.
Troops on active-duty and Active Guard and Reserve must conduct a record ACFT by Oct. 1, 2022.
Their first record test is due before April 1, 2023, while most Army Guard and Army Reserve soldiers have until April 1, 2024.
The original ACFT created controversy for utilizing gender-neutral scoring.
Many women struggled with the benchmarks, leading to concerns about the Army's female talent.
The first ACFT also challenged Guard and Reserve members by heavily leveraging often inaccessible equipment like kettlebells.
"Many of you have day jobs that don't allow you to do those things," McConville told Guardsmen. "We have to adapt our training for those who don't have it."
"I personally work out," he added when asked about Guardsmen struggling to find time to practice new ACFT events. "I do planks at home. We've got to make it so people who don't know how to do a plank, we properly show them."
"Hand-release push ups. I do those at home. The running, I get to run around D.C., and I do that for actually mental therapy, not physical therapy."
McConville received the Harry S. Truman award Saturday, the highest honor NGAUS awards.
Recipients make sustained contributions of exceptional and far-reaching magnitude to U.S. defense and security in a manner worth recognizing nationally.
After receiving the award, McConville cited altering the ACFT as part of the Army's evolving talent management.
"We are all learning every single day," he said. "We're not lowering standards. When we talk about people first, it's playing the long game."
-    By Mark Hensch