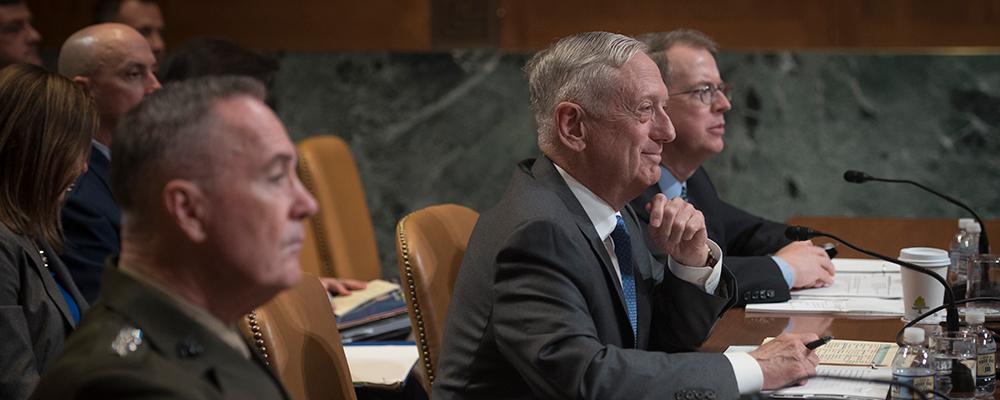 For the first time in a decade, the Defense Department is beginning a fiscal year with its full funding in place.
President Donald Trump on Friday signed into law $674.4 billion in appropriations for the Pentagon, part of $716 billion in total defense spending. It includes a 2.6 percent pay raise for military personnel, the largest boost in 10 years, and increases in troops, equipment and weapons for fiscal 2019, which began Monday.
"My administration has secured funding to order 93 new F-35 Lightning Joint Strike Fighters, 142 Apache and Black Hawk helicopters, and 13 Navy battle-force ships—made right here in the USA," he said in a statement.
Some of those aircraft are coming to the Guard. The spending measure includes six new-build AH-64E Apache helicopters and eight additional UH-60M Black Hawk helicopters (the budget will ultimately provide at least 15) for the Army Guard.
And while none of the F-35s the president mentions is specifically going to the Guard, the Air Guard is scheduled to receive its first Joint Strike Fighters late next year when F-35As begin arriving at the 158th Fighter Wing in Burlington, Vermont.
There are also several Air Guard aircraft items in the appropriations that Trump didn't mention, specifically eight C-130J Hercules cargo aircraft, $181 million for C-130H modernization and funds for A-10 Thunderbolt II fighter modernization and F-15 Eagle fighter upgrades. 
The fiscal 2019 budget also includes $421 million each for the Army Guard and Air Guard in the congressionally-directed National Guard and Reserve Equipment Account. 
Pentagon leaders were thrilled just to begin a fiscal year with a budget in place. Gen. Joseph Dunford, the chairman of the Joint Chiefs of Staff, said predictable budgets increase readiness and make the Pentagon better stewards of taxpayer dollars. 
"It took us years to get into this problem and you don't spend money efficiently, you don't spend money as a good steward, if you lurch from year to year," Dunford told reporters traveling with him to Europe on Monday. "You can't plan a program and develop capabilities over time."
The stopgap measures that have been in place to begin the last nine fiscal years limited spending to previous year's levels with no new programs. In some years, budgets weren't in place until halfway through the fiscal year.  
"We need to have predictability to properly prioritize what we are going to invest in," he said. "Every year, no matter how big the budget is, you have to make choices. We are much better at making choices if we are informed by a three-to-five-year look ahead and predict what level of funding we will have."
The on-time budget is largely the result of the bipartisan budget agreement congressional leaders approved early this calendar year. It relaxed the mandated spending caps in the Balanced Budget Agreement of 2011 and set higher top lines for both defense and nondefense spending for 2018 and 2019. 
The spending caps, often referred to as sequestration, return in fiscal 2020, meaning lawmakers will have to forge a new agreement to keep defense spending at current levels.