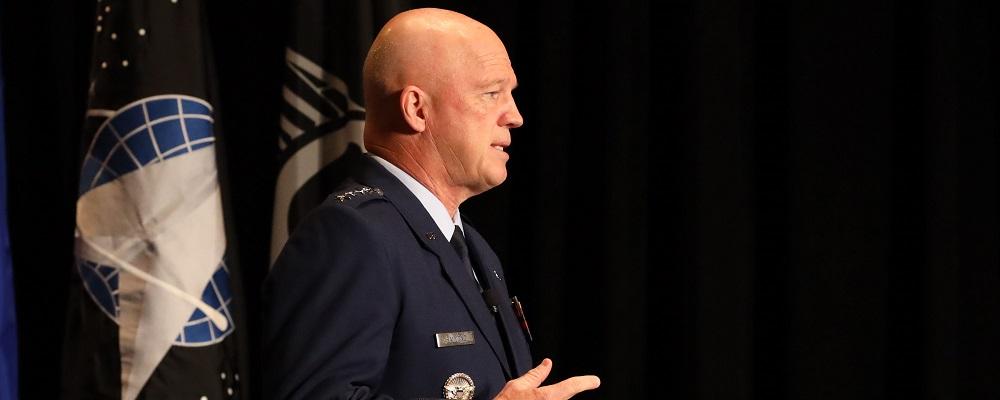 The nation's first chief of space operations would not commit to a Space National Guard as he spoke to NGAUS on Saturday, during the 142nd General Conference.
But the Guard will have a role in space, promised Gen. John W. "Jay" Raymond.
"We couldn't do our job without you," said the top officer in the new Space Force. "We couldn't do that today and we can't do that in the future."
Raymond is currently building Space Force from the foundation, from its personnel to its doctrine. But plans for a reserve component of the new service are on hold, pending a study that will soon be briefed at the Pentagon before being sent to Congress.
NGAUS and Guard leadership have advocated on behalf of a Space Guard which would be comprised of those Guard units already involved in the space mission. That includes more than 1,000 Guardsmen, mostly in the Air Guard, spread across eight states and one territory.
Raymond did not reveal what recommendation, if any, would be made in the report due to Congress later this year about a Space reserve.
But he praised the Guard for its efforts domestically in recent months, combating the COVID-19 pandemic and responding to civil unrest. And thanked the Guard for its ongoing work in the space mission.
Space is central to what Raymond called the largest change in the global security environment in a generation.
"Space power is absolutely systemic to our national power," he said. "It fuels our American way of life."
But the luxury of being able to take space for granted is over, he added. Now, adversaries seek to jam or damage satellites that are integral parts of the defense and economic infrastructure of the nation.
"Space is a warfighting domain just like air, land and sea," Raymond said. "The implications of that are really significant."
The challenge for the new force is staying ahead of those growing threats. To do that, the Space Force must be bold, innovative and able to move fast. It must also attract and develop the best talent.
To that end, Raymond said the Space Force must be small and agile. And he is already slashing bureaucracy to build a service that fits that description. Officials have already eliminated two layers of command and drastically cut the planned headquarters size, from well over 1,000 personnel to less than 600.
Raymond said the service is exploring a model that would allow service members to transition seamlessly between the Space Force, NASA and private industry. It may also allow them to move from active-duty to a part time role with a reserve component and back.
Whether or not there is a Space Guard, Raymond said the nation would continue to ask a lot of its Guardsmen.
"We can't do our job today without you and we're going to need you in the future as well," he said.