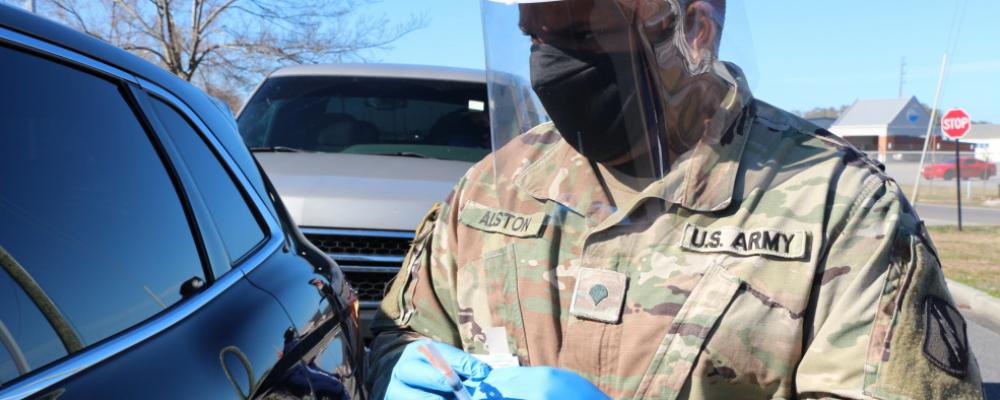 More than 28,000 National Guard soldiers and airmen are on COVID-19-related duties across the nation, representing 52 states and territories.
In many states, the Guard is filling key vaccination distribution or administration roles. At least 30 states are utilizing personnel to actively administer vaccines to the civilian population.
In Texas, officials said they have vaccinated thousands, with many more to come.
"Everyone's extremely excited to be involved in this because we know how important it is," said Col. Peter Coldwell, the Texas Military Department state surgeon.
The Texas National Guard has focused its efforts on rural communities that may otherwise have less access to medical support and the vaccine, officials said.
The Guard is playing a key role, even in states where they are not actively administering the vaccine.
In West Virginia, officials said Guard armories have been utilized for vaccine administration. And the Guard is playing a key role in distributing the vaccine, which must be kept at super-low temperatures.
Leaders in both states said their citizen-soldiers and airmen are uniquely suited to contribute amid the pandemic.
"We are citizens of our own states, we come from our communities, we know our communities," Coldwell said.
Many Guardsmen have also lost loved ones to the virus. And Coldwell said that adds to the urgency and importance of the mission.
"The sooner we bring it to a rapid end," he said of the pandemic, "the sooner we can get back to our normal lives."
To date, there are more than 27 million COVID-19 cases in the United States, including more than 18,000 among Guardsmen, according to officials.
More than 6,800 are currently battling COVID-19, which has killed eight Guardsmen over the past year. More than 96,000 Guardsmen have received at least the first dose of a vaccination.
The latest efforts come as the Pentagon has beefed up its active-component support to pandemic-related missions.
Officials recently approved the deployment of 20 additional military vaccination teams, according to the Associated Press, and could deploy as many as 19,000 active-component troops if 100 planned teams are realized.
The Guard has already contributed nearly 100 vaccination teams, with the ability to field about 200 additional teams if needed, leaders have said.