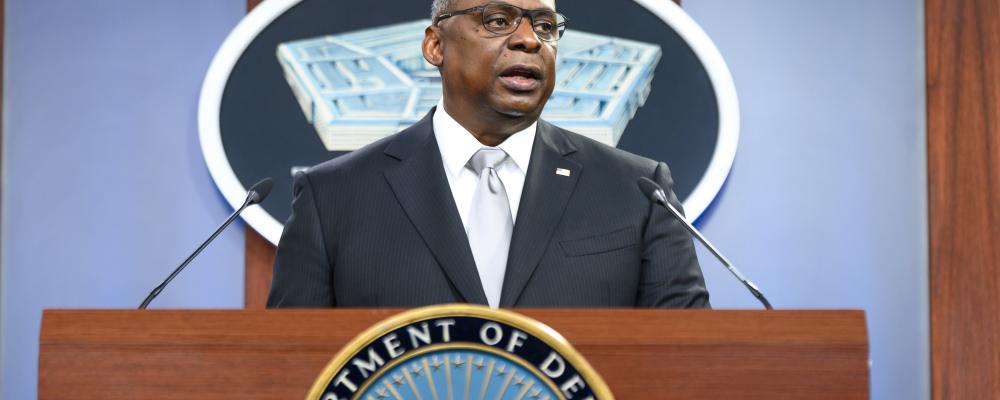 Fourteen House Republicans have urged Defense Secretary Lloyd J. Austin III to rescind the Pentagon's COVID-19 vaccine mandate.
In an Aug. 31 letter, the group cited the Centers for Disease Control and Prevention's latest guidance as evidence the controversial measure should end.
Rep. Mike Waltz, R-Fla., a Maryland Army Guard colonel and a House Armed Services Committee member, leads the effort.
"Right now, approximately 45,000 National Guardsmen are currently unable to participate in crucial training because of the current mandate in place," Waltz said in a statement last Wednesday.
"Additionally, our military could lose hundreds of highly trained, specialized, and skilled active service members that our nation has invested millions into training if this mandate is not lifted," he continued.
Waltz argued the military's current talent environment and global competition make the mandate unsustainable.
"At a time when our adversaries, including China, are rapidly expanding and modernizing their militaries, why would the Department of Defense continue to implement a policy that decreases military recruitment, retention, and readiness?" he asked.
Several major Republicans signed Waltz's letter, including Rep. Elise Stefanik of New York and Rep. Jim Banks of Indiana.
As House Republican Conference chair, Stefanik ranks third in the chamber's GOP leadership, while Banks chairs the Republican Study Committee.
In the letter, the lawmakers quoted the CDC as saying "some of the more restrictive COVID-19 guidelines are no longer necessary now that there is greater immunity in the general public due to natural immunity after recovery from COVID-19 infections and increasingly more effective pharmaceutical treatments for the disease."
"Furthermore," they wrote, "the CDC's new guidance states, 'These circumstances now allow public health efforts to minimize the individual and societal health impacts of COVID-19 by focusing on sustainable measures to further reduce medically significant illness as well as to minimize strain on the health care system, while reducing barriers to social, educational, and economic activity.'"
"Why not also reduce the strain on our already faltering military recruitment and retention efforts by taking new data into consideration, as the CDC has in their new guidance, and revise the Department of Defense's COVID-19 vaccine mandate?" the group asked.
"DoD's COVID-19 guidance is supposedly aligned with CDC guidelines for the general public and the current science," they added.
"DoD should follow the CDC's lead and halt the discrimination between vaccinated and unvaccinated service members now that the science has shown there is no difference in the health recommendations between the two groups."
Waltz was among 51 House Republicans who sent Austin a July letter asking he reconsider the COVID-19 mandate.
Austin signed the controversial measure in 2021, requiring all military personnel to be fully or partially vaccinated against COVID-19.
Last month, Gen. Daniel R. Hokanson, the National Guard Bureau chief, linked COVID-19 vaccines to medical readiness.
"[It] will improve readiness and help keep the promise to be 'always ready, always there,'" he said of vaccinating Guardsmen during the 144th General Conference & Exhibition in Columbus, Ohio, on Aug. 28.
As of Aug. 25, the Army reports 89% of Army Guardsmen are fully vaccinated against COVID-19, while 1.4% are partially vaccinated.
Per the Air Force, 94.5% of Air Guardsmen are fully vaccinated against COVID-19 as of Aug. 22.
— By Mark Hensch