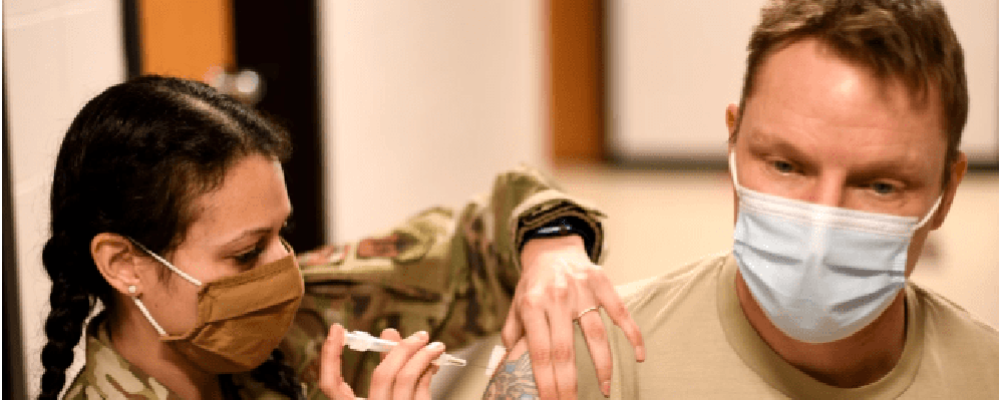 The services have until March 17 to rescind their COVID-19 vaccination policies, according to a Pentagon memo signed last Friday by Deputy Defense Secretary Kathleen H. Hicks.
The memo reverses any flags or in-process involuntary separations for many service members who refused vaccination against COVID-19.
"DoD Component policies, directives, and guidance have not been operative since the January 10, 2023, memorandum was issued, regardless of the status of the DoD Component conforming guidance," the memo reads.
"DoD Component heads shall formally rescind any such policies, directives, and guidance as soon as possible, if they have not done so already," it adds.
The full memo is available here.
The so-called guidance follows Defense Secretary Lloyd J. Austin III's Jan. 10 memo formally ending the vaccine mandate.
Austin's action was required by a provision in the fiscal 2023 National Defense Authorization Act.
The Army and the Air Force issued their post-mandate guidance Friday.
The Air Force's guidance is available here and the Army's guidance is available here.
Both services will remove adverse actions and information from the records of any currently serving service member who refused the vaccine if those personnel sought an exemption on religious, administrative or medical grounds.
The Air Force memo makes clear that the new guidance doesn't apply to those who refused vaccination and didn't request an exemption.
"Members who did not seek an exemption may petition their chain of command under existing [Air Force] policy or the Air Force Board for Correction of Military Records for removal of adverse information if they believe an injustice or error has occurred," according to the memo signed by Air Force Secretary Frank Kendall III.
The latest Pentagon guidance reiterates that there may still be cases where a service member's deployments or assignments may be limited, such as "when vaccination is required to travel to, or entry into, a foreign nation."
Any requests "to initiate mandatory immunizations of personnel against COVID-19 will be made judiciously and only when justified by compelling operational needs and will be as narrowly tailored as possible," according to the memo.
More than 8,000 service members were separated for refusing the COVID-19 vaccine.
Though some Republican lawmakers have pushed for reinstatements and back pay for these discharged personnel, the NDAA didn't include such language.
Pentagon officials have also said that they aren't considering such measures.
In January, House and Senate Republicans introduced legislation that would provide back pay to military members involuntarily separated from the services for refusing the COVID-19 vaccine.
The bill is with the House and Senate Armed Services committees.
— By John Goheen