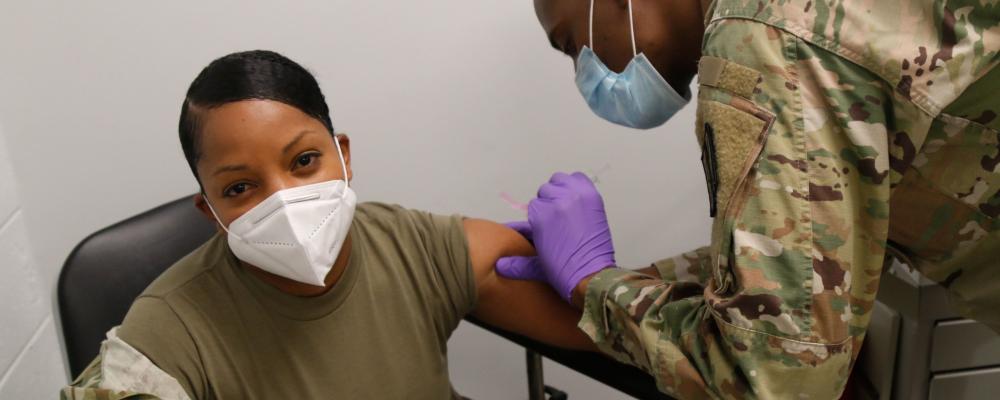 The Pentagon no longer says service members must be vaccinated against COVID-19, according to a memo signed last week by Defense Secretary Lloyd J. Austin III.
The change repeals Austin's Aug. 24, 2021, memo mandating personnel under Defense Department authority be vaccinated and a subsequent Nov. 30, 2021, memo about National Guard and Reserve vaccinations.
President Joe Biden signed the fiscal 2023 National Defense Authorization Act last month, which required DoD to rescind the mandate.
The Pentagon has stopped all related personnel actions, such as discharging troops for refusing the shot.
"No individuals currently serving in the Armed Forces shall be separated solely on the basis of their refusal to receive the COVID-19 vaccination if they sought an accommodation on religious, administrative, or medical grounds," Austin wrote.
Commanders can bar unvaccinated troops from assignments or deployments when vaccinations are required for traveling to or entering foreign nations.
But Austin's memo leaves other questions unanswered.
For example, the new memo doesn't resolve the issue of back pay or credit for unexcused absences for Guardsmen who refused the COVID-19 vaccine.
Austin's Nov. 30, 2021, memo said Guardsmen in a Title 32 status refusing the COVID-19 vaccine wouldn't receive pay.
These Guardsmen also wouldn't get credit for unexcused absences for drills, training and other duties.
Last Friday, a National Guard Bureau spokesperson said the bureau awaits more DoD guidance on the issue.
NGB also expects information on whether service members involuntarily separated for COVID-19 vaccine refusals can be reinstated.
All service members can apply for their military records whenever they believe errors or injustices exist in their documentation.
Service members should contact either the appropriate Discharge Review Board or Board for Correction for their records.
Despite the change to DoD's policies, Austin's latest memo describes COVID-19 vaccines as critical.
"The Department will continue to promote and encourage COVID-19 vaccination for all Service members," Austin wrote.
Per NGB, about 92% of the National Guard was vaccinated against COVID-19 on Jan. 9.
About 93% of the Guard had received one vaccine dose by that date.
According to NGB, 91% of the Army Guard was fully vaccinated against COVID-19 by Jan. 9, as was 94% of the Air Guard.
Army Guard soldiers had until July 1, 2022, to get vaccinated, while Air Guard airmen had until Dec. 2, 2022.
The Army Guard has granted 6,578 temporary exemptions, 14 permanent medical exemptions and one permanent religious exemption to the vaccine.
The Air Guard has granted 153 medical exemptions and 622 administrative exemptions.
NGB noted the Army Guard hasn't involuntarily separated any COVID-19 vaccine refusers.
The Air Guard involuntarily separated 69 Airmen for refusing the vaccine.
Per DoD guidance, the Guard has stopped reviewing ongoing requests for religious, administrative and medical vaccine exemptions.
The Guard has also stopped reviewing appeals for denials about such requests.
NGB currently lacks guidance about removing adverse actions for individuals who were denied COVID-19 vaccine accommodations and exemptions.
As of Jan. 11, 33 Guardsmen deaths have been attributed to COVID-19.
As of the same date, 201 Guardsmen were supporting COVID-19 operations nationwide in a state active-duty status.
Last week, the House Armed Services Committee's new chairman suggested Congress hasn't finished with DoD's COVID-19 policies.
"We will be looking into the impacts the COVID-19 vaccine mandate had on our readiness — especially its impact on the recruitment and retention of service members," said Rep. Mike Rogers, R-Ala.
— By John Goheen