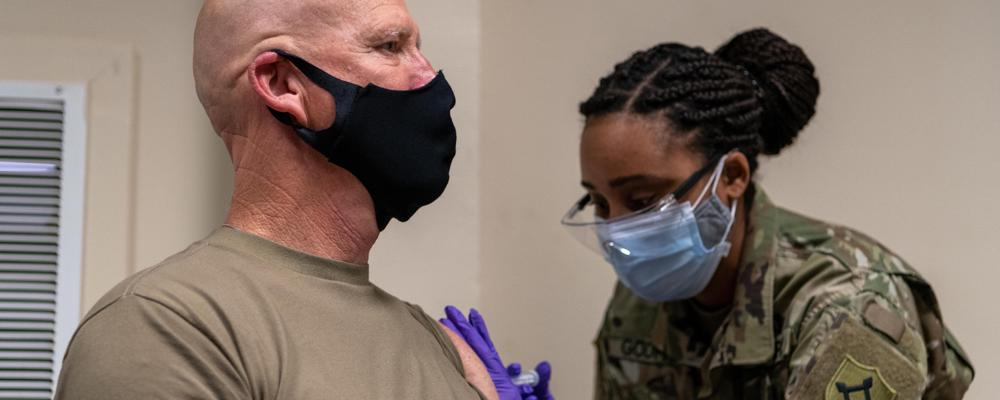 Nineteen Republican senators have introduced a bill that would reinstate military members involuntarily separated from the services for refusing the COVID-19 vaccine.
The bill would also compensate them with benefits and back pay lost after their separation.
Sen. Ted Cruz, R-Texas, spearheaded the Allowing Military Exemptions, Recognizing Individual Concerns About New Shots (AMERICANS) Act of 2023.
If passed, Cruz's bill would dramatically change the Defense Department's COVID-19 vaccine policies.
"The AMERICANS Act would correct the wrongs done to unvaccinated service members who were discharged for exercising their conscience," Cruz said in a press release Monday.
The bill would:
Prohibit the secretary of defense from issuing a replacement COVID-19 vaccine mandate without congressional approval;
Reinstate any service members separated solely for their COVID-19 vaccine status seeking to rejoin the military;
Credit such service members for retirement pay calculations using the time of their involuntary separations;
Restore the rank of any service member demoted solely for their COVID-19 vaccine status;
Compensate such service members with any benefits and pay lost to such demotions;
Adjust all "general" discharges given to service members solely due to their COVID-19 vaccine statuses to "honorable" discharges;
Expunge all adverse actions from service members' records based solely on COVID-19 vaccine status, regardless of previously sought accommodations;
Make every effort to retain service members unvaccinated against COVID-19;
Provide service members unvaccinated against COVID-19 with professional development, promotion and leadership opportunities equal to their peers; and
Provide a COVID-19 vaccine exemption process for service members with natural immunity, relevant underlying health conditions and sincerely-held religious beliefs against receiving vaccines.
The AMERICANS Act's co-sponsors include Sen. Mike Crapo, R-Idaho, Sen. James Risch, R-Idaho, Sen. Kevin Cramer, R-N.D., Sen. Marsha Blackburn, R-Tenn., Sen. Roger Marshall, R-Kan., Sen. Mike Lee, R-Utah, Sen. Rick Scott, R-Fla., Sen. Cindy Hyde-Smith, R-Miss., Sen. Mike Braun, R-Ind., Sen. Steve Daines, R-Mont., Sen. Lindsey Graham, R-S.C., Sen. Rand Paul, R-Ky., Sen. Marco Rubio, R-Fla., Sen. James Lankford, R-Okla., Sen. Ron Johnson, R-Wis., Sen. John Hoeven, R-N.D., Sen. Cynthia Lummis, R-Wyo., and Sen. Josh Hawley, R-Mo.
Graham is co-chair of the Senate National Guard Caucus.
In the House, the bill's companion legislation was introduced by Rep. Dan Bishop, R-N.C.
"While we were successful in rescinding the military COVID mandate, we must now ensure separated servicemembers are offered immediate reinstatement and full compensation for their loss of benefits," Blackburn said in a press release Monday.
Defense Secretary Lloyd J. Austin III signed a memo Jan. 10 rescinding the mandate that all service members be vaccinated against COVID-19.
The action was required by the fiscal 2023 National Defense Authorization Act that President Joe Biden signed into law on Dec. 23, 2022.
The change repealed Austin's Aug. 24, 2021, memo requiring all personnel under DoD authority to get vaccinated against COVID-19.
It also repealed a Nov. 30, 2021, memo stipulating COVID-19 vaccinations for all National Guard and Reserve members.
The fiscal 2023 NDAA has language from an earlier version of the AMERICANS Act Cruz introduced last year eliminating DoD's COVID-19 vaccine mandate.
In December, the Senate voted against Cruz's amendment to the fiscal 2023 NDAA reinstating service members involuntarily separated for refusing COVID-19 vaccines.
Cruz's amendment would have given those service members benefits and back pay after being reinstated to the military.
— By Mark Hensch