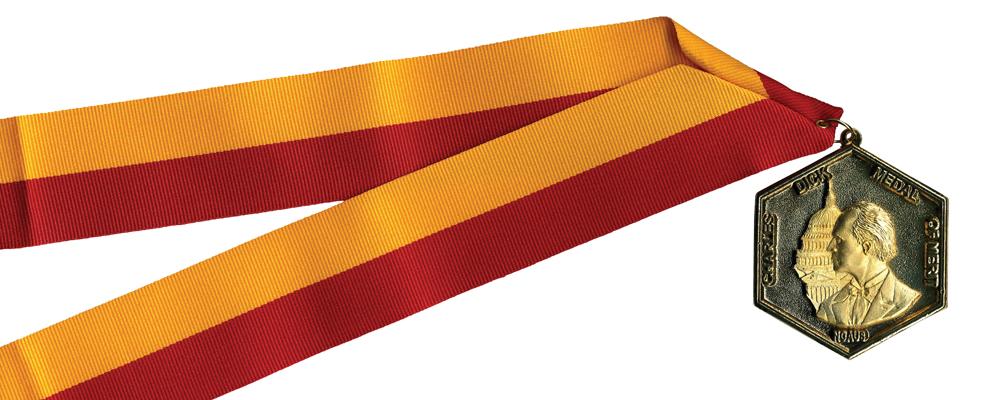 Leaders of Nevada and Mississippi and a U.S. senator will be among those honored by NGAUS during the 143rd General Conference & Exhibition this week.
Nevada Gov. Steve Sisolak and Mississippi Lt. Gov. Delbert Hosemann will each receive the Charles Dick Medal of Merit. Sen. Catherine Cortez Masto, D-Nev., will receive the Montgomery Medal.
In all, dozens of current and former Guardsmen, lawmakers and other officials will be honored throughout the four-day conference.
Cortez Masto will receive the association's second-highest award, which was created in 2004 to recognize individuals or organizations that provide outstanding support in pursuit of NGAUS objectives.
The Montgomery Medal is named for and bears the likeness of Rep. Sonny Montgomery, who was a Guard general officer and legislator known as "Mr. National Guard" while in Congress from 1967 to 1997.
The senator was nominated by Maj. Gen. Ondra L. Berry, the adjutant general of Nevada, who cited her dedication and tireless efforts to ensure Guard men and women received "the same pay, benefits, educational assistance and access to critical care programs that the active component received during the COVID-19 pandemic response."
Cortez Masto was among the senators who wrote to President Donald Trump last year asking him to restore full funding for National Guard forces responding to the pandemic. She is also working to address concerns of service members transitioning out of active duty and introduced legislation to increase resources for female veterans.
Sisolak and Hosemann will each be honored with another of the NGAUS's top awards, the Charles Dick Medal of Merit.
The Charles Dick Medal was established in 1988 and recognizes the contributions of elected representatives at the state and national levels. It is named in honor of Maj. Gen. Charles Dick, NGAUS president from 1902 to 1909. Dick also served as a representative and senator during his lifetime and was responsible for the passage of the Dick Acts of 1903 and 1908 that established the foundation of the modern National Guard.
Sisolak was also nominated by Berry, Nevada's top Guard officer, and is credited for ensuring unity of effort within the state's response to the COVID-19 pandemic.
Sisolak temporarily aligned the Nevada Division of Emergency Management and the state Department of Health and Human Services for the duration of the public health crisis. Guardsmen helped move personal protective equipment, distribute food and conduct COVID-19 testing.
"Gov. Sisolak recognized that given their status as residents in our community, Nevada Guardsmen were well positioned to assist and respond to the pandemic and civil unrest," Berry said. "Through protest, polarization and pandemic, the National Guard proved its promise as a positive example of unity and dedication to our national as seen by Nevada leadership."
Hosemann was nominated by Maj. Gen. Janson Boyles, the adjutant general of Mississippi.
"Seldom has an elected official distinguished himself over the course of four elected terms of office with such exceptionally service on behalf of the Mississippi National Guard," Boyles wrote. "Lt. Gov. Hosemann has gone well beyond the normal bounds of the duty and consistently championed the men, women, and families of the Mississippi National Guard."
This year's awards will be interspersed throughout the General Conference & Exhibition.
NGAUS will also present the association's Distinguished Service Medal to retired Col. Don Deering.
Deering served in uniform for 42 years before retiring in 1994. Since that time, he has served as NGAUS Retired (Army) Board of Director and currently holds seats for the National Guard Insurance Trust as a member-at-large and the NGAUS General Conference Committee.
He also served as executive director of the National Guard Association of Tennessee from 1995 to 2006.