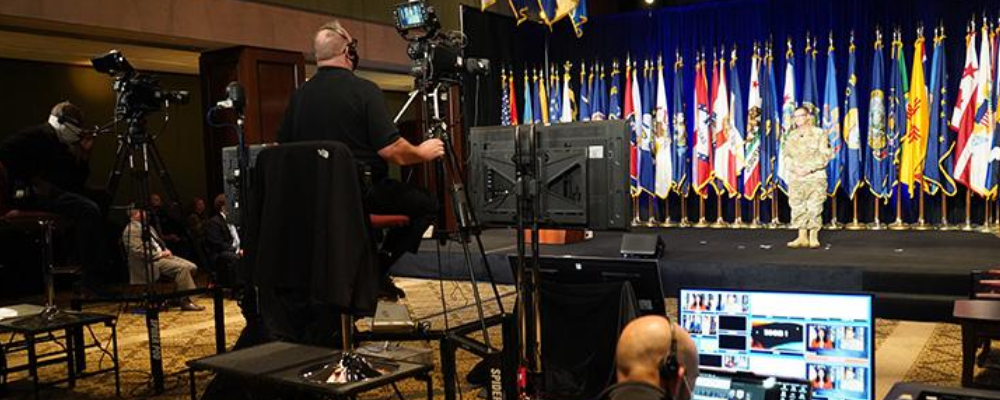 NGAUS is in final prep for the 142nd General Conference.
The association started setting up a television studio today in the National Guard Memorial in Washington, D.C., the NGAUS headquarters in Washington, D.C., for the event that will be livestreamed Friday and Saturday.     
An audio-visual company will produce and transmit a broadcast-quality telecast of the conference to an online event platform, which is now open to registered attendees. 
The platform will also include a virtual trade show that now features 85 companies and organizations.
A rehearsal of concept for conference at last month's Capitol Summit won high marks for production quality from both participants and the online audience. 
The agenda includes what Politico has dubbed a "who's who of service chiefs and other brass," to include (all times are Eastern).
•    Gen. James C. McConville, the Army chief of staff — Friday at 4 p.m.;
•    Gen. Daniel R. Hokanson, the new chief of the National Guard Bureau  — Saturday at 1 p.m.;
•    Gen. Charles Q. Brown Jr., the Air Force chief of staff — Saturday at 2 p.m.;
•    Gen. John W. "Jay" Raymond, the Space Force's first chief of space operations —Saturday at 2:30 p.m.;
•    Lt. Gen. Jon A. Jensen, the new director of the Army National Guard — Saturday at 3:40 p.m.; and
•    Lt. Gen. Michael A. Loh, the new director of the Air National Guard — Saturday at 4:10 p.m. 
The event is the association's annual business meeting. It is typically limited to NGAUS members and guests. This year, it's virtual and open to anyone with an interest in the Guard, said retired Brig. Gen. J. Roy Robinson, the association president.
"We are honored to gather so many senior Pentagon generals, especially in a year that has seen historic mobilizations of Guard soldiers and airmen," he said. "Some are brand new to their posts. We will be discovering the way forward from America's newest defense leaders."  
Conference events get underway the morning of Aug. 28 with work on the resolutions. Two delegates from each of the 54 states and territories will develop a package to serve as the basis for next year's legislative action plan. 
The first of four short sessions will follow later in the day. Among the highlights Aug. 29 will be the Roll Call of States. The states and territories have already submitted 30-second videos. 
Conference registration is $18.78 and can be accomplished at www.ngaus.org/events/142nd-general-conference.