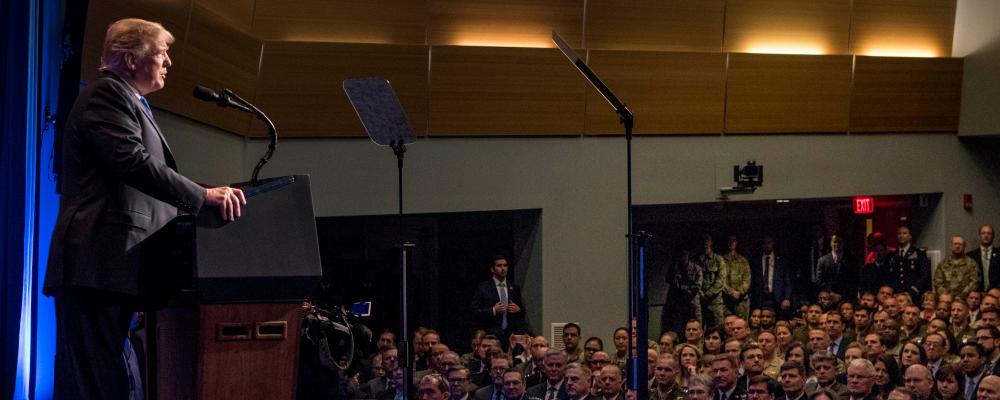 President Donald Trump unveiled the nation's latest Missile Defense Review during an event at the Pentagon last week.
The new strategy, the first of its kind in nine years, calls for a more aggressive space-based, missile-defense system and other protections against weapons being developed by Russia, China, Iran and North Korea.
 
That includes the possibility of a constellation of sensors above the Earth to track missiles, the outfitting of F-35 fighter jets with interceptors, a study of weapons that can shoot down missiles form space, unmanned aerial vehicles affixed with high-powered lasers and the possible addition of a third ground-based missile interceptor site in the United States.
"Our goal is simple: to ensure that we can detect and destroy any missile launched against the United States — anywhere, anytime, anyplace," Trump said while rolling out the strategy to military leaders. "As we all know, the best way to keep America safe is to keep America strong. And that's what we're doing. Stronger than ever."
The president said the review was an outline of the steps needed to upgrade and modernize the nation's missile defense.
"All over, foreign adversaries, competitors, and rogue regimes are steadily enhancing their missile arsenals. All over," Trump said. "Their arsenals are getting bigger and stronger. And we're getting bigger and stronger, in every way. They're increasing their lethal strike capabilities, and they're focused on developing long-range missiles that could reach targets within the United States."
Trump said the strategy calls for six major changes, including prioritizing the defense of the American people; focusing on developing new technology; adjusting posture to defend against any missile strike, including hypersonic missiles; recognizing space as a new warfighting domain; removing bureaucratic obstacles to speed acquisition and development of new technology; and insisting on fair burden sharing with allies.
"Our strategy is grounded in one overriding objective: to detect and destroy every type of missile attack against any American target, whether before or after launch," the president said. "When it comes to defending America, we will not take any chances. We will only take action."
"All over, foreign adversaries, competitors, and rogue regimes are steadily enhancing their missile arsenals. All over," Trump said. "Their arsenals are getting bigger and stronger. And we're getting bigger and stronger, in every way. They're increasing their lethal strike capabilities, and they're focused on developing long-range missiles that could reach targets within the United States."