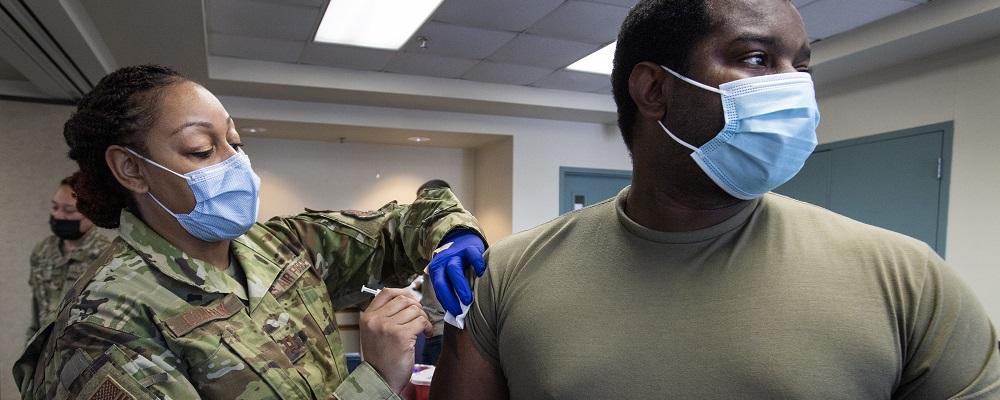 Military installations in high-risk areas are once again requiring masks as a measure to prevent the spread of COVID-19.
Meanwhile, Defense Secretary Lloyd J. Austin III is consulting military medical professionals and the Joint Chiefs of Staff to determine what recommendations will be made to President Joe Biden about the possibility of adding the COVID-19 vaccine to those required for military personnel.
The moves come as a highly contagious variant of COVID-19 continues to spread across the nation.
Last week, Biden called for the Pentagon to look into making COVID-19 vaccines mandatory for service members and ordered that all federal workers not vaccinated would be subject to masking, social distancing and mandatory testing.
"The Department of Defense is moving quickly to meet President Biden's commitment to defeat COVID-19, and that includes being able to ensure every member of our civilian and military workforce is protected," said Jamal Brown, a Pentagon spokesman.
Brown said all military and civilian DoD personnel will be asked to attest to their vaccination status. Personnel unable or unwilling to do that will be required to wear a mask, physically distance, comply with a regular testing requirement and be subject to official travel restrictions.
Service members are already required to get as many as 17 different vaccines, depending on where they are stationed, according to The Associated Press.
Some have questioned if the military could discharge troops who refuse a mandatory vaccine.
Guard officials told The AP that troops who refuse the vaccine once its mandatory will receive counseling from medical personnel. If they still refuse, they would be ordered to take it, with failure to do so possibly resulting in administrative or punitive action.
In the Guard, troops on federal active duty would be the first to be required to receive the vaccine. Those on state active duty would not be subject to the requirement until they return to a monthly drill.