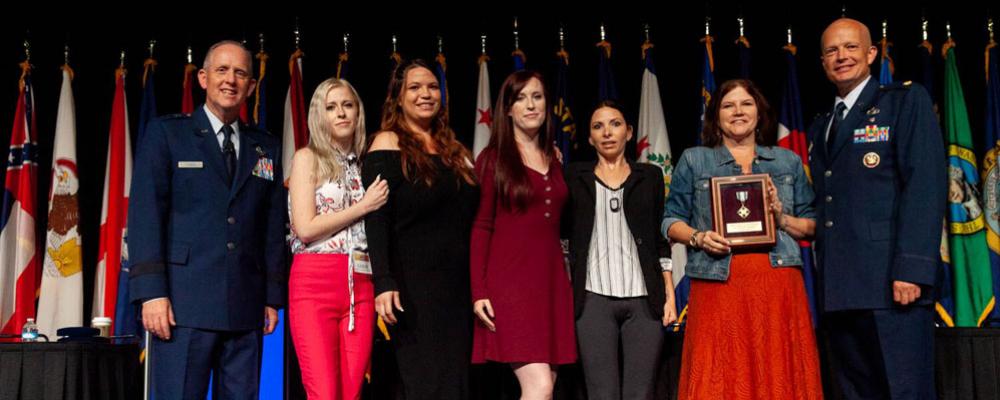 Sgt. 1st Class David Gallagher saved the life of his fellow soldier in his final act, and in doing so, made the ultimate sacrifice.
On Sunday, Gallagher's family visited the 141st General Conference & Exhibition as NGAUS honored that sacrifice. The association presented the family with the Valley Forge Cross for Heroism.
Gallagher's wife, Margaret; daughters, Alexis and Shaylea; and stepdaughters, Micala Cornelison and Victoria Mason, traveled from Nevada to accept the medal.
Attendees in the Bellco Theatre in Denver honored the family with a standing ovation. The Nevada National Guardsman and platoon sergeant with D Company, 1st Squadron, 221st Cavalry died on June 4, 2019 while training at the National Training Center at Fort Irwin, California.
Gallagher was nominated for the posthumous honor by Brig. Gen. William Burks, the adjutant general of Nevada.
Burks said Gallagher's tank crew was conducting night maneuvers in a M1A1 Abrams at NTC, part of a larger training rotation of the Idaho-based 116th Cavalry Brigade Combat Team. During the maneuvers, Gallagher's tank began to rollover as he and his gunner stood in the turret hatches.
"The force of the roll was enough that both Gallagher and his gunner were ejected from the turret hatches. Noticing the danger, Sgt. 1st  Class Gallagher, in his final act of heroism and without regard for his own safety, left the safety of his position, exposing himself to reach the gunner, forcing him back into the hatch," according to the award nomination.
"As a result, there was no time remaining for Gallagher to save himself before the tank rolled onto the turrets. In this ultimate act of selflessness Gallagher was mortally wounded. His selfless action saved the life of his fellow soldier and teammate. Sgt. 1st Class Gallagher gave his life in service to his country."