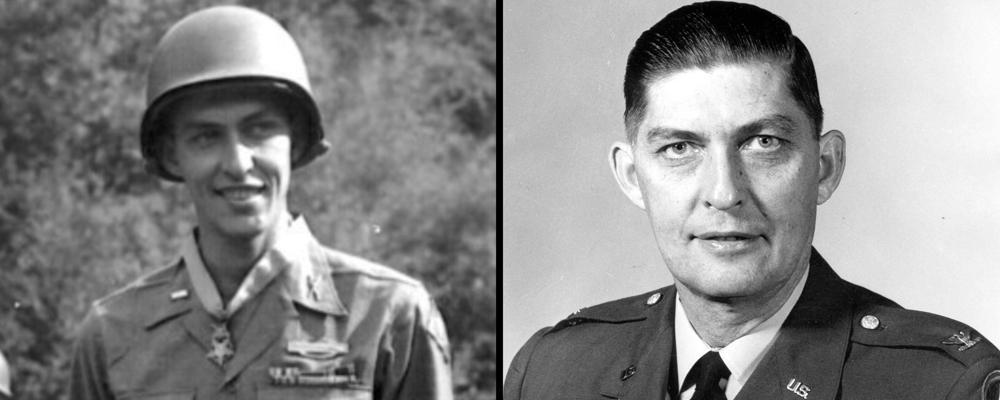 The Virginia National Guard's Fort Pickett will officially be re-designated Fort Barfoot on March 24 in honor of Col. Van T. Barfoot, a World War II Medal of Honor recipient with extensive Virginia ties.
The post is one of nine Army installations — and the only one operated by the Army Guard — set to be renamed this year based on the work of the Naming Commission.
Congress created the panel to identify — and recommend for removal — the names, symbols and displays on U.S. military property that commemorate the Confederate States of America.
Defense Secretary Lloyd J. Austin III approved all of the commission's recommendations in an Oct. 6 memo.
"It is such a tremendous honor to name an installation where military forces train to defend our freedoms in honor of Col. Van T. Barfoot," said Maj. Gen. Timothy P. Williams, the adjutant general of Virginia.
Barfoot enlisted in the Army in 1940.
He received the Medal of Honor, the nation's highest award for valor, as a technical sergeant with the 45th Infantry Division in May 1944 in Italy.
After World War II, Barfoot remained in the military for 34 years, including tours in Korea and Vietnam.
Following his retirement, Barfoot settled in Amelia County, Virginia, eventually moving to Henrico County, Virginia.
Once in Henrico County, Barfoot returned to national prominence when a homeowner's association there challenged his desire to fly the American flag in front of his home.
He received support from many national leaders and organizations, eventually prevailing in his efforts.
Barfoot is of Native American heritage, as his maternal grandmother was a member of the Choctaw Nation.
To commemorate Barfoot's heritage, representatives from the Choctaw Nation and Virginia-based Native American tribes will attend the ceremony honoring him.
Barfoot died in 2012 at the age of 92.
His name also graces the Sitter & Barfoot Veterans Care Center in Richmond, Virginia, which is operated by the Virginia Department of Veterans Services.
Part of a highway near Barfoot's birthplace in Mississippi is additionally dedicated in his honor.
Barfoot served twice as an adviser to Virginia Guard units.
In the 1950s, he was as an adviser to the 116th Infantry Regiment.
Later, Barfoot was the senior Army adviser to the Virginia Guard until retiring in 1974.
Both jobs brought Barfoot to Fort Pickett for training with Virginia Guard units on multiple occasions.
"I served as senior adviser for the state of Virginia National Guard for four years," Barfoot said during an interview with the Library of Congress Veterans History Project. "I love them. They're dedicated people."
Barfoot added that he briefly trained at what was then Camp Pickett with the 157th Infantry Regiment, 45th Infantry Division, before shipping out to Europe during World War II.
Fort Pickett sits on about 41,000 acres in southern Virginia.
Built during World War II, the post was originally named Camp Pickett to honor Maj. Gen. George E. Pickett, a Virginia-native.
Pickett led the ill-fated charge at the Battle of Gettysburg in Pennsylvania during the Civil War.
The Virginia Guard took control of the post bearing Pickett's name in 1997.
Today, it is known as the Army National Guard Maneuver Training Center and regularly hosts units from other states and services.
— Based on a report by Mike Vrabel, Virginia National Guard Public Affairs