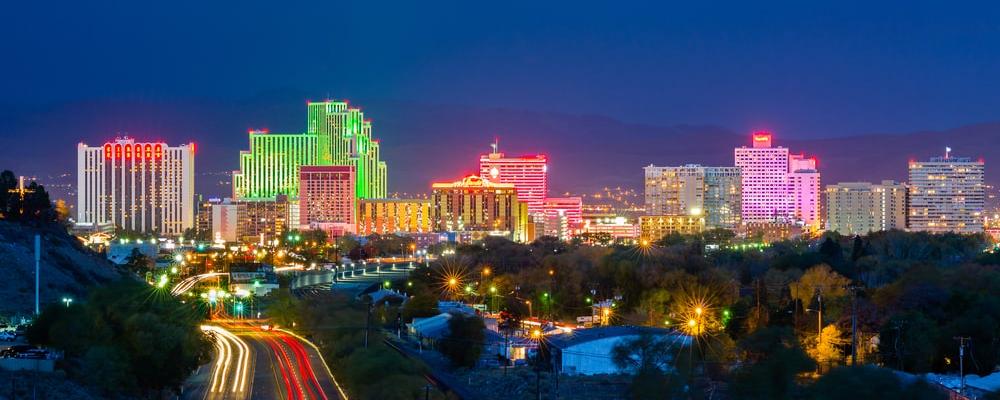 State and territory National Guard association leaders toured and selected their NGAUS conference hotels last week while attending the annual National Guard Executive Directors Association meeting in Reno, Nevada.
They also learned more about host-state plans for the 145th NGAUS General Conference & Exhibition scheduled for Aug. 18-21.
Most attendees will stay in downtown Reno at either the Silver Legacy, Circus Circus or Eldorado hotels.
The three connected casino resorts form a complex called the Row, which features more than 4,000 rooms, 25 restaurants, 23 bars and lounges, 11 other nightspots and 227,000 square feet of casino space.
Conference meetings and the industry exhibition will occur at the Reno-Sparks Convention Center only a few miles away.
Attendees should expect another large trade show this year.
Booth sales are unfolding at the same pace as last year's record 343 companies and organizations, according to retired Lt. Col. Jake Jakubek, the NGAUS vice president for business development and general conference.
This is the second time in 24 months the Silver State will host the NGAUS conference.
However, Reno is a very different city than Las Vegas, the site of the 143rd General Conference & Exhibition.
Both cities are renowned meeting destinations, with great conference facilities, hotels, dining and entertainment.
But Reno, "The Biggest Little City in the World," (population: 268,851) is in the high desert (elevation: 4,500 feet) at the foot of the picturesque Sierra Nevada mountain range nearly 450 miles northwest of Las Vegas.
Reno's daytime temperatures in the summer are more pleasant. Rather than avoiding the sun, attendees will also enjoy Reno's many outdoor attractions, and the host state has plenty of activities on the agenda outside.
Perhaps the signature activity is a hike on nearby Mt. Rose, which overlooks Lake Tahoe.
For visitors who would prefer seeing the Reno area on two wheels, a motorcycle ride organizers are calling NGAUS Vibrations is also scheduled.
The Nevada National Guard Association has been planning the 2023 NGAUS conference for four years.
The group had only about three months to prepare and fundraise for the 2021 gathering after volunteering to host the event when an alternate site became necessary due to the COVID-19 pandemic.
The Nevada National Guard Association's recent hosting experience has given Reno planners the confidence to break the traditional sequence of conference events.
With permission from the NGAUS board of directors, the States Dinner usually concluding the conference is planned for the evening after the First Business Session. Western Wear is the recommended attire.
A Governor's Farewell will end the conference. Organizers are working to schedule some headlining entertainment that will be announced at a later date.
More conference details will soon be posted here.
The association website already includes a NGAUS exhibition prospectus and a current map of the tradeshow floor.
Additionally, state and territory Guard association executive directors can provide more information about their specific state or territory's conference plans.
— By Rich Arnold