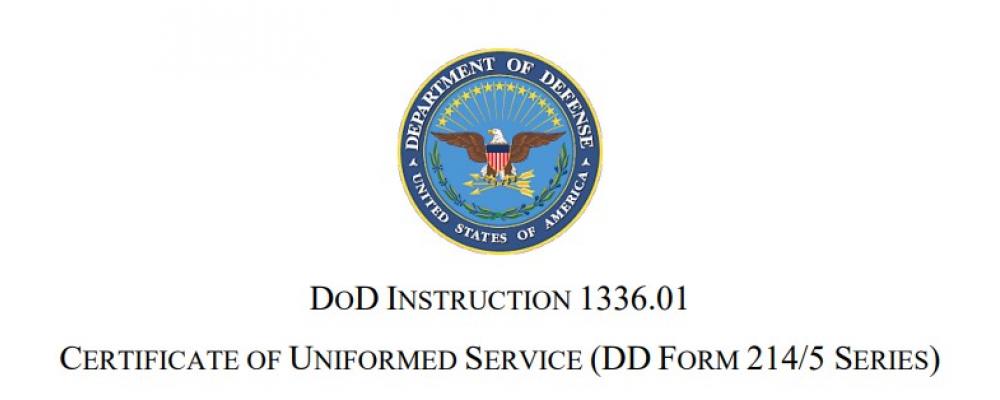 National Guardsmen and Reservists will receive a Defense Department Form 214 following their completion of service, according a new Pentagon policy published last week.
A DoD Instruction memo dated Feb. 17, 2022  gives the services three years to implement the change. 
The Pentagon action follows language in the fiscal 2020 National Defense Authorization Act requiring DoD to develop a form that documenting a reserve-component member's complete time of service.
Currently, a Guardsman or Reservist will only receive a DD-214 (Certificate of Release or Discharge from Active Duty) if they serve more than 90 days on active-duty orders. The form NGB-22 documents cumulative Guard service.
Unfortunately, the DD-214 is considered the "gold standard" for documenting military service, including determining eligibility for state and federal veterans' benefits and discounts from retailers. 
The issue has been a priority for NGAUS and the Enlisted Association of National Guard of the United States for four years. 
"This is big victory for members of the National Guard and Reserves," said retired Brig. Gen. J. Roy Robinson, the NGAUS president. "We greatly appreciate the Defense Department's effort here and, especially, Congress for keeping the matter on the front burner."  
Robinson testified to Congress last month that he often hears of benefits being denied "from the Department of Veterans Affairs or state agencies because they require a DD-214," which many Guardsmen lack.  
When implemented, the DoD instruction calls for Guardsmen and Reservists to receive a DD-214-1 (Certificate of Uniformed Service, Reserve Component Addendum) upon separation or retirement.  
The DD-214-1 is a new form created by the instruction. 
Guardsmen and Reservists will still receive a standard DD-214 if they serve for 90 days or more on federal active duty for training, full-time training duty, active duty for operational support or more than 30 days of active on a contingency operation. 
The instruction does not apply to Guardsmen and Reservists who separate or retire before full implementation of the program. 
It is also policy and not law. Legislation in both the House and Senate would codify the requirement in law. 
Rep. Andy Kim, D-N.J., Rep. Mike Levin, D-Calif., Rep. Nancy Mace, R-S.C., Rep. Chris Pappas, D-N.H. and Rep. Mike Turner, R-Ohio are the original sponsors of the Record of Military Service for Members of the Armed Forces Act (H.R. 7041), which was introduce last month.  
Sen. Gary Peters, D-Mich., and Sen. James Lankford, R-Okla., introduced similar legislation (S. 1291) in the Senate last year. 
Both bills would provide Guardsmen and Reservists a DD-214 documenting cumulative service at regular intervals, which NGAUS favors, and not just at separation or retirement.