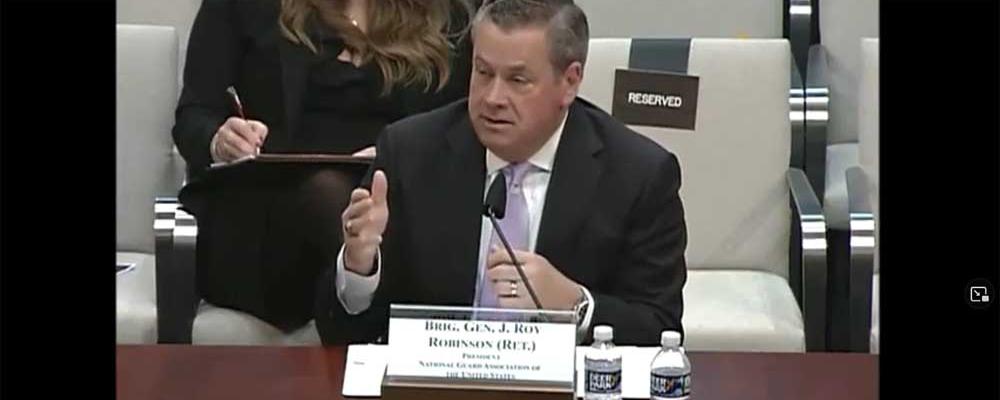 The NGAUS president touted zero-cost TRICARE, benefit parity and a single document to record military service to replace the active-duty only DD-214 in testimony today to a joint session of the Senate and House Veterans' Affairs committees. 
Retired Brig. Gen. J. Roy Robinson asked lawmakers to support the Healthcare for Our Troops Act (H.R. 3512) that would provide medical coverage, including preventive care, to every member of the National Guard and Reserves. 
The bill is sponsored by Rep. Andy Kim, D-N.J., and Rep. Trent Kelly, R-Miss. 
It is a top legislative priority of the association and Gen. Daniel R. Hokanson, the chief of the National Guard Bureau, who has estimated that 16% of Guardsmen currently have no health insurance. 
Guardsmen receive coverage when they deploy for overseas missions but not for most domestic missions.  
Robinson said such guaranteed coverage would boost medical readiness while improving recruiting and retention and making Guard soldiers and airmen more attractive to civilian employers. 
He sees zero-cost TRICARE as a multiyear endeavor, like many of the association's past legislative efforts. 
"This year," Robinson said, "NGAUS will advocate for conducting a study at the Department of Defense into what the cost of such a change in policy would be." 
He said he was convinced that zero-cost TRICARE "will not only provide better health results to our service members but will prove cost advantageous in the long run." 
Robinson also asked for support in creating full parity for Guardsmen in relation to earning post-9/11 G.I. Bill benefits. 
Guardsmen currently serve in a variety of statuses and missions that do not accrue the same benefits as their active-duty counterparts, and it is past time that this disparity is corrected, he said. 
"Unlike our active-component peers, a day in the National Guard or Reserve does not always equal one day of service," Robinson testified. "Regular weekend training days and annual training do not count toward benefits." 
Fortunately, Congress is making great progress in rectifying this issue. The Guard and Reserve GI Bill Parity Act (H.R. 1836), which passed in January, would correct most of the disparity. 
Sponsored by Rep. Mike Levin, D-Calif., it would count all federal missions, as well as training days, toward benefit eligibility.
The Senate is considering a similar version of the legislation — the Guard, Reserve, and Active Duty Department of Veterans Affairs Educational Assistance Parity Act (S. 2644). 
It is sponsored by Sen. Jon Tester, D-Mont., and Sen. Jerry Moran, R-Kan., the chairman and ranking member, respectively, of the Senate Veterans' Affairs Committee.  
Finally, there needs to be a singular record of military personnel service across all components and all services, Robinson said.
"The fact that the active duty, Guard and Reserves all have different documents to describe military service is both unnecessary and cumbersome," he testified. 
Under the current construct, a Guardsman or Reservist will only receive a form DD-214 (Certificate of Release or Discharge from Active Duty) if they serve more than 90 days on active duty orders. The NGB-22 documents Guard service.
Unfortunately, the DD-214 is considered the gold standard for documenting military service, Robinson said.  
"Consistently, we see issues where benefits are denied either from the Department of Veterans Affairs or state agencies because they require a DD-214, which many National Guard service members may not have," he said.
NGAUS supports the Record of Military Service for Members of the Armed Forces Act of 2021 (S. 1291), which would provide a comprehensive statement of service at appropriate intervals to every service member, regardless of component. 
It is sponsored by Tester and Moran.
Takano and Rep. Mike Bost, R-Ill., are the chairman and ranking member, respectively, of the House Veterans' Affairs Committee.