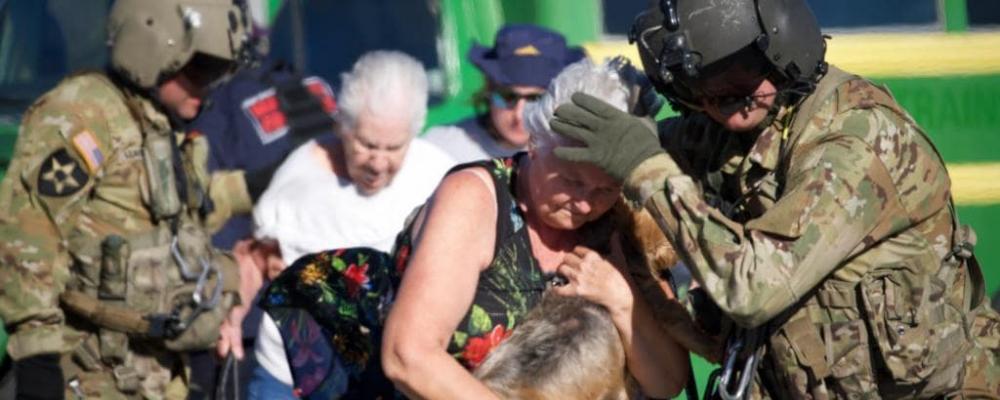 More than 5,000 National Guard members were helping Florida recover from Hurricane Ian, the National Guard Bureau said last week.
According to the Guard Bureau, the Guardsmen were supporting communities in southwest and central Florida hit by the storm.
"We're hurt by the significant devastation we're seeing and the impact on the lives of Florida citizens," said Gen. Daniel R. Hokanson, the NGB chief, on Sept. 29.
"In the immediate aftermath, search and rescue will be the focus," he continued.
"Our concern is saving lives and getting our folks in there as quickly as possible to make a difference in that critical time to get people out of situations that may be potentially life-threatening to them."
Ian struck Florida's southwest coast last Wednesday with 150mph winds and unprecedented storm surges.
The Category 4 storm generated widespread flooding, severe property damage and loss of life.
According to CNN, Ian had killed at least 102 people in Florida and at least four people in North Carolina as of Tuesday.
Per NPR, Ian also wrecked portions of the Sanibel Causeway, a series of bridges connecting mainland Florida and Sanibel Island.
Sanibel Island is home to about 6,500 people, NPR continued, and sits just south of where Ian made landfall.
According to WGCU, the sheriff's offices in Lee County and Charlotte County, Florida warned against looting last Saturday following Ian's passage through the region.
Lee County includes Fort Myers, Florida, the site of looting at a gas station last Wednesday that prompted a curfew from dusk-to-dawn there.
"This was a massive, slow-moving storm that dumped a historic amount of water on our communities, and places like North Port have produced historic flooding," Florida Gov. Ron DeSantis said in North Port Sunday, according to the Sarasota Herald-Tribune.
"That's in some ways a more difficult problem than even the wind damage," he continued.
Per NGB, the Guard's initial response included servicemembers from Florida, Louisiana, New York and Tennessee.
"It is why we wear the uniform, and once again, it's the strength of the National Guard on display," said Maj. Gen. Jeff H. Holmes, the Tennessee National Guard adjutant general.
The NGB said Georgia, Indiana, New Jersey, South Carolina and Montana were standing by last Thursday to support the response to Ian.
But after an initial outpouring of support, some states discovered Florida didn't require their resources.
For example, the Tennessee National Guard mobilized 1,200 personnel to Florida as part of the Emergency Management Assistance Compact.
This mutual aid agreement enables resources to be shared following major natural disasters nationwide.
Yet last Friday, The Daily Herald reported all 1,200 Tennessee National Guard airmen and soldiers returned home as Ian's damage seemed manageable.
On the same day, NorthJersey.com reported the New Jersey National Guard wouldn't send any personnel to Florida.
New Jersey Gov. Phil Murphy promised more than 135 Guardsmen and 40 military and support vehicles would assist Florida 24 hours earlier.
Murphy's office cited "the change in the track of the storm and analysis of relief missions" for the reversal.
Per the NGB, the Guard's work in Florida included clearing roads, supporting law enforcement and conducting search and rescue operations.
For recovery efforts, the Guard brought 16 helicopters, 1,640 high-wheeled vehicles, seven boats and 36 fuel tankers and generators.
The Florida National Guard's 146th Expeditionary Signal Battalion also provided emergency communication capabilities.
Ian badly damaged parts of Florida's infrastructure, leaving millions of the state's residents without power.
"Because we're in every community, we're part of the first responders to assist in recovery immediately," Hokanson said. "The National Guard will stay as long as we're needed."
"This is primarily where our assets and high-water vehicles can really get in there and control those areas where people might be trapped or in danger to try to get them to safety as quickly as possible."
— By Mark Hensch