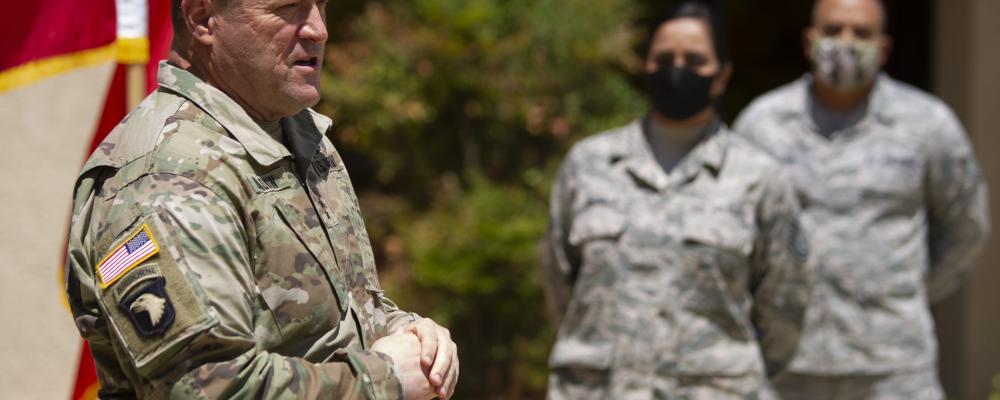 A general officer uniquely familiar with Ukraine's ground conditions says the U.S. and other Western countries should examine sending fighter jets to the troubled Eastern European nation.
Maj. Gen. David S. Baldwin, the adjutant general of California, adds a Soviet-era aircraft could aid Ukraine while the West weighs other choices.
"MiGs are the best immediate solution to support the Ukrainians, but U.S. or western fighters are options that should be explored as soon as possible," he said in a Friday statement to POLITICO.
"There is a lot of goodness in them going to MiGs because they are already trained in that, but if they are going to use Western-type aircraft, it's a discussion about numbers and types and capabilities of aircraft that may be available," Baldwin added.
California and Ukraine are linked via the Guard's State Partnership Program, with Baldwin talking on the phone with Ukrainian military leaders daily since Russia invaded Feb. 24. 
Last Thursday, Lt. Col. Brandon Hill, a California Guard spokesperson, noted the White House and the Pentagon have the final say on giving Ukraine Western fighters.
Hill said making Ukraine "NATO-interoperable" might include opportunities to operate Western platforms.
Ukraine is not currently a NATO member.
Since the conflict's start, Ukraine's government has begged Western leaders for aircraft, artillery and other weapon systems for repelling Russian forces.
Western nations have hesitated to grant every request for fear of a wider conflict, including one with nuclear weapons.
On Thursday, Baldwin said the California Guard is helping Ukraine's government improve its weapon demands to Western nations.
Baldwin said Ukraine's past as a former Soviet state make MiGs and other Soviet-era weapon systems the best short-term fit for its military.
"When it comes to the aircraft, we're steering them to those MiGs first," he said Thursday. "It's because so many of their airmen and soldiers are already training on those systems."
"A lot of the stuff in the manuals comes in Cyrillic and they can read them," Baldwin continued. "The learning curve is a little bit less."
Baldwin suggested Western aircraft may become more feasible for Ukraine if the conflict drags on.
"But then there's an over-the-horizon discussion," he said. "In the mid-term, over the course of the next six months to a year and then the long term, what's in the realm of possibility for systems that will be effective, available and affordable for them?"
In March, the U.S. scrapped a three-way deal involving Poland and Ukraine that would have provided Kyiv with MiGs.
But the West has gradually supplied Ukraine with more advanced weapons as Russia's advance continues.
For instance, President Joe Biden announced last week Ukraine would receive more advanced rocket systems and precision-guided munitions.
 - By Mark Hensch