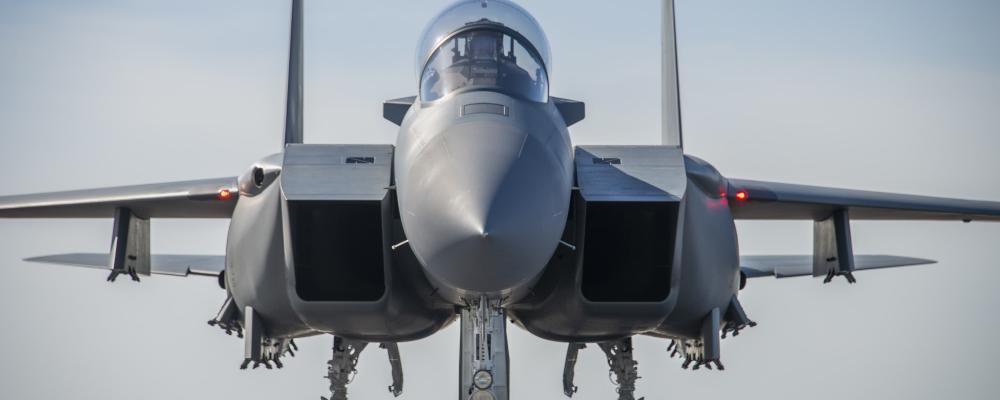 Three more Air National Guard F-15C/D Eagle fighter units have learned of the plans for their follow-on aircraft.
Last week, the Air Force said wings in California and Louisiana will receive F-15EX Eagle II fighters, while a Massachusetts wing is the preferred location for F-35A Lightning IIs.
In August 2020, the Air Force revealed plans to replace aging F-15C/Ds at six Air Guard units with either the F-15EX, a completely upgraded version of the venerable air-superiority fighter, or the F-35A, a fifth-generation fighter.
The announcement included aircraft selections for a Florida wing and two Oregon wings.
Last week, three other Guard wings learned their fate.
The 144th Fighter Wing at Fresno Air National Guard Base in California and the 159th Fighter Wing at Naval Air State Joint Reserve Base New Orleans in Louisiana will each receive 18 F-15EXs.
The 104th Fighter Wing at Barnes Air National Guard Base in Massachusetts will get 18 F-35As.
The decision followed the Air Force conducting site surveys at each location and assessing each place's ability to conduct the mission.
The Air Force also examined community support, environmental factors and cost at each site.
Per the Air Force, choosing all three bases hinges on an environmental impact analysis, which should conclude before the service's final selection by spring 2024.
Meanwhile, elected officials outside all three bases cheered the recent announcements.
"I'm extremely passionate about the 144th Fighter Wing and the pride it brings to Fresno," Fresno Mayor Jerry Dyer said is a statement.
"We've been happy to advocate for the 144th and we are beyond excited to have this incredible asset added to our base, while also keeping jobs and people here," he added.
Retired Lt. Gen. L. Scott Rice, a former Air Guard director and Massachusetts adjutant general, told MassLive.com the decision to "beddown" F-35As in the Bay State was aided by years of advocacy from elected officials.
Rice said a coalition of leaders — including Sen. Elizabeth Warren, D-Mass., Rep. Richard E. Neal, D-Mass., former Gov. Charlie Baker, a Republican, and current Gov. Maura T. Healey, Democrat — put aside party lines to understand the larger issue of economic stability for western Massachusetts.
The Air Force didn't say when the new aircraft might reach the Guard units.
The three F-15 wings from the 2020 announcement are still awaiting their new aircraft.
The 125th Fighter Wing at Jacksonville Air National Guard Base in Florida is slated to receive its F-35As next year.
The 142nd Fighter Wing at Portland Air National Guard Base in Oregon is also supposedly getting F-15EXs next year.
The 173rd Fighter Wing at Kingsley Field Air National Guard Base in Klamath Falls, Oregon, the Air Force's current F-15 schoolhouse, was originally performing a similar mission for the F15-EX. But the unit now says that plan is being "reconsidered."
The Guard has 25 fighter units. They fly several airframes — A-10 Thunderbolt IIs, F-15C/Ds, F-16 Fighting Falcons, F-22 Raptors and F-35As.
Only eight units have new aircraft or are in the Air Force's fielding plans for new ones as the service modernizes its fleet for future fights.
— By John Goheen