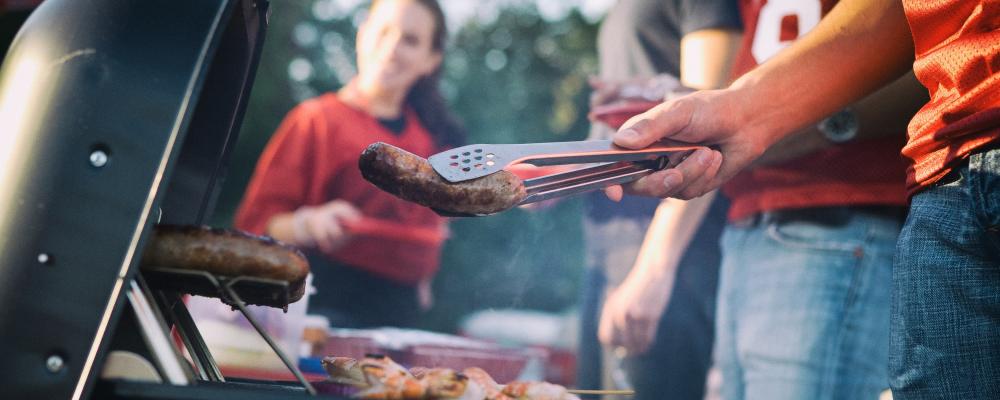 Expect a States Dinner at the 144th General Conference & Exhibition next month in Columbus, Ohio, like none other in the annual event's century-old history.
For decades, the conference's concluding dinner was strictly formal, but NGAUS has allowed host states to embrace their local culture in recent years.
Kentucky recommended Derby attire in Louisville in 2017 and Louisiana went full Mardi Gras in 2019. Last year, it was Las Vegas wear in Nevada.
This year's theme is "Bring Your Sports Teams to Columbus," an experience like tailgating before the big game.
"Columbus is a big sports town," said Jake Jakubeck, the association's vice president, business development & general conference. "It's home to Ohio State University, one of the biggest names in college football."
"The locals say they know how to tailgate with the best of them," he added. "We're going to let them show us."
The fare will resemble offerings from the best tailgate parties, emphasizing smoked meats.
Ohio Guard officials promise alternatives for guests with dietary restrictions.
The event will also have games, including cornhole, ladder ball and more.
Mascots from Ohio professional and college sports teams will additionally appear.
Sports jerseys are recommended attire. A review of some state associations suggests many attendees are ready to represent their favorite teams.
For example, the Alabama Guard Association said to expect a "heavy" showing of Alabama Crimson Tide jerseys — and some Auburn University fans. One wonders if they will sit at the same tables.
There will also be a "serious showing" of Razorback spirit from the Arkansas delegation and an equally strong collegiate representation from Florida, with jerseys from the Miami Hurricanes, Florida Gators and Florida State Seminoles. This might be another example of a divided house.
On the more is better side of the ledger, the Maryland delegation is taking variety to new levels with jerseys from local teams (the Baltimore Ravens and Orioles), the region (the Washington Capitals) and the past by honoring teams from the old Negro and Ladies leagues.
Several NGAUS board members have already chosen their outfits for the festivities.
Maj. Gen. Janson D. Boyles from Mississippi, the association chairman, plans on wearing a Mississippi State University baseball jersey. He graduated from the school, which won the 2021 national championship in baseball.
Maj. Gen. Ondra Berry of Nevada, the NGAUS Vice Chair - Air, will wear a Las Vegas Raiders jersey.
Retired Maj. Gen. Joanne Sheridan of Louisiana, the NGAUS secretary, will don a New Orleans Saints jersey.
Retired South Dakota Brig. Gen. Mike Oster, an Area V rep, will show his South Dakota State Jackrabbits pride.
Retired New Hampshire Col. Steve Greco, an Area I rep and an Ohio State ROTC graduate, is going with the New England Patriots. 
"My Area I attendees would disown me if I didn't," he said. 
Do they think Tom Brady still wears one?  
Other Guard leaders are also set on their attire.
Maj. Gen. Daryl L. Bohac, the adjutant general of Nebraska and president of the Adjutants General Association of the United States, will wear a throwback Nebraska Cornhuskers football jersey. 
Retired Chief Warrant Officer 5 Jim Simms of Kentucky, the president of the National Guard Executive Directors Association, would not be seen in anything else but a University of Kentucky jersey as a big Wildcats fan.   
Some attendees say they are still deciding between two college teams, two professional teams or one of each.
A pair of scissors and a sewing machine might be the answer. Don't be surprised to see some split jerseys in Columbus.
 - By Jennifer Hickey