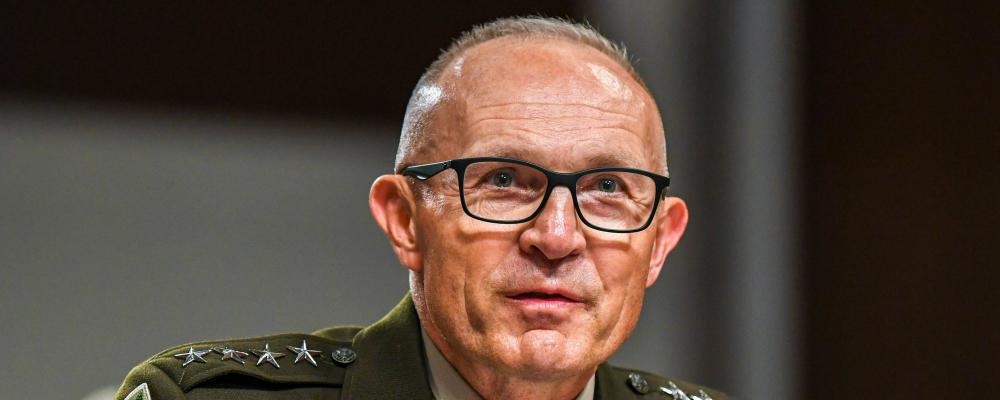 Gen. Randy A. George is now the Army's senior uniformed leader.
George is formally the Army's vice chief of staff acting as the service's chief of staff. Ultimately, George is filling both positions.
George is set to address the 145th General Conference & Exhibition in Reno, Nevada, Aug. 18-21.
He picked up his additional job Aug. 4, when Gen. James C. McConville, the Army's 40th chief of staff, relinquished his authority and retired during a ceremony at Joint Base Myer-Henderson, Virginia.
George is President Joe Biden's nominee to be the Army's 41st chief of staff, but Senate confirmations of military officials have been on hold since February.
The holds will continue until September at the earliest, when the Senate returns to work on Capitol Hill after its annual August recess.
According to published reports, in the 120 years since the Army chief of staff position was created, there has been only one time — three months in 1972 — when a general performed the role without Senate confirmation.
The Army now joins the Marine Corps as military branches operating with an acting service chief who has limited authority.
The situation's impact is now illustrated by photos of the eight members of the Joints Chiefs of Staff that greet Pentagon visitors at the building's River Entrance. The collection now has two blank frames.
In remarks at his retirement ceremony last week, McConville stressed the importance of the Army's personnel.
"Without people, the Army is a bunch of combat equipment parked in motor pools, hangars and arms rooms," he said. "It's all about people.
"And I have watched … people do the most incredible things over the last four years during the most challenging of times, always doing the right thing the right way," he added.
Like McConville, George is a West Point graduate.
George's most recent command was of I Corps at Joint Base Lewis McChord, Washington. After that role, George served as the Defense secretary's senior military assistant. George assumed his duties as Army vice chief Aug. 5, 2022.
Lt. Gen. James J. Mingus, the nominee to be George's successor as the Army's vice chief, is also caught up in the Senate's confirmation logjam.
Mingus has been director of the Joint Staff since June 2022.
— By John Goheen