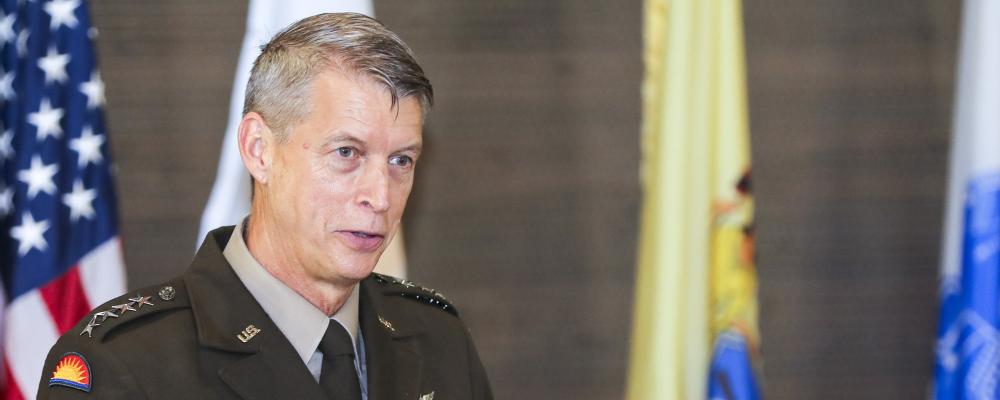 Gen. Daniel R. Hokanson, the chief of the National Guard Bureau, says the current holds in the Senate on hundreds of military promotions are causing hardships for some Guardsmen and their families.
Hokanson, who is also a member of the Joint Chiefs of Staff, adds that the holds by Sen. Tommy Tuberville, R-Ala., are also generating readiness challenges for the entire U.S. military, including the Guard.
Tuberville, a member of the Senate Armed Services Committee, has blocked hundreds of military personnel moves since February to protest the Pentagon's abortion policies.
"My personal opinion is that it has a readiness impact," Hokanson said July 27 in response to reporters' questions at the National Press Club in Washington, D.C. "But it's also having a very hard impact on our families.
"And it's something that we'd like to get resolved as soon as we can so we can continue to build the readiness our nation needs," he added.
Tuberville opposes a Defense Department policy that offers free paid leave and travel reimbursement to active-duty service members who travel out of state for abortions if the state in which they serve bans the procedure.
He argues DoD's policy violates the Hyde amendment, which has prohibited using federal funds for most abortions since 1980.
On July 27, Hokanson said Tuberville's holds adversely affect personnel and their families across multiple levels of the military.
"So traditionally, many of our senior leaders, they transition in the summer because many of them have children," he said.
"So, if you stop that process, now — whether it is clarified or resolved — now you can have people moving potentially in the middle of a school year, which may cause some of our officers and senior NCOs to move and be separated from their family because their children have already started at a school and they may not want to take them out of the school year," Hokanson concluded.
The Associated Press reported July 15 that the Pentagon says Tuberville's move has stalled the nominations of more than 260 senior officers, a number that could become 650 once 2023 ends.
Ultimately, the holds could also disrupt four JCS positions.
According to Marine Corps Times, the Marine Corps has not had a commandant confirmed by the Senate since July 10. The Marine Corps is now operating under an acting commandant for the first time since 1910.
On Aug. 4, the Army chief of staff role becomes vacant, but the Senate confirming a replacement seems unlikely as the upper chamber is on recess until Sept. 5.
After that, the JCS chairman and the chief of naval operations will be empty later this summer.
The Senate must confirm nominees for all these functions, or the senior officers filling these posts in an acting capacity will lack the position's full authorities and benefits.
On July 27, Hokanson promised Guardsmen and their families the military considers them "a priority."
"We're doing everything we can to take care of them and get them where they need to go," he vowed.
The NGB chief's wide-ranging remarks last week covered topics including the military's latest recruiting and retention numbers, climate change, suicide prevention and the Guard's State Partnership Program.
On the recruiting and retention front, Hokanson noted the Army Guard and the Air Guard were nearing their personnel goals for fiscal 2023.
"On the Army Guard side, we are scheduled to meet 100% of our authorized end strength," he said. "On the Air Guard, it's a little bit different. We are currently programmed to be about 97%."
Per Stars and Stripes, the Guard's authorized end strength for fiscal 2023 is roughly 433,000 Guardsmen.
Of that total, the Army Guard is seeking 325,000 soldiers, and the Air Guard is aiming for 108,000 airmen.
Fiscal 2023 ends Sept. 30.
Both the Army Guard and the Air Guard narrowly missed their enlistment goals for fiscal 2022 by a few thousand recruits each.
The U.S military has recently encountered one of its toughest talent environments in decades.
— By Mark Hensch