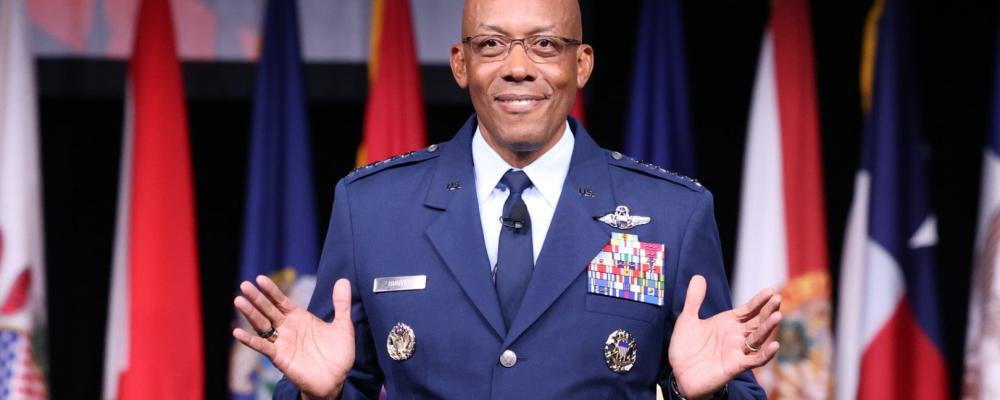 The Air Force chief of staff says changing the service to meet future challenges will likely be uncomfortable.
Gen. CQ Brown Jr. adds growing pains are necessary for the Air Force to help counter America's near-peer competitors like China.
"If we're comfortable, we're probably doing it wrong," he said during the 144th General Conference & Exhibition in Columbus, Ohio, Saturday.
"We must accelerate change to transform from the unit we have today to a unit ready to meet our pacing challenge," Brown continued.
Brown argued modernizing the Air Force would help its components compete against China.
"We can't assume our current capabilities and posture will be relevant forever," he said.
"The greatest military threat we face today is modernization and the breakout of our strategic competitor in China," Brown proposed.
Brown cited agile combat employment as an Air Force modernization opportunity.
ACE enables Air Force units to rapidly mobilize and deploy worldwide regardless of threat level.
"The fight of the future is not going to give us an opportunity to build up for six months," Brown admitted.
"We're going to go places where we're going to have to build it from scratch," he concluded.
Brown touted National Guard contributions to Air Force flexibility worldwide.
For example, he cited more than 600 Guardsmen who assisted Americans and Afghan partners exiting Afghanistan during last year's U.S. withdrawal there.
"We can't drive change without the collaboration and support of the National Guard," Brown said. "We can deliver air power anytime, anywhere, even the South Pole."
Brown warned red tape could keep the Air Force from reaching its goals unless the service's operations are updated.
"My concern is we are going to have so much bureaucracy in a high-end fight that we're going to lose," he said.
"I really believe in challenging the status quo," Brown acknowledged. "We've got to be willing to take a chance."
But Brown - who has long urged the Air Force to "accelerate change or lose" - urged airmen to balance chain of command with pushing for major shifts.
"One of the things we're also taking a look at is the ability to cross-train," he said. "If someone can't cross-train, they may not reenlist."
"What I'm telling career field managers, don't protect your career field at the expense of the United States Air Force," Brown continued.
"Communicate what you're going to go do and stop me before I go too far. Realizing you're going to have a little bit of dialogue and socialize why you kind of need to challenge the status quo."
Countering near-peer competitors like China and Russia is a major focus of the latest National Defense Strategy.
In recent years, both nations have rattled the longstanding global order.
Last February, Russia invaded Ukraine, sparking Europe's most serious conflict in decades.
China has heavily invested in the Western Hemisphere, showing its influence in regions typically associated with America.
-    By Mark Hensch