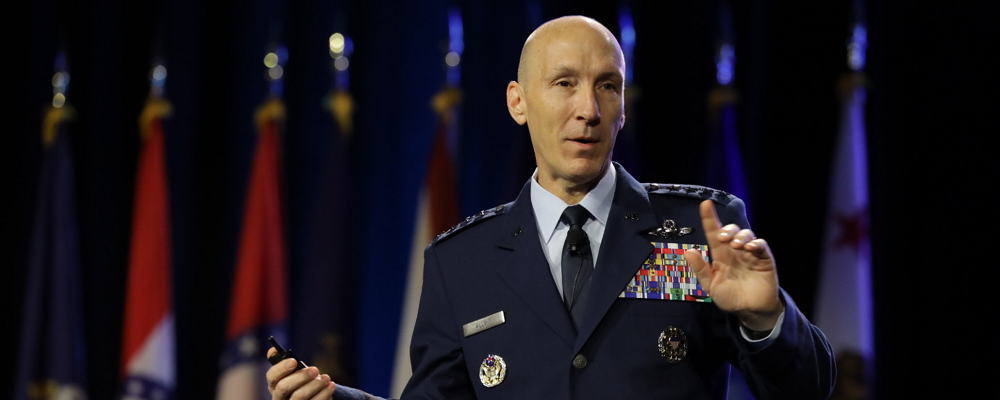 The Air Force's No. 2 officer said his service must keep up with an unprecedented pace of change. And it can't do that without fully involving the National Guard.
"Where we're going to be tomorrow … we are going to go together," said Gen. David W. Allvin, vice chief of staff of the Air Force.
Allvin's remarks came as part of the second professional development session of the 143rd General Conference & Exhibition in Las Vegas.
He noted the remarkable evolution and transformation of the National Guard, from a strategic reserve to today's operational force. And said the Guard today is an integral and inextricable part of national security in a way unlike any other time in history.
When things go wrong at home, the nation turns to the Guard, Allvin said. Be it natural disasters, civil disturbances or any time people are scared or need to rebuild, the Guard answers the call.
"But you're also an integral part of our combat power," he said. And that aspect is not always as obvious to the nation, because Americans don't see that aspect of the Guard outside their doors.
"We don't go to war at all anymore without fully integrating the Total Force," Allvin said. "We do not have a force capable of doing what we need to do without the Total Force."
Gone are the days of segregated missions, he said. "We have to fight together. We're better fighting together."
That also means the force must evolve together. That means tough decisions on increasingly outdated combat power, with Allvin highlighting the Total Force mix of C-130, F-16, A-10 and KC-135 aircraft.
Combat capabilities must be connected, persistent, resilient and survivable, Allvin said. And "unfortunately not all of our capabilities are."
"As a Total Force, we have a lot of systems that in and of themselves will not compete," he said. "That's not to say they're all irrelevant. We have to find the right size, the right shape and put them in the right place."
Technology is changing so fast that the Air Force must change the way it does business to keep pace, Allvin said. Gone are the days where the force could start from scratch.
"We can no longer adapt and transform in the same manner we've done before if it takes the same amount of time because we'll never catch up," he said. "There's a lot at stake here."