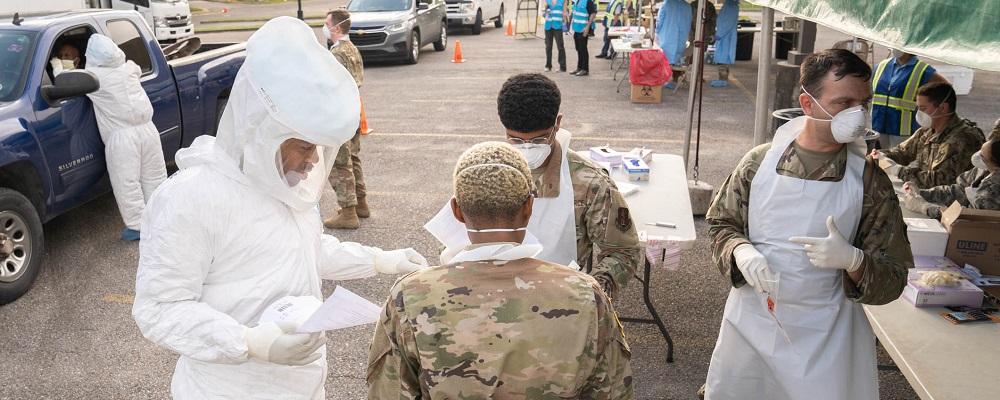 Guardsmen in at least four states are being paid by the federal government as the National Guard remains on the frontlines of the ongoing coronavirus pandemic.
California, New Jersey, New York and Washington had approved Title 32 missions as of Monday morning, according to the National Guard Bureau. Coordination was ongoing for Guardsmen in Florida, Guam, Louisiana, Maryland, Massachusetts and Puerto Rico to also be activated under Title 32, which allows federal funding but keeps Guardsmen under the command of their governors and adjutants general.
The 10 states and territories had previously been authorized to use Title 32 status, which unlike state active duty provides health, education and retirement benefits to Guardsmen. Late Monday, President Donald Trump authorized three more states – Connecticut, Illinois and Michigan.
The president has also waived a requirement that those states pay 25% of the cost of response for missions related to supporting the Federal Emergency Management Agency and the Department of Homeland Security.
As of Tuesday morning, more than 16,100 Guardsmen were supporting the fight against the coronavirus, with most serving on state active duty.
Trump first approved federal support for the governors' use of the National Guard to combat COVID-19 on March 22. But no Guardsmen were put on Title 32 orders for nearly a week.
NGAUS, which wrote President Trump and congressional leaders March 19 to strongly recommend the use of Title 32, decried the apparent continuing reluctance to use Guardsmen in a Title 32 status on Friday.
Retired Brig. Gen. J. Roy Robinson, the NGAUS president, said Title 32 "offers the best way for states to employ the National Guard during a domestic disaster."
Later that day, Defense Secretary Mark Esper modified and accelerated the process for how the Defense Department authorizes Guard forces under Title 32 Section 502(f).
Jonathan Hoffman, the assistant to the secretary of defense for public affairs, said the modification creates a conditional pre-authorization in response to FEMA requests that ensures quicker federal funding for state Guard forces mobilizing to aid in whole-of-government COVID-19 response efforts.
"This authorization enables your timely use of the National Guard to save lives and protect public health and safety," Esper said in a letter to each governor sent Friday night. "The men and women of the National Guard are citizen-soldiers who stand ready to serve their communities as we fight COVID-19."
The authorization comes subject to several conditions.
States and territories or FEMA must identify specific requirements for COVID-19 support;
States and territories must submit their requirements to FEMA; and
FEMA must provide DoD with a fully reimbursable mission assignment.
Esper told governors that DoD would immediately approve requests meeting those conditions and said FEMA's National Response Coordination Center was the single point of entry for all requests for assistance.
On Sunday, FEMA officials said Title 32 requests from states and territories must meet several criteria to be considered for approval.
A state or territory must have been approved for a Major Disaster declaration or have submitted a Major Disaster declaration request for review;
The state or territory must have activated the lesser of 500 individuals or 2% of National Guard personnel in response to COVID-19; and
A specific request for reimbursement through Title 32 status must be submitted to the FEMA administrator, identifying specific emergency support functions.
States and territories approved under those criteria will be reimbursed for pay and allowances of Guard personnel serving in fulfillment of a FEMA mission assignment for 30 days from the date of an authorizing Presidential Memorandum, with possible extensions.
NGAUS is concerned the 30-day timeframe could lead to lapses in healthcare coverage for Guardsmen as they wait for official extensions.
As of late Monday, FEMA had approved Major Disaster declarations in 25 states and territories, with six more requests pending.
Approved states and territories included Alabama, California, Colorado, Connecticut, District of Columbia, Florida, Georgia, Guam, Illinois, Iowa, Kansas, Kentucky, Louisiana, Maryland, Massachusetts, Michigan, Missouri, New Jersey, New York, North Carolina, Oregon, Puerto Rico, South Carolina, Texas and Washington.
The pending requests were from Montana, North Dakota, Northern Mariana Islands, Ohio, Pennsylvania and Rhode Island.
Gen. Joseph Lengyel, the chief of the National Guard Bureau, said the use of Title 32 and the authorization by Esper boosts the Guard's ability to service in response to the pandemic.
"We are using every tool available to get through this national crisis as fast as possible and get our great American economic juggernaut back to work," he said. "COVID-19 is the most immediate threat facing our nation, and the virus knows no state boundaries. What the National Guard is doing in the states is part of a nationwide war on the coronavirus."