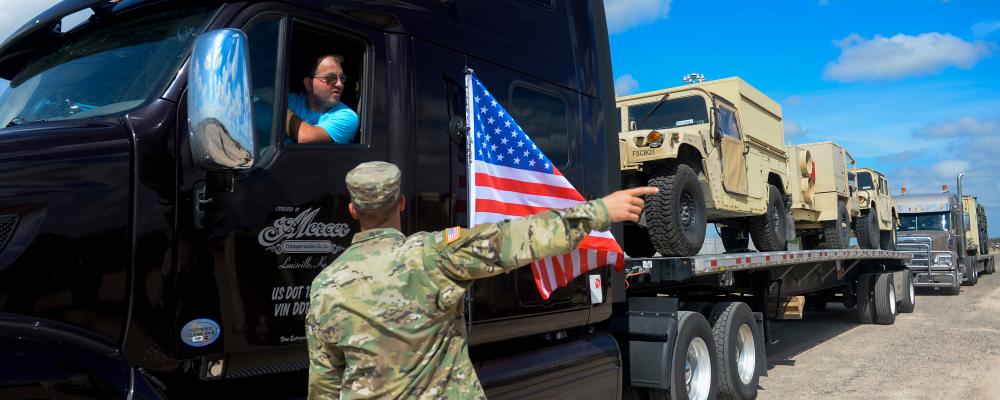 The Defense Department faced questions from reporters Monday as to why it sent only active-component forces to the border last week instead of more National Guardsmen.
It appears speed and, perhaps, control are the answers.
The Guard alone has supported U.S. Customs and Border Protection several times since 2006 and has had roughly 2,100 soldiers assisting the agency on the Southwest border since earlier in the calendar year.  
Pentagon spokesman Col. Rob Manning initially said the administration specified the use of active-component forces, but the DoD press office quickly clarified that the Department of Homeland Security had only requested the capabilities, according to a report in the Army Times.
Those capabilities include planning, engineer support, aviation, mission control and medical support, all of which reside in both the National Guard and the active component.
In addition, active-component troops are limited in the support they can provide. Federal law, specifically the 1878 Posse Comitatus Act, bars them from direct law enforcement on U.S. soil.
Guardsmen under state control are not subject to the provision, but DoD selected only active-component units for this latest mission. 
"We determined that the units that were selected to fulfill this mission were the right units with the right capabilities that we could rapidly deploy in position in order to assist DHS," Manning said.
He said the last of 5,200 active-component troops was scheduled to arrive on the border Monday night.
Had the Pentagon selected Guard forces, state governors would have had to approve their deployment, which would have taken some time. In addition, Guard forces also would have remained under state control.
The governors of all four border states did approve the current Guard mission, but some governors elsewhere have refused requests to send troops in support.
Defense Secretary James N. Mattis authorized up to 4,000 Guardsmen to support the Border Patrol.