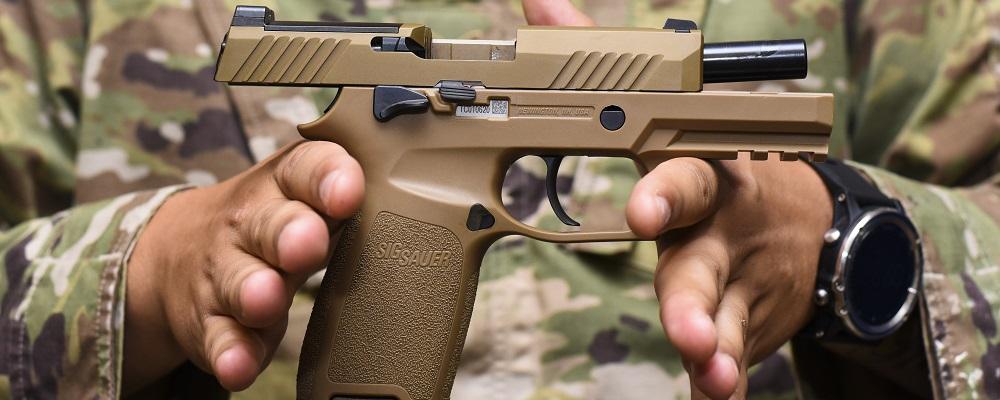 Combat arms units across the Air Force will soon be getting a new sidearm to replace the aging M9. 
Dubbed the M18 Modular Handgun System, the new pistol is currently being sent to security forces units and others with a "handgun requirement."
The service is also sending plenty of test ammunition and will be providing engineering support as units begin fielding their new weapon.
Made by SIG Sauer, the M18 is a slightly smaller version of the Army's new handgun, the M17. Chambered to fire the 9 x 19mm NATO round, the M18 weighs less than two pounds. 
Currently, the Air Force has procured about 125,000 M18 pistols for $22.1 million.
Cost played an important role in the service's decision to swap pistols, as maintaining the M9 costs roughly three times the amount for the new pistol. 
Pentagon leaders were also in search of a weapon with more stopping power. And although both the M18 and M9 fire a 9mm round, Sig Sauer designed and will deliver specially crafted ammunition for the handgun to boost lethality. 
Although new, the M18's big brother, the Army's M17, has already received praise from warfighters.
"The new trigger on these [M17s] is much lighter and there's less recoil, so it's important for guys to gain some muscle memory on the new weapon system," said Staff Sgt. Sean Davis of the Alaska National Guard in a press release earlier this year. 
Davis and the rest of the soldiers of 1st Battalion, 297th Infantry Regiment got their first exposure to the M17 earlier this year, testing it in subzero temperatures in the Alaskan wilderness.
"It's below zero, and there wasn't a single weapon that jammed," said Davis. "Being an MP [military policeman] for 10 years, for being as cold as it is, the weapon performed excellent."
The Air Force hopes to have its entire inventory of M9s replaced by the M18 by the end of the decade.
Both the M17 and M18 are militarized versions of the SIG Sauer P320, which is currently available for purchase on the civilian market. In addition to its popularity as a civilian concealed carry firearm, several law enforcement agencies also issue the pistol as a duty weapon.