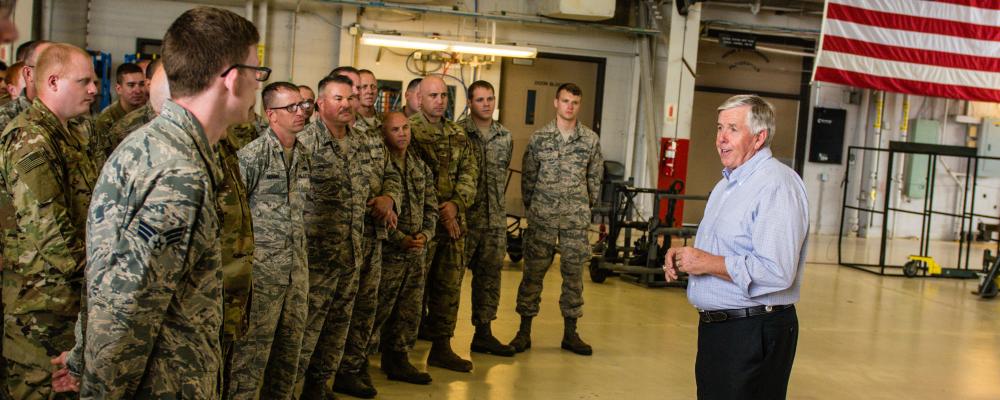 National Guard leaders could risk federal funds if they do not comply with federal law and policy under new rules included in the Senate Armed Service Committee's version of the fiscal 2020 National Defense Authorization Act.
Current law already enables the president to withhold resources, but the proposed language would expand the commander in chief's authority.
In all, three provisions of the SASC NDAA markup would reduce state authority of the Guard and potentially allow the withdrawal of federal recognition of its senior officers.
A section of the bill states that, "The availability of federal funds provided to the National Guard of individual states is contingent upon compliance with federal law and policy applicable to the National Guard."
It also sets out conditions under which units or officers may lose federal recognition for failure to comply with federal law and policy.
If approved, the provision would set up additional conflicts between governors and the federal government over control of the Guard.
The NDAA proposal would also give the chief of the National Guard Bureau the authority to send commissioned officers or inspectors general to determine whether units and members of Guard units are complying with federal law and policy.
If a state fails to comply with the law, the National Guard of the state would be barred, in whole or in part, from receiving "money or other aid, benefit, or privilege authorized by law with respect to the National Guard of that state as the president may prescribe."
A separate section of the SASC NDAA would cut the governor of each state out of the appointment process for property and fiscal officers in their states.
Currently, it's a two-part process. The governor nominates officers while the NGB chief has final appointment authority. The USP&FO then serves in a federal (Title 10) capacity.
If the provision is approved, the NGB chief would appoint each USP&FO without state input.
In addition, officers who have served within a state in the preceding 36 months would be ineligible to serve as that state's USP&FO.
Guard leaders from individual states have expressed concern that the three provisions represent a direct imposition by the federal government over a governor's statutory authorities.
NGAUS opposes all three provisions.
Each must still win approval from the full Senate. There is no corresponding language in the current House version of the NDAA, so each would have to win approval from House and Senate negotiators when they gather to settle differences between the two bills.