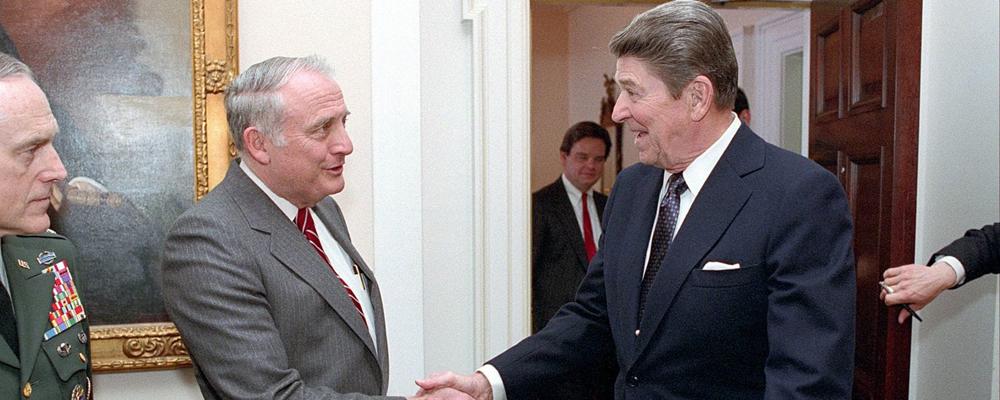 John O. Marsh Jr., who spent 25 years in the Virginia National Guard, eight years in Congress and served as President Ronald Reagan's Army Secretary, died Monday in Raphine, Virginia. He was 92.
Marsh, enlisted in the Army during World War II and served with the Army of Occupation in Germany. He later served in the Army Reserve and joined the National Guard in 1951.
A lawyer, Marsh served as a Democrat in the House of Representatives from 1963 to 1971, but interrupted that service to deploy to Vietnam for a month in 1966.

According to the Washington Post, Marsh never revealed to other soldiers that he held national office during his tour in Vietnam.
Marsh retired from the Guard in 1976 after reaching the rank of lieutenant colonel. 
Following his time in Congress, Marsh became "a powerful backstage player at the White House and the Pentagon," according to the Post.
He was assistant secretary of defense and later was then-Vice President Gerald Ford's national security adviser. Once Ford ascended to the presidency, Marsh became counselor to the president, becoming known as Ford's "conscience." 
As the longest serving Army secretary in modern history (1981-1989), Marsh is credited with helping to increase the service's budget by 30 percent and supporting special-operations forces at a time when much of the focus was on developing large combat formations.   
The Army National Guard benefited significantly during that tenure, receiving previously unprecedented amounts of new equipment, greater training opportunities and a new division with the reactivation the 29th Infantry Division, headquartered in Virginia. 
Retired Lt. Gen. Herbert R. Temple Jr., the Army National Guard director from 1982 to 1986 and the National Guard Bureau chief from 1986 to 1990, said Marsh's impact continues to be felt in the Army Guard.  
"He was a marvelous person who had a very deep affection for the Army of which the Army National Guard is an important part," he said. "The high professional-education and training standards we have in Army National Guard today began during his time. I doubt we would have the force we have today had he not been secretary of the Army."
In 1986, NGAUS presented Marsh with the Harry S. Truman Award, the association's highest honor for distinguished service in support of the nation's defense. 
Marsh continued to serve after his time as Army secretary. He was chairman of the Reserve Forces Policy Board from 1989 to 1994. And in 2007, he joined with another former Army secretary, Togo West, as part of an independent review group looking to correct the poor care and living conditions of wounded soldiers at Walter Reed Army Medical Center.
At the time of his death, he was teaching a course on Technology, Terrorism and National Security Law at George Mason University in Fairfax, Virginia, according to reports.
Maj. Gen. Timothy P. Williams, the Virginia adjutant general, said Marsh always led by example.
"The National Guard has known no better advocate than Jack Marsh, and while he will be greatly missed, his impact lives on today with the soldiers who wear the patch of the Blue and Gray Division," he said. "He remained a key coach and mentor for countless Guard soldiers for many years and will be deeply missed. Our thoughts and prayers are with his family, and I hope all our fellow Virginians will remember him for the magnificent life of service he led."