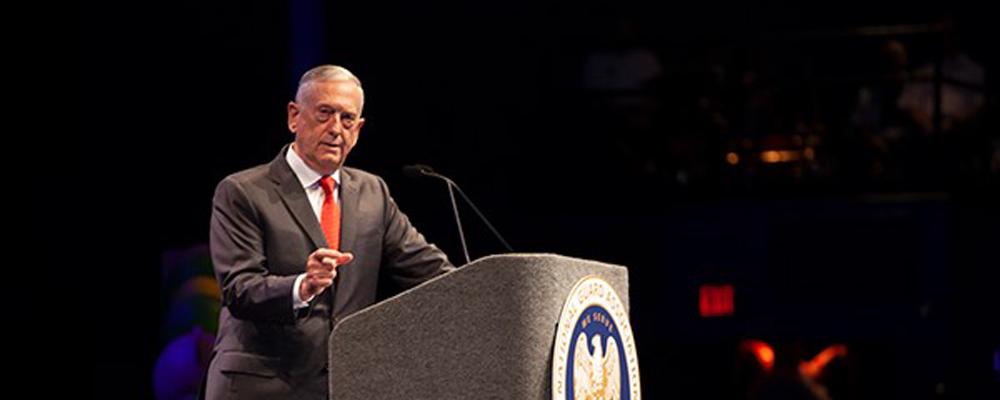 The 140th General Conference & Exhibition got off to a rousing start fitting the host city. As delegates settled in for the first day, they got a taste of New Orleans spirit and remarks from the defense secretary, the chief of staff of the Army and the chief of staff of the Air Force. 
Defense Secretary James N. Mattis noted the global role played by the National Guard and called Guardsmen "some of the best ambassadors of the United States." 

That's important, he said, as the National Defense Strategy he helped author emphasizes the need to strengthen ties with allies and create new ones.  

"History is clear. Nations with allies thrive. Nations without allies die," he said.  

He said the National Defense Strategy marks a shift in the focus of the military.  

"We recognize that great-power competition, not terrorism, is now the primary challenge to our national security, even as we continue to fight against terrorism," he said. 

He cautioned the Guard officers in attendance that their job is to prepare the men and women they lead for the fight. 

"You must make our Guardsmen fit in body, mind and spirit by modelling it yourself, treating every month as if it was the last month of peace, the last week of benign behavior from Mother Nature," he said. 

Mattis, a former four-star Marine general, said his role as secretary has separated him from the people in the field, but he has not forgotten them. Of the Guard, he said, "I don't forget my debts." 

Gen. Mark A. Milley Making his third appearance as chief of staff, Milley has become a favorite for a Guard audience. And he did not disappoint.  

He praised some Guardsmen by name and went through a quick history of the Guard's participation in the nation's wars. 

 But his best applause lines were when he pledged to provide the Army Guard with what it needs as training days increase for selected units, some going from the traditional 39 to 55 or 60. 

"In my view, that is the single most important thing we can do to take care of our soldiers . . . ensure that they are properly manned, trained and equipped for the rigors of ground combat," he said.  

He noted that it is extremely difficult to defeat an enemy and requires high readiness. 

"And I will not allow the Guard to have lower levels of readiness relative to their requirements in the combatant commander war plan than the regular Army," he said. "And I am committed that you will get every piece of equipment, every dollar, every bit as much training time and every bit as many resources as anyone in the regular Army gets in order to ensure your readiness." 
Gen. David L. Goldfein Goldfein talked about the future. The Air Force chief of staff in 2030 will fight a war using the Air Force created by Goldfein and Air Force Secretary Heather Wilson, he said.  

While he addressed many aspects, one area that got response was his discussion of how squadrons are the key to the service's success, but, he said, they have not changed. 

"Today's squadrons in the United States Air Force look a lot like they did in 1964," he said. "It's at the squadron level that we're going to succeed or fail as an Air Force." 

He wants more decision-making capability at the squadron level so commanders can operate a mission when flying from an isolated forward base. And, he said to much applause, he wants to do away with additional duties that have nothing to do with combat capability or readiness. He said 1,300 Air Force instructions are now at risk. 

"We're going after them," he said. 

"The secretary and I fundamentally and absolutely trust our commanders," he said. "We raise our commanders and give them the responsibility for the most destructive weapons systems on the planet. We can trust our commanders without overly prescriptive Air Force instructions."