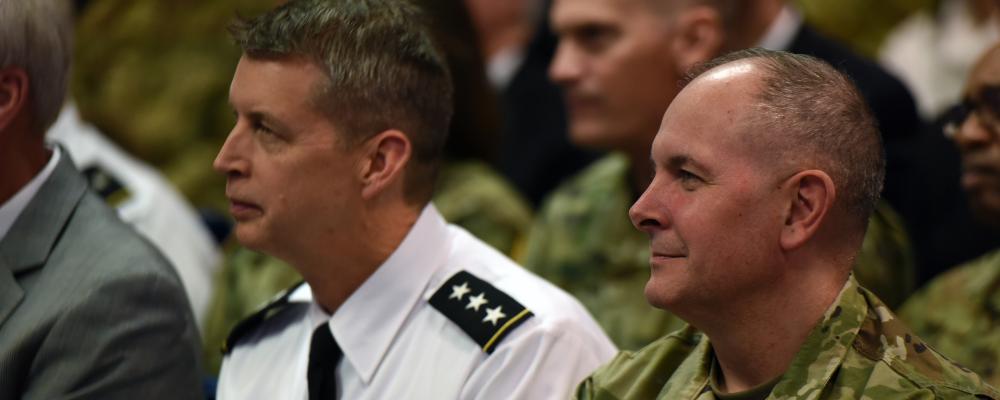 Two senior National Guard leaders will shuffle positions if the Senate confirms White House nominations submitted last week.
Lt. Gen. Daniel R. Hokanson, the vice chief of the National Guard Bureau, would become director of the Army National Guard.
And Lt. Gen. Timothy J. Kadavy, the current Army Guard director, would become NGB vice chief.
Hokanson has served in NGB since November 2016. Kadavy has been in his role since March 2015.
The NGB vice chief helps coordinate federal programs for 453,000 Army and Air Guardsmen nationwide and "build enduring partnerships as an integral part of the Joint Force and the primary combat reserve of the Army and Air Force," according to NGB.
Hokanson is an Army aviator who has flown multiple aircraft. He has previously served as deputy commander of U.S. Northern Command and as Oregon adjutant general.
He led Oregon's 41st Infantry Brigade Combat Team in Iraq between 2008 and 2010 and deployed to Afghanistan in 2006-2007. While in the active component duty early in his career, he also deployed in support of Operation Just Cause in Panama.
The Army Guard director "guides the formation, development and implementation of all programs and policies affecting the Army National Guard; a force of more than 350,000 soldiers in the 54 states, territories and the District of Columbia."
Kadavy is an armor officer who previously served as Nebraska adjutant general. He led a Combined Joint Inter-Agency Task Force in Afghanistan from 2013 to 2014, served as chief of the Reserve Component Support Division for Multi-National Corps-Iraq in 2006 and deployed as a task force commander during Operation Joint Forge in Bosnia-Herzegovina in 2003.