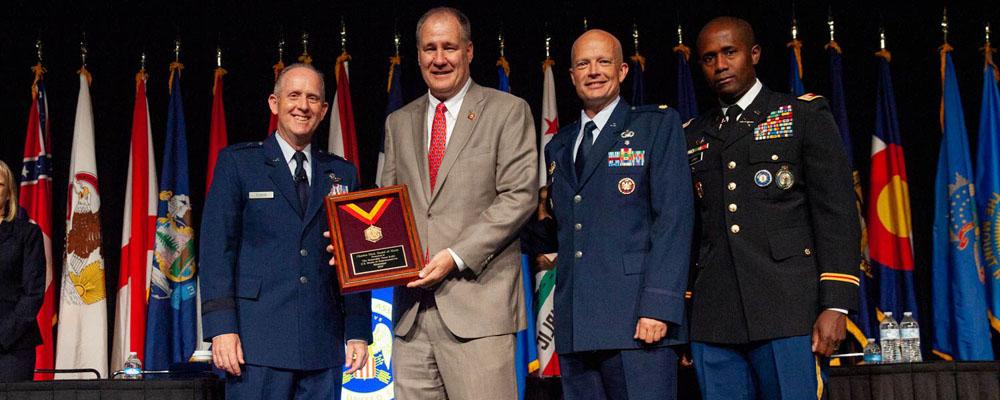 NGAUS leaders honored elected officials, retired military leaders and others during the second business session of the 141st General Conference & Exhibition.
Rep. Trent Kelly, R-Miss., received the Charles Dick Medal of Merit. The award is reserved for elected officials — local, state or national. It is one of the highest honors NGAUS bestows and is named for the former NGAUS president.
Dick was president of the association from 1903 to 1909, a major general in the Ohio National Guard, a member of the House of Representatives and later a senator. He was the driving force behind the Dick Acts of 1902 and 1903 that established the modern National Guard.
Kelly is the ranking Republican of the personnel subcommittee of the House Armed Services Committee. A brigadier general in the Mississippi National Guard, said he strives each day to follow in the footsteps of yet another former Guard leader, Maj. Gen. G.V.  Sonny Montgomery.
Montgomery, known as Mr. National Guard while in Congress from 1967 to 1997, was Kelly's congressman and continues to be an inspiration.
"I joined in 1985 as a private, went to basic training at Fort Leonard Wood and I intended on staying four years and that was it," Kelly said. "Thirty-three years-plus later, I'm still in."
Montgomery loved his state, loved his nation and loved his Guard, the congressman said. And Kelly has modeled his service on those loves.
"Every day I work as hard as I can because I love the National Guard, both the Air and Army, and I'll do everything I can to make sure our citizen-soldiers are always honored to the level they deserve," he said.
Montgomery is the namesake of another major NGAUS award, the Montgomery Medal. It is the association's second-highest award.
Two recently retired adjutants general, Maj. Gen. Timothy E. Orr of Iowa and Maj. Gen. Carol A. Timmons of Delaware, were co-recipients of the Montgomery Medal.
Orr served 10 years as adjutant general of Iowa and focused his career on positive leadership, enhancing the capability of Guard formations and ensuring soldiers, airmen and their families are supported and cared for.
"With his leadership and engagement across the National Guard, Major General Orr has challenged leaders of all ranks to be positive in how they lead, creative in how they plan, and innovative in how they think," said Brig. Gen. Stephen E. Osborn, Iowa adjutant general. "Through his untiring efforts, Major General Orr has instituted, enhanced and influenced many relationships across all levels of our military and government… Major General Orr's selfless service and commitment has always been focused on soldiers, airmen and the readiness of our National Guard."
Timmons was honored for lifelong service to the Guard and NGAUS, where she was actively engaged in addressing aircraft, manpower and mission challenges.
"General Timmons was a stalwart advocate of the National Guard, and proved instrumental in the National Guard Bureau revisiting proposed manning cuts and addressing the future of the Air National Guard's aging C-130H fleet," said Brig. Gen. Michael R. Berry, Delaware adjutant general. "A recognized leader by the National Guard Bureau and a tenacious advocate for the National Guard… she helped shape policy at the national level and positively impacted over 500,000 members of the National Guard."
In all, NGAUS honored 54 individuals from 24 states and territories during the conference.