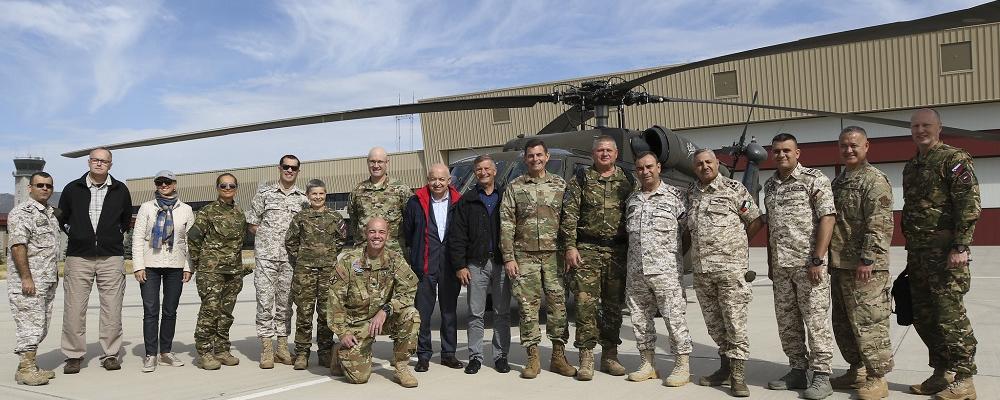 Military leaders from Slovenia and Jordan will attend the 141st NGAUS General Conference & Exhibition in Denver, highlighting a program that matches states with more than 80 countries around the world.
Slovenia and Jordan are paired with Colorado through the State Partnership Program, which forms relationships between state National Guard forces and allies. Officials from other partner nations are also expected to attend.
Distinguished guests from Slovenia include the minister of defense, Karl Viktor Erjavec; the chairman of defense, Maj. Gen. Alenka Ermenc; deputy secretary-general/national security advisor, Uros Krek; head of Forces Command, Brig. Gen. Milan Zurman; and forces commander and Slovenia's ambassador to the U.S., Stanislav Vidovic.
Distinguished guests from Jordan include the assistant to the chairman for planning and organization of the Jordanian Armed Forces — Arab Army, Brig. Gen. Helal Khawaldeh; and northern region military commander, Brig. Gen. Mohamad Kasasbeh.
Slovenian and Jordanian officials plan to attend both the NGAUS conference and the Colorado National Guard's Alpine Guard Exercise, which is occurring concurrently with the convention and is aimed at exercising critical domestic operations capabilities.
The guests previously visited the High-Altitude Army National Guard Aviation Training Site in Gypsum, Colorado; and attended a state luncheon in their honor at the residence of Colorado Gov. Jared Polis. They also visited the U.S. Air Force Academy and Pueblo Community College.
Colorado has partnered with Slovenia for the past 26 years and with Jordan for 15 years. The State Partnership Program was created in 1993, originally pairing states with former Soviet bloc counties.
Currently, 83 countries are enrolled in the program, with nearly 1,000 training exchanges and other engagements held throughout the world each year.
Colorado has taken part in hundreds of engagements with their partners.
In Slovenia, Colorado Guardsmen have helped improve training facilities and have partnered for disaster response preparedness, logistics, training management, family support, Special Forces and non-commissioned officer development.
In Jordan, Guardsmen have cooperated on fighter jet and helicopter training, public affairs, women's leadership development, officer and NCO development and anti-terrorist operations, among other competencies.