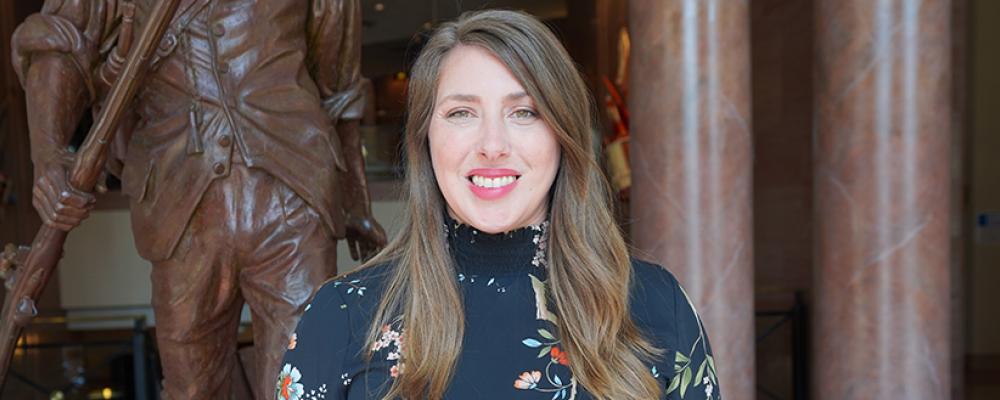 An experienced governmental-relations professional who knows her way around Capitol Hill and the National Guard has joined the association staff in Washington, D.C., as legislative affairs manager for Army programs.
Marcy Weldin will coordinate and execute NGAUS legislative objectives for Army Guard issues and help shape legislative strategy while working with lawmakers and their staffs.  
"I'm excited to apply the knowledge I gained from my time in Texas.  This is an awesome opportunity, and I look forward to continuing to advocate on behalf of the soldiers, airmen and families of the National Guard," she said.
Weldin has more than 20 years of experience in state and federal government affairs, much of it working in the nation's capital. She comes to the association after serving as the director of government affairs for the Texas Military Department.
Weldin has also worked as a non-attorney lobbyist and served as deputy legislative director for former Texas Gov. Rick Perry.
"Marcy is such a great pick up for the NGAUS legislative team," said Mike Hadley, the NGAUS legislative director. "She is a seasoned professional who will help us get to the next level. We are very excited to have her onboard."
In recent years, she has appeared as a panelist at the NGAUS Legislative Workshop. Last year, she received the NGAUS Patrick Henry Award for her work with the Texas Guard and sharing best practices with other states.
"I am honored to better support the Guard in my new role," Weldin said.
Her legislative portfolio includes concurrent and proportional fielding of new equipment to the   Guard, and modernization of UH-60 Black Hawk helicopters, Humvees and combat vehicles.
More information about 2021 legislative priorities is available in the Legislation section at www.ngaus.org.